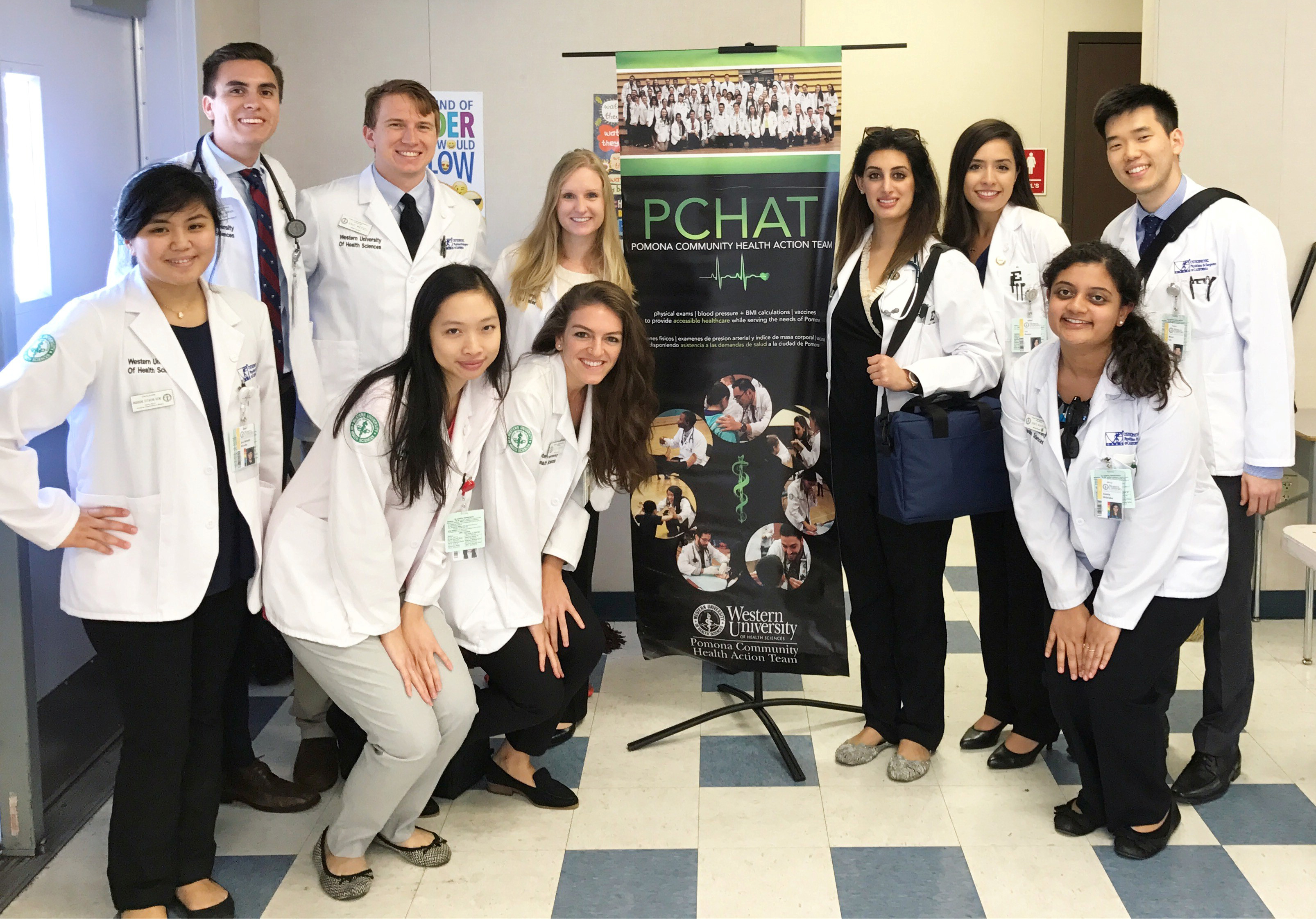 WHO WE ARE
The Pomona Community Health Action Team (PCHAT) is a student-led inter-collaborative organization here at Western University's College of Osteopathic Medicine of the Pacific. Through our two-fold approach to care, we're able to provide free health services to our community's medically underserved while highlighting the impact of preventative care and education through our members' outreach projects. The demonstrated successes of PCHAT lie in our true interprofessional approach to health. A patient walking into our clinic will be offered the unique opportunity to receive care from Optometry, Nursing, Pharmacy, Podiatry, PA, PT, and Osteopathic medical students and practitioners. In this way, students from our many colleges gain valuable experiences in taking relevant histories, performing physical exams, administering flu and Tdap shots, even checking glucose, cholesterol and A1C levels, all while learning how to integrate services across professions in providing efficient, quality care.
MISSION STATEMENT
We believe that medicine is a right and not a privilege, and that all persons with medical needs should have the opportunity to receive appropriate counsel and therapy. PCHAT is a medical student run voluntary healthcare organization that strives to meet these needs, especially for those that otherwise have limited or no access to adequate care. We seek to provide free, quality, and longitudinal primary care that supersedes socioeconomic barriers and does not discriminate. We visualize our future as a loyal and compassionate provider of quality care for our patients and for the Pomona community.
HISTORY
Pomona Community Health Action Team (PCHAT) was first organized in September 1994 through the collaborations of Rafi Younoszai, Ph.D. (WesternU College of Osteopathic Medicine of the Pacific), Nancy Lopez (Hispanic Youth Task Force), Chuck Heillman (Chief of Police, Pomona Police Department), and Gadi Revivo and Sherry Billups (COMP International Medicine Club). Don Krpan, then Vice-President of Academic Affairs/Dean of Osteopathic Medicine at Western University of Health Sciences, officially recognized PCHAT in October 1994. The club was supported by WesternU College of Osteopathic Medicine of the Pacific, Pomona Police Department, Pomona Valley Hospital Medical Center, Healthy Start, Pomona Unified School District, and the Hispanic Youth Task Force.