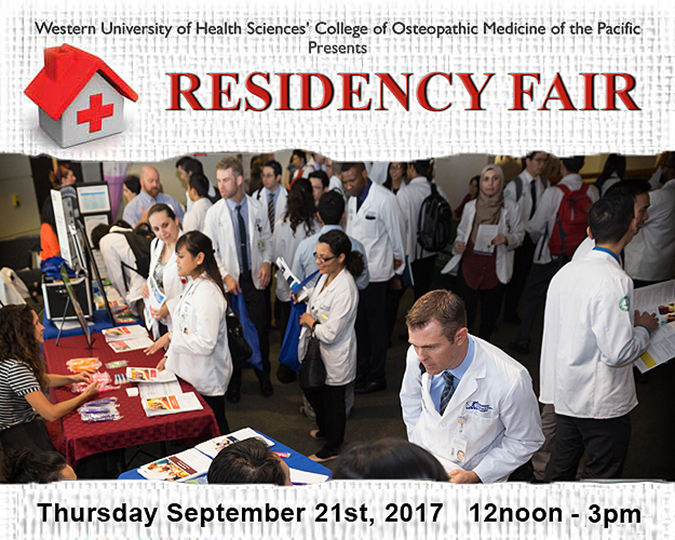 Western University of Health Sciences, College of Osteopathic Medicine of the Pacific Residency Fair gives representatives from across the United States a unique opportunity to promote their institution as well as discuss clinical training opportunities with WesternU students. Osteopathic medical students are excited to learn about your specific hospital, program or specialty and what to do to apply.
The Residency Fair is an opportunity for residency programs, student rotation programs, fellowships and specialty organizations to recruit, educate and build relationships with top candidates.
Promote your program or specialty to over 400 Osteopathic Medical Students.
Recruit top residency or fellowship candidates.
Answer questions and talk individually with interested students.
In addition to our traditional Residency Fair table set up, we will be conducting a Residency Program Director panel discussion from 12n-1pm. The intent of the panel is to have current or recent Residency Program Directors help students understand what it takes to enter their specialty, and to answer questions from students. The panel will be comprised of representatives from a variety of specialties and will include docs from COMP and external sites.
Online registration will begin Monday, August 14th, 2017
The event will take place in the Health Professions Center (HPC) located at 521 E Second St.
Lunch will be provided
If you have any questions, please contact Carla Kavanaugh at (909) 469-8447 or ckavanaugh@westernu.edu