In keeping with the objective of podiatric medicine having parity with allopathic and osteopathic medicine, the first two years of the curriculum for WesternU's College of Podiatric Medicine will be essentially the same as for our founding College of Osteopathic Medicine of the Pacific.
Emphasizing academic excellence, compassion, and comprehensive patient care, WesternU's Doctor of Podiatric Medicine curriculum is delivered in three phases. For more information and a listing of current course descriptions, please refer to the the Western University of Health Sciences Catalog.
---
Our Strength Is In Our Students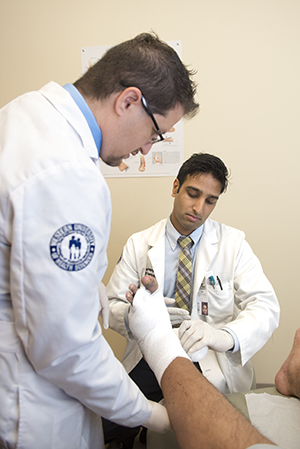 When you become a member of the Western University family, you will enjoy the benefits that come with being a part of the newest, most progressive and integrative podiatric medical college. The 21st century medical world requires cutting-edge technology, interprofessional team work and access to patients in order to be trained to your personal best level.
The Standardized Patient Lab at WesternU-CPM becomes a key part of your training beginning in your first semester. Physicians and medical educators work with you personally to develop your history taking and physical examination skills performed on laypersons hired and trained to present clinical scenarios. Excellence in information gathering and presentation skills provides the foundation for superb clinical care. By the time you graduate, you will have had over 45 patient encounters in the SP Lab. This puts you at a distinct advantage when you sit for the high stakes, third part of board examinations in your senior year when you will be assessed on these same skills with standardized patients. An electronic medical record system in the laboratory ensures that when you start rotations in April of your third year, where EMR is already in use, you quickly become a leader in this area.
Computer animations of anatomical structures are available through Anatomy TV – Podiatric Medicine to assist you in your education. The new Virtual University has expanded digital, educational capabilities with a virtual dissection table supplemented with a curriculum that guides students through whole body and lower extremity anatomy, normal and pathological. It is a unique combination of hardware and software that has gained national attention.  You can access EchoStar video recordings of lectures at the time you choose at regular speed or several increased speeds. These recordings and also podcasts of lectures can be used in many settings, including while you are at the gym working out or sitting outside enjoying the year round Southern California sunshine.
In the on-campus clinic you will work with equipment that in some cases may not be available elsewhere, increasing your advantage! The Motion Diagnostic Center features a Noraxon Myo-Pressure System via a treadmill for gait analysis. There is also a Novadaq-Luna Imaging System and Biomedix-PADnet system for non-invasive PAD and CVI testing.
The gross anatomy lab experience defines entry to medical school for many and WesternU-CPM has not abandoned student dissection as some medical schools have. This experience is the cornerstone of the medical school experience. On-line animations are available for those who want to add to the experience. We understand that you are an adult learner and the way you learn may be different from the person sitting next to you. Testing is available to any student through the Learning Enhancement and Academic Development office for those who want to explore what their unique method of learning is – kinesthetic, auditory or visual.
---
Interprofessional Educational Experiences
WesternU-CPM walks the walk when it comes to interprofessional education. There are not only Interprofessional Education courses, in which you interact with students representing nine medical professions, but you will also take the first two years of your education sitting side by side with your osteopathic medical peers. The primary exceptions to this are Osteopathic-specific courses like Osteopathic Manipulative Medicine and History of the Osteopathic Physician. In place of those, the podiatric students take Podiatric Medicine and Principles (PMP) I, II, III and IV and other podiatric-specific coursework. PMP is a four level course taught dynamically through a foundational lecture on a major topic, followed by small group sessions exploring these principles through real life cases. Critical thinking skills and teamwork are built from day one.
Did you know that adult learners only retain 5% of what they hear in a lecture and only 10% if they also read along with the slides? A group discussion of the material raises that to 50% and if you add to that presenting the material to others, what happens in small group discussion, you retain 90% of the material.*
We use the evidence-based academic literature to design our curriculum. It is a dynamic curriculum as well, meaning that we listen to our students' voices with assessment instruments like mid-course and end-of-course surveys. We put students' ideas to work to better the educational experience for you.
On occasion we are asked "Why take all of the classes that the DO students take, including Psychiatry and Reproductive Health?" There is a very good reason. Several decades ago when a DPM graduated at the end of four years, he or she could, and often did, open an office and begin treating patients. That is not the case in the 21st century. Now, when a person graduates, the hand-off is to a three-year residency program where additional, podiatric specific materials are reinforced. You learn everything you need to become a podiatrist here at WesternU and then you reinforce those concepts in your residency program before going into practice. At  WesternU CPM, we educate you as a physician with a specialty in podiatric medicine and surgery. This means that in a residency program, you shine because of your comprehensive, interprofessional knowledge and practices. You are an integral part of the hospital team.
*Department of Education data
For more information about WesternU's IPE initiative, please visit the Interprofessional Education website.
---
Clinical experiences
Students receive a superior education and rich patient volumes during their rotations, which starts at the beginning of the third year. Rotations are at teaching hospitals affiliated with academic health centers, and well-known hospitals in the Southern California area. These include Olive View UCLA Medical Center, the VA Greater Los Angeles Healthcare System, Arrowhead Regional Medical Center, Riverside University Health System Medical Center, Valley Presbyterian Hospital and the WesternU Patient Care Center.
Students choose their third and fourth year clinical rotations in consultation with their faculty mentor and graduate medical education specialists. Fourth year rotations can be in most any state that you select. If you desire to be an extern at a qualified hospital that we do not currently have an affiliation agreement, we will work with you to develop one.
Clinical rotations are developed to provide you diverse experiences in different patient population and in an integrated interdisciplinary environment.  This type of learning exposure will prepare and provide you advantages for your residency selection.
Click to view A Dashboard Look at Assessment Outcomes of WesternU College of Podiatric Medicine