Thursday, December 10, 2015
", Session 4" – "Lifestyle Transformation: A Panel Discussion with Real People"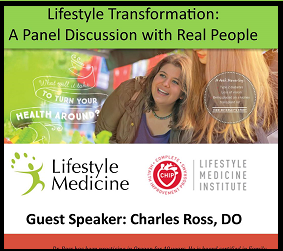 Presented by: Charles Ross, DO
Join us on Dec. 19, 2015 for our 4th Nutrition in Medicine talk, brought to you by Lifestyle Medicine at College of Osteopathic Medicine of the Pacific.
Location: Lebanon's Lecture Hall 1 (streamed to Pomona's HEC 1)
Time: 6:00 PM to 8:00 PM
Thursday, December 3, 2015
"Intro to Clinical Homeopathy" brought to you by the Integrative Medicine Club
Presented by: Marcel Fraix, DO, FAAPMR
Location: Pomona, HEC, Classroom F
Time: 12:00 PM
RSVP if you wish to join us for lunch. This announcement came from the Integrative Medicine Club and its club officers. Email them at IMCclub@westernu.edu
 Monday, December 7, 2015
"Computational Study of ALK2 Protein Kinase: Molecular Mechanism of Inhibition and Activation" 
Presented by: Abdelaziz Alsamarah, candidate, MS in Pharmaceutical Sciences
Location: HPC, Bartlett Theater
Time: 12:00 PM to 1:00 PM
Please feel free to bring your lunch. For more information please contact lya@westernu.edu.