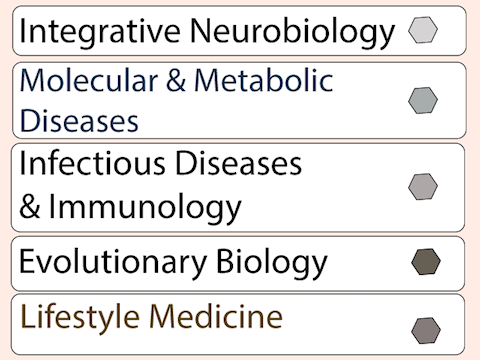 WESTERN UNIVERSITY OF HEALTH SCIENCES – RESEARCH CLUSTERS
1. The Cluster for Integrative Neurobiology: With a focus on the etiology and treatment of intractable neurological disorders.
Alzheimer's Disease
Central Nervous System (CNS) Diseases
Genetic Disorders
Environmental Pathologies
Stem Cell Treatment
2. The Cluster for Molecular and Metabolic Diseases: With a focus on life threatening diseases such as cancer, diabetes, obesity and cardiovascular disease.
Cancer,
Cardiovascular disease,
Diabetes,
Obesity
3. The Cluster for Infectious Diseases and Immunology: Investigates pernicious health challenges such as methicillin resistant Staphylococcus aureus, Human Immunodeficiency Virus, and zoonotic diseases.
Tuberculosis
Mad Cow Diseases
Avian Flu
Methicillin-resistant staph aureus (commonly called MRSA)
4. The Cluster for Evolutionary Biology includes
Molecular evolution
Paleontology and Vertebrate systematics
Quantitative Paleoecology
Integrative and Functional Anatomy
Paleohistology and Histopathology
Forensic Antropology
5. The Cluster for Lifestyle Medicine includes
nutraceuticals (nutrition, power foods, supplements)
stress reduction (meditation, proper rest, exercise)
controlled/ reduced fat, salt, saturated fat diets
anti-inflammatory herbs
traditional chinese medicine
this page was updated on 3/14/2016