In October 2015, the Office of Tech Transfer became merged with the WesternU Office of Innovation Development. The new name, therefore, for the Office of Tech Transfer will be the WesternU Office of Innovation Development (Tech Transfer).

  The Office of WesternU 
Ventures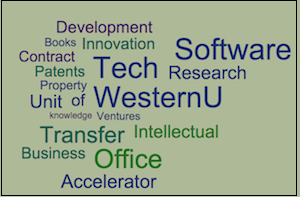 WesternU Ventures wishes to spread the mission of WesternU to advance research, protect intellectual property, obtain patents, and create business partnerships.
Other offices that work collaboratively with the Ventures office include general counsel of the university, sponsored research, and grant writing.
WesternU Ventures is a new proposed administrative structure that will be responsible for overseeing a variety of non-tuition income generating initiatives, such as
the Contract Research Organization (CRO),
the Center for Clinical and Western Clinical Trials Office (WCTO),
Virtual U,
Rotations Software,
I-books, and more 
Both WesternU Ventures and the Office of Technology Transfer are divisions of the Office of the VP for Research and Biotechnology. 
The WesternU Office of Innovation Development (Tech Transfer)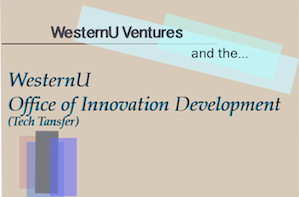 Traci Meyer has been with WesternU for ten years and with the Office of Tech Transfer for approximately two years. She works with the Provost's Office, faculty, and various other departments to manage intellectual property. Meyer has training in general biology via her undergraduate education. She became interested in intellectual property in law school and brings this interest in science to her work with the Office of Innovation Development (Tech Transfer) at WesternU. 
Some of the roles of the Office of Innovation Development include: 
Strategic funding arrangements
Working with faculty inventors
Helping arrange opportunities for long-term funding to the university
Protecting copyright
Establishing trademarks
Patent assistance
You can reach Traci at TraciM@westernu.edu.
Intellectual Property Committee (IPC)
When new intellectual property is discovered by the office, the work is presented to an intellectual property committee. The committee, comprised of faculty, hears the presentations of faculty-inventors for review. 
WCDD – External Business Partnerships
The WCDD was founded/ chaired by Provost Gary Gugelchuk. This committee formerly contained the office of Ventures/ Tech Transfer and was the main business entity working with third party business. This included licensing, document review, and trademarks. Many duties formerly that fell under the umbrella of the WCDD now fall under the office of WesternU Ventures.
New Discoveries
Guru Betageri, PhD, assistant dean of the Graduate College of Biomedical Sciences, has formed a partnership with Tesorex for a drug with a unique route of administration involving male hormones. Typically, these have been available via a dermal patch and not available through the oral route of administration.
Moses Chow, MD, and colleagues have been doing some interesting work with traditional chinese medicine

Quantification of active components in herbs such as hawthorn. Another study involves health supplement quercetin, an ingredient in zinc OTC supplements.
A research project on oseltamivir, better known by trade name Tamiflu.
Quality control in traditional chinese medicine Si Wu Tang

Lambros, Maria Polikandritou, and Ying Huang. "TARGETED LIPOSOMES IN CANCER THERAPY." U.S. Patent No. 20,150,157,571. 11 Jun. 2015. see also…
WesternU and Contract Research (CRO)
WesternU is developing a Contract Research Organization (CRO) that will provide preclinical research solutions to Pharma  — more information will be coming soon…