If you are an expected guest, whomever you are scheduled to visit will arrange parking for you prior to your visit.
Please enter Lot # 17 on Gibbs Street (MapQuest: 401 E. 2nd St., Pomona, 91766).
Head East in lot 17 and on your right you will see the University Services Center, enter visitor lot on your Right.
Once parked you may enter the University Services Building and a security guard will check you in and provide you with a visitors badge and parking permit if one was not already provided.
If you are unable to locate a security guard please go to the 2nd floor of the University Services Center and someone in Facilities will assist you.
All guests parked in WesternU parking are required to have a "Guest Parking Permit" with a current date on it, displayed in the front window of their vehicle.
If you are not a scheduled guest you may still follow the above procedure and security will assist you.
If guest parking is not available you may use the City of Pomona "Daily Permit Parking" in parking lot #12. Please see Daily Permit Parking instructions below.
Special Needs: Please contact the department you are visiting to arrange parking before you arrive.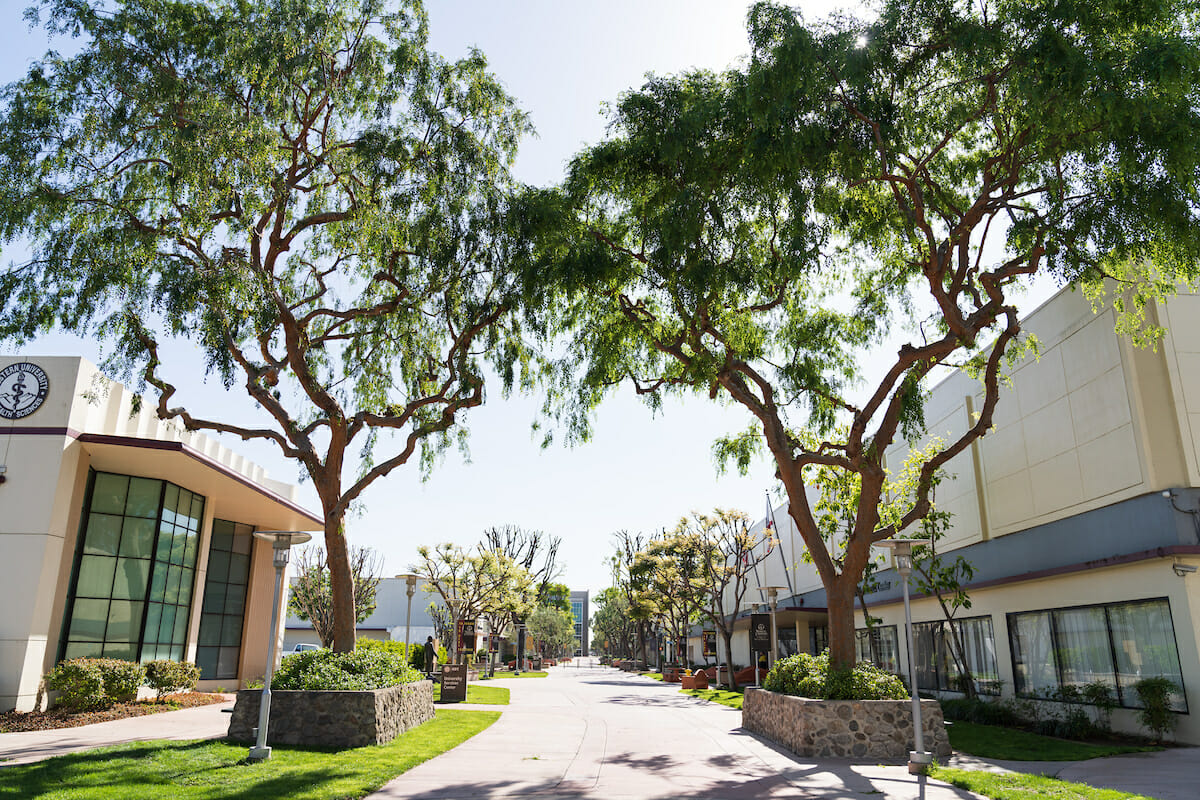 Scheduling
Visitor Parking
For more information on how to schedule parking for a visitor or vendor coming to campus, please see the Scheduling Visitor Parking page.
Public Metered Parking
Public metered parking is located behind the IT Training Lab on Gibbs, between 1st and 2nd Streets. City spaces in this lot are paid parking 7 days a week and 24 hours a day. The first 3 hours of parking are free but you are Required to register your parking space number in the permit machine no matter how long you are staying. When you purchase this parking between the hours of 8:00 a.m. and 8:00 p.m. the fee is $3.00 for the day. If you purchase the parking after 8:00 p.m. the fee is $1.00. The machine accepts coins, bills, Visa and MasterCard. Public Metered parking is also available in other lots surrounding campus in the evenings and on weekends.
Instructions:
Note the number of the space that you have parked in.
The Daily Permit box is stationed near the entrance to the lot. Go to the box and enter your space number.
Enter the number of hours you will be parking. The machine will give you the fee amount and ask you to pay if applicable.
You may request a receipt although the city does not require it to be displayed.
Vendor Parking
There are vendor parking spots in lot 17,24 and 21. Vendors will be directed by security as to where they may park. If you are expecting a vendor, please arrange their parking by completing the Visitor Parking Request form or by request vendor parking if you have made a room reservation on Resource Scheduler under the facilities section.
Other Information
Disabled

: Persons with "accessible" (disabled) placards may park in any WesternU lot with a valid WesternU parking permit.

Reserved Parking

: There are reserved parking spots (with signage posted). Only the designated person may park there. These spaces are located in the employee lots and the University Parking Structure.

First Street

: No employees or Guests may park on First Street. Designated areas are for Amtrak and Student Permit parking only.

Evening and Weekend Parking

: On our campus all parking must be requested through our Visitor Parking Request form or though the Resource Scheduler for scheduled reservations. You and your guests may not park in "Reserved" marked spaces. Certain lots have restricted hours.

Invalid permits

: are subject to ticket or tow by the city. Blank parking permits will not be provided to anyone.
Note: There is no overnight parking on campus.
University Parking Structure
University Parking Structure Hours: Winter – 6:15 a.m. to 1:30 a.m. daily from August 1 to May 31 Summer – 6:30 a.m. to Midnight daily from June 1 to July 31 There is no overnight parking available. Patients have priority parking on the 1st and 2nd floors. No one else may park on these floors.
First Floor – Patient/Disabled/Reserved
Second Floor – Patient/Disabled
Third Floor & Above – WesternU Parking Permit Holders
Motorcycle parking: There are two marked motorcycle parking spots on the third through seventh floors (by the stairwells). Persons parking without a Western University parking permit or in an area that their permit does not access, will be cited. At the third ticket the vehicle is subject to tow. (This is true for all WesternU parking)
Pet Health Center Parking
If you are taking a pet to the Pet Health Center (or picking one up) there are 5 parking spaces in front of the building marked for this use. If these are full, please use your normal parking. You may also request temporary parking from the security guard stationed at the North/East corner of HPC (Health Professions Center). Please do not park in Lot 24 (behind the BVCC and the VMC) unless you are an employee with a WesternU employee parking permit. The parking spots marked "Reserved" are assigned parking spaces and are not available for other use.