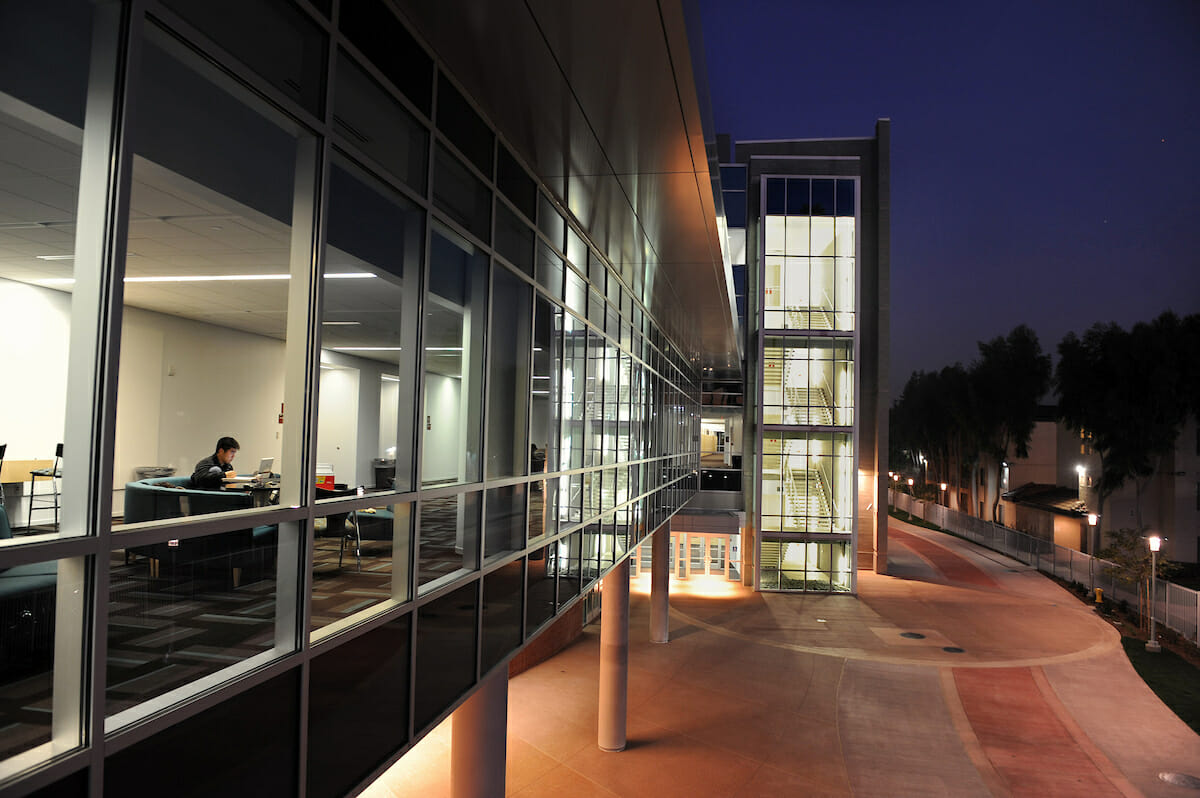 Scheduling Visitor Parking
How to Schedule Visitors on Campus:
Visitors parking may be requested by employees only, students may request parking for visitor or guest speakers by contacting University Student Affairs.
There are two ways to schedule guests:
Resource Scheduler Reservation
Visitor Parking Request form.
Visitors for Non-Reserved rooms/areas (not available on the Resource Scheduler)
These visits need to be scheduled by completing the Visitor Parking Request form. If it is imperative that you mail the permit, you must email parking@westernu.edu at least a week prior to their visit. Visitor Parking is located by the bookstore, to the side of University Services Center.  and in lot 19.
Visitor Parking Instructions: (Please provide your scheduled guests with the instructions below)
Please enter Lot # 17 on Gibbs Street (MapQuest: 401 E. 2nd St., Pomona, 91766).
Head East in lot 17 and on your right you will see the University Services Center, enter visitor lot on your Right.
Once parked you may enter the University Services Building and a security guard will check you in and provide you with a visitors badge and parking permit if one was not already provided.
If you are unable to locate a security guard please go to the 2nd floor of the University Services Center and someone in Facilities will assist you.
Guests Badges: Security will provide Guest badges at the time they greet the guest(s).The guests may return the badges to the department that they are visiting. The department can then return them to the Security desk in the University Services Center via inter-office mail.
Visitors for Reserved rooms/areas on the Resource Scheduler
Visitors attending a meeting/function in a room reserved on the Resource Scheduler. This information is submitted in the reservation.
Process:
Under the parking tab within the reservation the Resource scheduler will enter the required information:
Fill out the red (required) boxes, which include the number of guests from OFF CAMPUS only.
Check box if this is a weekend reservation.
Enter names of guests if requesting parking for 1 – 5.
Enter name of function.
Select "Submit" button.
Verify that you have received an automatic email reply to your request.

6 + Group Parking For 6 or more guests from Off Campus, you will receive instructions from Facilities. For further assistance, please see guest definitions. Please not that during operating hours we are limited to 32 spaces for Visitor parking.
Weekend Parking: Please continue to follow the procedures. Parking must still be assigned to monitor parking capacity, etc. Reserved parking is still reserved and not available. Some lots have been restricted by the city so all parking must be submitted and assigned. These parking requests (whether submitted via the Visitor Parking Request   form or through the "Resource Scheduler") are automatically distributed to the persons responsible for arranging parking.
It is not necessary to cc anyone else in Security or Facilities.
Visitor Parking is available to:
Alumni – to assist with interviews.
Board of Trustees Member
Employee Interviews – persons here to interview for employment.
Guest Speakers/Lecturers – for student clubs, or lectures not required by the academic curriculum, etc.
People visiting a person on campus for professional reasons, attending a meeting, etc.
Groups to Utilize City Public Metered Parking
The city Public Metered Parking is located in city lot #12, this lot is located on Gibbs between 1st and 2nd streets.
Prospective students – attending Campus Tours/Info Sessions.
Remediation Students – returning to take exam 2nd time or to attend didactic programs of less than a semester's duration.
Research / Lab Assistants – (if not a Western U employee) – may request reimbursement at the discretion of the lab director.
Residents/Postdoctoral Fellows – not employed by Western U.
Students returning from Rotations – for a didactic program of a short duration (i.e., less than a semester). Groups of students returning for "rotations" may purchase "Rotations Parking Permits". The college rotations scheduler should send an email to "Bursars Office" at least 3 weeks before the first week of rotations to facilitate printing of the permits. Costs are associated with the total days on campus. If the rotations permit is not purchased the student may not park on campus except in Daily Permit parking.
Student Interviewees – for Admissions.