Leadership & Development
Conflict Resolution in Teams
Follow Professor Randall Peterson of the London Business School as he explores different avenues of managing conflict. He also proposes that how we manage conflict could be the secret to well-balanced teams. Groups will experience conflict regardless, but with the right perspective and tools, issues can be resolved while accommodating all team members.
Conflict Resolution
One of the best ways to resolve conflicts is to collaborate! Although this method will take considerable time and effort, it will result in a positive outcome for all as each side will have a say in the final decision. This will lead to a "win-win" situation for both.
Active listening will allow you to instill trust in whoever is involved in the conflict. It will guide you to ask the right questions to identify the true cause of the problem at hand. Empathy is key!
Request solutions! Nothing will truly resolve the conflict unless both sides feel that they're understood.
Perhaps once source of conflict amongst your team is that there are "too many cooks in the kitchen." Teammates may take on roles that belong to someone else, resulting is tension. If there is not a clear leader, then there is no one to be held accountable when an issue arises.
Take control of the situation immediately! The issue may become more complicated as time goes on.
---
Club Leader Insight
As a club leader, I have been met with many challenges that has kept me focused on achieving my academic and professional goals. One of the biggest benefits of having a leadership role is having the opportunity to network with members of all fields of healthcare."
Keana Mendoza, PharmD 2021
Vice President, Academy of Managed Care Pharmacy
Executive SGA Club Coordinator
Club Spotlight
Latino Medical Student Association
Dia De Los Muertos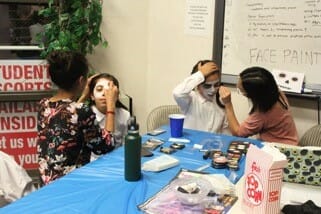 Latino Medical Student Association (LMSA) members partnered with LEAD to host the "Dia De Los Muertos" event. Dia De Los Muertos is a holiday that originated in Mexico and is celebrated all over Latin America from October 31st to November 2nd. It's a day to celebrate life and death and honor family and friends who have passed. During the event, students from all colleges came together to listen to Da Youth mariachi band and enjoy food, face-painting, and arts & crafts. An altar was set up and students and faculty members were encouraged to bring pictures and "ofrendas" for their deceased loved ones. The word "ofrenda" means offering and it is an essential part of this holiday. The event was a success thanks to those who joined in this celebration. OMSII Rafik Mughnetsyan helped capture these moments in the above picture.
If you would like to learn more, please reach out to Latino Medical Student Association at LMSAclub@westernu.edu
Would you like your club to be featured in our next issue? If so, please reach out to studentaffairs@westernu.edu and tell us about one of your recent events!
Important Dates
March 6, 2019
Join us for Spring Club Day on the HSC Esplanade from 11:30 a.m. – 1:15 p.m.
Announcements
Improved Way to Access
FUND Balance
With student input and help from IT, we are excited to announce that there is now a much simpler, more direct way to view your club's FUND balance through the YouPortal. Check with your treasurer for more information!
Community Service Events
Students hosted 95 health fairs in 2018!
New in Pomona
The Slummin' Gourmet is a newly opened restaurant on Antique Row in Pomona with discounts exclusively for WesternU students! Enjoy a meal with classmates and even consider partnering with them for fundraisers or club events.