Thank you for choosing to sponsor a child!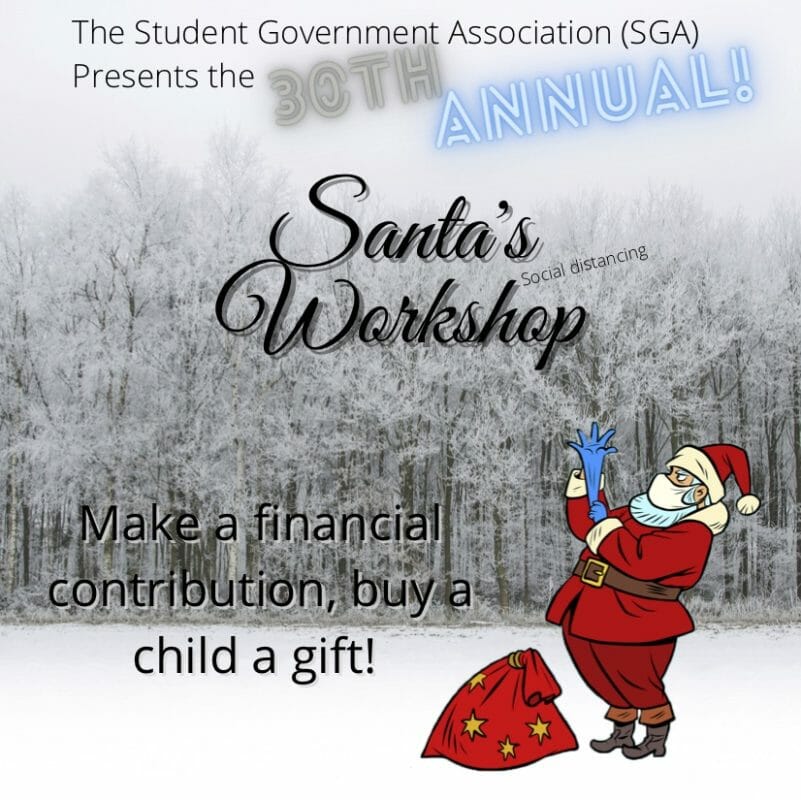 We are sad we cannot host this event in person but we still want the children to receive a gift, even if it can't be hand delivered by Santa or Mrs. Claus themselves. Please keep in mind, the social worker meets with the family to build the list. We ask them to keep the items reasonably priced.We must ensure that every child is sponsored so please only sign up if you are able to purchase and delivery a give by the deadline mentioned below. 
How it will work this year:
Review the list below to see which child you would like to sponsor. 
Pro-tip: note the "Gift" number assigned to the name.
To confirm your sponsorship please:
Join us during our office hours on Zoom (M-F/12:00-1:00p.m. PST) -or-
Chat with us on the Santa's Workshop Team site -or-
E-mail: studentaffairs@westernu.edu 
Once confirmed you'll receive an e-mail with all of the details.
Please DELIVER/MAIL your WRAPPED and LABELED gift to the University by November 25, 2020. 
Instructions provided in your confirmation e-mail. 
The list below will be periodically updated as children are being sponsored:
| Gift # | First Name | GENDER | AGE | Gift Idea | Has this Child Already Been Sponsored? |
| --- | --- | --- | --- | --- | --- |
| 1 | Legend | Male | 2 Years | Toy cars, corn popper | |
| 2 | Romeo | Male | 3 Years | Toy car, Legos | |
| 3 | Angel | Male | 8 Years | Slime, art supplies | |
| 4 | Helena | Female | 9 Years | Shopkins, Art Supplies | |
| 5 | David | Male | 7 Years | Age Appropriate Gift | |
| 6 | Omar | Male | 8 Years | Soccer Ball, Art Supplies | |
| 7 | Calicia | Female | 1 Years | Stuffed Animals, Mega Blocks | |
| 8 | Whittier | Female | 3 Years | Stuffed Animal, Art Supplies | |
| 9 | Casey | Female | 2 Years | Stuffed Animals, Bath Toys | |
| 10 | Elijah | Male | 1 Years | Stuffed Animal, Mega Blocks | |
| 11 | Isabelle | Female | 3 Years | Art supplies, princess toys | |
| 12 | Angel | Male | 7 Years | Age Appropriate Gift | |
| 13 | Emorie | Male | 2 Years | Super hero toys, Stuffed Animal | |
| 14 | Faith | Female | 3 Years | Age Appropriate Gift | |
| 15 | Shania | Female | 3 Years | Stuffed Animal, Art Supplies | |
| 16 | Isaac | Male | 10 Years | Dodgers Hat, Gift Card | |
| 17 | Adeleine | Female | 1 Years | Toy Story Stuffy, Mega Blocks | |
| 18 | Ian | Male | 9 months | Age Appropriate Gift | |
| 19 | Ezekyel | Male | 3 Months | Age Appropriate Gift | |
| 20 | Nahum | Male | 3 Years | Age Appropriate Gift | |
| 21 | Isaac | Male | 9 Years | Age Appropriate Gift | |
| 22 | Jacob | Male | 7 Years | Age Appropriate Gift | |
| 23 | Erick | Male | 4 Years | Age Appropriate Gift | |
| 24 | Shayera | Female | 6 Years | Age Appropriate Gift | |
| 25 | Jasmin | Female | 12 Years | Age Appropriate Gift | |
| 26 | Sergio | Male | 9 Years | Age Appropriate Gift | |
| 27 | Ashley | Female | 3 Years | Age Appropriate Gift | |
| 28 | Bryan | Male | 5 Years | Age Appropriate Gift | |
| 29 | Eliezer | Male | 11 Years | Age Appropriate Gift | |
| 30 | Kaleb | Male | 2 Years | Age Appropriate Gift | |
| 31 | Denise | Male | 7 Years | Age Appropriate Gift | |
| 32 | Joshua | Male | 6 Years | Age Appropriate Gift | |
| 33 | Adrian | Male | 1 Years | Age Appropriate Gift | |
| 34 | Estrella | Female | 2 Years | Age Appropriate Gift | |
| 35 | Luna | Male | 6 Years | Age Appropriate Gift | |
| 36 | Maximo | Male | 8 Years | Age Appropriate Gift | |
| 37 | Ocean | Male | 4 Years | Age Appropriate Gift | |
| 38 | Sunshine | Female | 10 Years | Age Appropriate Gift | |
| 39 | Alyssa | Female | 4 Years | Age Appropriate Gift | |
| 40 | Ayden | Male | 1 Years | Age Appropriate Gift | |
| 41 | Julian | Male | 7 Years | Age Appropriate Gift | |
| 42 | Valeria | Female | 9 Years | Age Appropriate Gift | |
| 43 | Ximenna | Female | 11 Years | Age Appropriate Gift | |
| 44 | Dominic | Male | 10 Years | Age Appropriate Gift | |
| 45 | Masson | Male | 10 Months | Age Appropriate Gift | |
| 46 | Royalty | Female | 3 Years | Age Appropriate Gift | |
| 47 | Aaron | Male | 7 Years | Age Appropriate Gift | |
| 48 | Andres | Male | 2 Years | Age Appropriate Gift | |
| 49 | A'leana | Female | 4 Years | Age Appropriate Gift | |
| 50 | Alexander | Male | 3 Years | Age Appropriate Gift | |
| 51 | Sadie | Female | 9 Years | Age Appropriate Gift | |
| 52 | Shyla | Female | 11 Years | Age Appropriate Gift | |
| 53 | Erick | Male | 4 Years | Age Appropriate Gift | |
| 54 | Maryespe | Female | 3 Years | Age Appropriate Gift | |
| 55 | Nickluis | Male | 5 Years | Age Appropriate Gift | |
| 56 | Thalita | Female | 10 Years | Age Appropriate Gift | |
| 57 | Miguel | Male | 12 Years | Age Appropriate Gift | |
| 58 | Khalid | Male | 11 Years | Age Appropriate Gift | |
| 59 | Bonnie | Female | 6 Years | Age Appropriate Gift | |
| 60 | Elton | Male | 9 Years | Age Appropriate Gift | |
| 61 | Olivia | Female | 10 Years | Age Appropriate Gift | |
| 62 | Haven | Male | 3 Years | Age Appropriate Gift | |
| 63 | Cadha | Female | 8 Years | Age Appropriate Gift | |
| 64 | Chrislene | Female | 6 Years | Age Appropriate Gift | |
| 65 | Christian | Male | 1 Years | Age Appropriate Gift | |
| 66 | Ah'Niyah | Female | 9 Years | Age Appropriate Gift | |
| 67 | Lidiana | Female | 3 Years | Age appropriate: dolls | |
| 68 | Zion | Male | 5 Years | Toy car | |
| 69 | David | Male | 13 Years | Gift card | |
| 70 | Jonas | Male | 11 Years | Age appropriate | |
| 71 | Milena | Female | 6 Years | Age appropriate: dolls, | |
| 72 | Alyia | Female | 3 Years | Age appropriate | |
| 73 | Audrie | Female | 5 Years | Age appropriate: dolls, (LOL, Barbie, Bratz etc.) | |
| 74 | Erik | Male | 8 Years | Toy Car or action figure (Spider-man) | |
| 75 | Baby | Male | 1 month Years | Age appropriate | |
| 76 | Isaiah | Male | 12 Years | Gift Card | |
| 77 | Jen | Male | 8 Years | Age appropriate | |
| 78 | Neveah | Female | 2 Years | Age appropriate | |
| 79 | Jonathan | Male | 4 Years | Toy car, action figure (Marvel) | |
| 80 | Antonio | Male | 16 Years | Gift card | |
| 81 | Vincent | Male | 15 Years | Gift card | |
| 82 | Javier | Male | 4 Years | Toy car, Hot wheels | |
| 83 | Marissa | Female | 10 Years | Gift card or age appropriate toy | |
| 84 | Roman | Male | 14 Years | Nike hoodie (Medium size) | |
| 85 | Alondra | Female | 10 Years | Gift card or age appropriate toy | |
| 86 | Isabela | Female | 6 Years | Barbie doll | |
| 87 | Scarlett | Female | 4 Years | Age appropriate | |
| 88 | Malani | Female | 10 Months Years | Age appropriate | |
| 89 | Xena | Female | 3 Months Years | Age appropriate | |
| 90 | Catalina | Female | 2 Years | Educational toy age appropriate | |
| 91 | Jakob | Male | 2 Years | Super Heros | |
| 92 | Kane | Male | 1 Years | Light up Toys | |
| 93 | Zion | Male | 1 Years | Light up Toys | |
| 94 | Nyah | Male | 15 Years | Bath and Body Works | |
| 95 | Sherman | Male | 3 Months Years | Light up Toys | |
| 96 | Autumn | Female | 1 Years | Light up Toys | |
| 97 | Carina | Female | 6 Years | JoJo siwa/ Unicorns | |
| 98 | Keith | Male | 7 Years | Dinosaurs | |
| 99 | Esteban | Male | 7 Years | Pokemon | |
| 100 | Eva | Female | 17 Years | Bath and Body Works | |
| 101 | Alea | Female | 3 Years | Bath and Body Works | |
| 102 | Bryson | Female | 5 Years | Super Hero / Star Wars | |
| 103 | Dorothy | Female | 11 Years | Nail Polish Set | |
| 104 | Josiahh | Male | 7 Years | Super Hero | |
| 105 | Lilly | Female | 7 Years | JoJo siwa/ Unicorns | |
| 106 | William | Male | 9 Years | Super Hero | |
| 107 | Ciara | Female | 6 Years | Barbie / Disney Princess | |
| 108 | Kymiah | Female | 9 Years | Unicorns | |
| 109 | Rene | Male | 2 Years | Trucks / Super Hero | |
| 110 | Michael | Male | 2 Years | Trucks / Super Hero | |
| 111 | Katelynn | Female | 10 Years | Pusheen / LOL Barbies | Sponsored |
| 112 | Juliana | Female | 8 Years | Kitchen Play Set / | |
| 113 | Nathaniel | Male | 6 Years | Anything Spiderman | |
| 114 | Christian | Male | 5 Years | Anything Bathman | |
| 115 | Maya | Female | 4 Years | Disney Princess | |
| 116 | Tomas | Male | 7 Years | Lego Set / Train Set | |
| 117 | Karla | Female | 13 Years | The Selection Series (Books) | |
| 118 | Marco | Male | 15 Years | Nike Sweater Size: (Large) | |
| 119 | Jordan | Male | 13 Years | Anything Fortnite | |
| 120 | Edna | Female | 1 Years | Artset / Play Kitchen Set | |
| 121 | Nathan | Male | 12 Years | Anything Fortnite | |
| 122 | Emily | Female | 5 Years | Kitchen Set Toy | |
| 123 | Nicholas | Male | 2 Years | Train Set | |
| 124 | Sophia | Female | 2 Years | Play Kitchen Set | |
| 125 | Izahbella | Female | 9 Years | LOL Doll | |
| 126 | Loreno | Male | 6 Months Years | Plush Toy | |
| 127 | Ailin | Male | 2 Years | Big Legos | |
| 128 | Batyah | Female | 8 Years | Art Set | |
| 129 | Emily | Female | 14 Years | Art Set | |
| 130 | Selene | Female | 15 Years | Nike Sweater Size: S | |
| 131 | Elijah | Male | 4 Years | Caption America | |
| 132 | Juanita | Male | 1 Years | Age Appropriate Gift | |
| 133 | Alessa | Female | 8 Years | Arts & Craft Age Appropriate | |
| 134 | Gerardo | Male | 10 Months | Age Appropriate Gift | |
| 135 | Paris | Female | 11 Years | Arts & Craft | |
| 136 | Mason | Male | 5 Years | Educational Games | |
| 137 | Vincent | Male | 2 Years | Age Appropriate | |
| 138 | Jemariah | Male | 15 Years | Crayons and Coloring Book | |
| 139 | Jacob | Male | 7 Years | Monster Trucks | |
| 140 | Aiden | Male | 11 Years | Age Appropriate | |
| 141 | Don | Male | 14 Years | Age Appropriate | |
| 142 | Maya | Female | 9 Years | Age Appropriate | |
| 143 | Nico | Female | 5 Years | Spider Man | |
| 144 | Santino | Male | 6 Years | Spider Man | |
| 145 | Lilo | Female | 4 Years | Disney Frozen Toy | |
| 146 | Tivian | Female | 6 Years | My Little Pony | |
| 147 | John | Male | 1 Years | Age Appropriate | |
| 148 | Daniel | Male | 1 Years | Age Appropriate | |
| 149 | Jordan | Male | 16 Years | Age Appropriate | |
| 150 | Max | Male | 16 Years | Football Dever Broncos | |
| 151 | Nathan | Male | 6 Years | Age Appropriate | |
| 152 | Fredrick | Male | 15 Years | Nerf | |
| 153 | Jelani | Female | 16 Years | Age Appropriate | |
| 154 | Ruben | Male | 15 Years | Age Appropriate Gift | |
| 155 | Adrian | Male | 9 Years | Age Appropriate Gift | |
| 156 | Lexa | Female | 3 Years | Age Appropriate Gift | |
| 157 | Nate | Male | 1 Years | Age Appropriate Gift | |
| 158 | Genesis | Female | 10 Years | Age Appropriate Gift | |
| 159 | Ruby | Female | 11 Years | Age Appropriate Gift | |
| 160 | Sabrina | Female | 8 Years | Age Appropriate Gift | |
| 161 | Julian | Male | 10 Years | Age Appropriate Gift | |
| 162 | Mason | Male | 3 Years | Age Appropriate Gift | |
| 163 | Olivia | Female | 1 Years | Age Appropriate Gift | |
| 164 | Alexander | Male | 6 Years | Age Appropriate Gift | |
| 165 | Joseph | Male | 3 Years | Age Appropriate Gift | |
| 166 | Michael | Male | 4 Years | Age Appropriate Gift | |
| 167 | Princess | Female | 2 Years | Age Appropriate Gift | |
| 168 | Victor | Male | 13 Years | Age Appropriate Gift | |
| 169 | O'Bryan | Male | 13 Years | Age Appropriate Gift | |
| 170 | Angel | Male | 3 Years | Age Appropriate Gift | |
| 171 | Jaiden | Male | 4 Years | Age Appropriate Gift | |
| 172 | Jayla | Female | 1 Years | Age Appropriate Gift | |
| 173 | Anthony | Male | 2 Years | Age Appropriate Gift | |
| 174 | Sariah | Female | 7 Years | Age Appropriate Gift | |
| 175 | Westley | Male | 4 Months | Age Appropriate Gift | |
| 176 | Edwin | Male | 12 Years | Age Appropriate Gift | |
| 177 | Elieene | Female | 11 Years | Age Appropriate Gift | |
| 178 | Elaine | Female | 15 Years | Age Appropriate Gift | |
| 179 | Nesreen | ? | 3 Years | Age Appropriate Gift | |
| 180 | Belle | Female | 5 Years | Age Appropriate Gift | |
| 181 | Christie-Lynne | Female | 5 Years | Age Appropriate Gift | |
| 182 | Joshua-Abraham | Male | 14 Years | Age Appropriate Gift | |
| 183 | Jiovana | Female | 2 Years | Age Appropriate Gift | |
| 184 | Leilani | Female | 8 Years | Age Appropriate Gift | |
| 185 | Leonel | Male | 8 Years | Age Appropriate Gift | |
| 186 | Danira | Female | 10 Years | Age Appropriate Gift | |
| 187 | Kairah | Female | 5 Years | Age Appropriate Gift | |
| 188 | Mateo | Male | 1 Years | Age Appropriate Gift | |
| 189 | Julio | Male | 9 Years | Sports toys ie wall basketball set, mini drone, plastic dart game | |
| 190 | Paulina | Female | 11 Years | Chess set, uno game, STEM games for 6th graders | |
| 191 | Isaiah | Male | 3 Years | Piano mat, magic doodle mat, toddler foam pogo jumper | |
| 192 | Kiabeth | Female | 15 Years | Ukele, mini accordion/piano, chess/checkers, Uno game | |
| 193 | Ralphie | Male | 1 Years | Door jumper, ride on toys, Piano mat, magic doodle mat | |
| 194 | Caralinda | Female | 12 Years | Art set, journals, adult coloring book with colored pencils | |
| 195 | Gabriel | Male | 6 Years | Toy cars, scooter, binoculars and/or adventure set, Uno game | |
| 196 | Bryson | Male | 6 Years | Binoculars, adventure set/vest, toy soldiers, | |
| 197 | Denice | Female | 10 Years | Hair chalk, decorate water bottle kit, jewelry box with jewelry | |
| 198 | Roger | Male | 6 Years | Toy soldiers, plastic darts with dart game, plastic basketball game | |
| 199 | Cynthia | Female | 8 Years | Hair chalk, decorate water bottle kit, bracelet kit, Candyland game | |
| 200 | Nolan | Male | 9 Months | Magic doodle mat, toddler ride on toys, toddler games | |
| 201 | Keonte | Male | 3 Years | Piano mat, magic doodle mat, toddler foam pogo jumper | |
| 202 | Charlotte | Female | 3 Years | Piano mat, magic doodle mat, toddler foam pogo jumper | |
| 203 | Gerardo | Male | 6 Years | Toy soldiers, plastic darts with dart game, plastic basketball game | |
| 204 | Makaila | Female | 13 Years | Chess set, uno game, STEM games for 6th graders | |
| 205 | Anastasia | Female | 6 Years | Doodle mat, piano mat, outdoor sport games | |
| 206 | Heaven | Female | 8 Years | Hair chalk, decorate water bottle kit, bracelet kit, Candyland game | |
| 207 | Xavier | Male | 11 Years | Basketball wall game, plastic dart game, mini drone set, stem toys | |
| 208 | Brandon | Male | 6 Years | Piano mat, magic doodle mat, toddler foam pogo jumper | |
| 209 | Jaxon | Male | 3 Years | Toddler Foam pogo jumper, magic doodle mat, preschool toys | |
| 210 | Juaquin | Male | 3 Years | Toddler scooter, piano mat, magic doodle mat, preschool games | |
| 211 | Noah | Male | 1 Years | Age Appropriate Gift | |
| 212 | Jesse | Male | 11 Years | Age Appropriate Gift | |
| 213 | Romeo | Male | 1 Years | Age Appropriate Gift | |
| 214 | Andrew | Male | 10 Years | Age Appropriate Gift | |
| 215 | Jesse | Male | 11 Years | Age Appropriate Gift | |
| 216 | Sergio | Male | 3 Years | Age Appropriate Gift | |
| 217 | Ximena | Male | 13 Years | Age Appropriate Gift | |
| 218 | Victoria | Female | 6 Years | Age Appropriate Gift | |
| 219 | Mary | Female | 10 Months | Age Appropriate Gift | |
| 220 | Isaac | Male | 1 Years | Age Appropriate Gift | |
| 221 | Flor | Female | 6 Years | Age Appropriate Gift | |
| 222 | Junior | Male | 1 Years | Age Appropriate Gift | |
| 223 | Jaelene | Female | 14 Years | Age Appropriate Gift | |
| 224 | Jisell | Female | 15 Years | Age Appropriate Gift | |
| 225 | Karla | Female | 12 Years | Age Appropriate Gift | |
| 226 | Paul | Male | 6 Years | Age Appropriate Gift | |
| 227 | Tristan | Male | 4 Years | Age Appropriate Gift | |
| 228 | Benjamin | Male | 1 Years | Age Appropriate Gift | |
| 229 | Sergio | Male | 3 Years | Age Appropriate Gift | |
| 230 | David | Male | 2 Years | Age Appropriate Gift | |
| 231 | Anthony | Male | 7 Years | Age Appropriate Gift | |
| 232 | Ethan | Male | 3 Years | Age Appropriate Gift | |
| 233 | Jay | Male | 6 Years | Age Appropriate Gift | |
| 234 | Hidayah | Female | 1 Years | Stuffed Animal ( CAT) | |
| 235 | Leonel | Male | 1 Years | Building Blocks | |
| 236 | Genesis | Female | 4 Years | Legos | |
| 237 | Yasmina | Female | 6 Years | Stuffed Animal (Unicorn) | |
| 238 | Angelina | Female | 13 Years | Women's Perfume | |
| 239 | Nicholas | Male | 16 Years | Men's Body Wash | |
| 240 | Domani | Male | 2 Years | Building Blocks | |
| 241 | Rayani | Female | 2 Years | Building / Stacking Blocks | |
| 242 | Emma | Male | 2 Years | Play Doh | |
| 243 | Arianna | Female | 7 Years | Anything Art & Crafts | |
| 244 | Janhya | Female | 7 Years | Legos | |
| 245 | Tah'jhe | Female | 9 Years | Play Doh | |
| 246 | William | Male | 8 Years | Legos | |
| 247 | LA'Ryah | Female | 5 Years | Stuffed Animal (Unicorn) | |
| 248 | Jayvion | Male | 4 Years | Legos | |
| 249 | Princess | Female | 3 Years | Stuffed Animal (Panda) | Sponsored |
| 250 | Nicholas | Male | 16 Years | Men's Body Wash | |