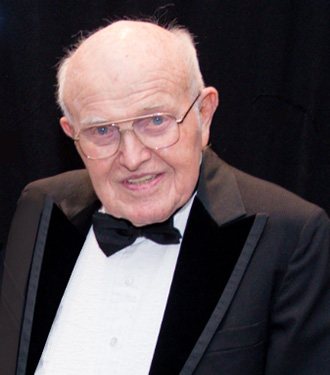 Dr. Ethan Allen is best known for his 60 years of caring, compassionate, front-line service as a primary care physician, mentor and educator. He began his career delivering babies in the homes of medically underserved residents in Los Angeles County, and until his retirement in 2017, he had a bustling primary care practice, including emergency room and hospital patient care duties. This environment was "ground zero" for many medical students who came to understand the wholeness of osteopathic practice and the application of osteopathic principles and philosophy with Dr. Allen as their preceptor, mentor and guide.
Ethan R. Allen was born in Fargo, North Dakota, and was raised and educated predominantly in Laramie, Wyoming, where his family moved when he was four years old. After graduating from the University of Wyoming with a bachelor's degree in engineering, he was recruited to work on the Manhattan Project in 1944 and was drafted into the Navy in 1945 serving in the Navy Air Corps in 1945-46. Following his service, he completed pre-med courses at the University of Wyoming, and eventually earned his Doctor of Osteopathy degree from the College of Osteopathic Physicians and Surgeons (COP&S) in Los Angeles in 1951.
In 1962, more than 2,000 California DOs exchanged their DO degrees for MD degrees, and the state nearly lost its osteopathic profession altogether, as the power of the osteopathic licensing board to license new DOs was revoked. However, Dr. Allen remained true to his profession and spearheaded a resurgence of the osteopathic profession in California, eventually leading to a California Supreme Court reinstatement of DO licensing authority in 1974. Two years later, Dr. Allen became founding chairman of the College of Osteopathic Medicine of the Pacific (COMP) Board of Directors, and was in large part responsible for recruiting a visionary educator from the Chicago headquarters of the American Osteopathic Association -- Dr. Philip Pumerantz -- to establish the fledgling college as its president. COMP officially opened its doors in Pomona, California, in September 1977 and welcomed its charter class of 36 osteopathic medical students a year later. Dr. Allen has served on the COMP/Western University of Health Sciences Board of Trustees for its entire existence, and currently is the board treasurer.
As philanthropists, Dr. Allen and his wife, Alice, established the residential Allen House for drug and alcohol treatment in Southern California, and have served on countless community boards and committees, many of them devoted to fighting drug addiction and abuse and supporting addiction rehabilitation efforts. Dr. Allen was President of the Osteopathic Physicians and Surgeons of California four times, served on the OPSC board for more than four decades, and now holds Emeritus Director status. He has been a member of the American Osteopathic Association since 1952, and was Founding President of the California Society of American College of General Practitioners of Osteopathic Medicine and Surgery. His past and current hospital affiliations include La Mirada Community Hospital, La Habra Community Hospital, Rio Hondo Memorial Hospital and Whittier Hospital Medical Center. He was President of the Rio Hondo Area Drug Abuse Coalition, served as a volunteer physician for Rio Hondo Area Action Council Recovery House, and with Alice founded the Los Angeles Centers for Alcohol and Drug Abuse, for which he continues to serve as a board member.
He also continues to teach a monthly Osteopathic Manipulative Medicine class at WesternU. "Dr. Allen has had a remarkable career in every respect, notably 65 years as a medical practitioner as well as a superb teacher and model of professionalism to generations of students," said WesternU President Daniel R. Wilson, MD, PhD. "Ethan is a true gentleman and a fine physician who had a pivotal role in the renewal of the profession in California. Without him, there would be no Western University of Health Sciences."