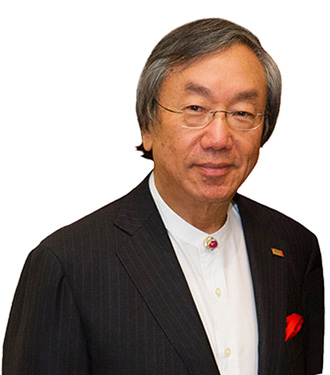 Leo Chu is a Chinese-American entrepreneur with many years of experience owning and operating businesses in Los Angeles. Born in Shanghai in 1942, Chu was raised in Hong Kong and attended Hong Kong Polytechnic University. He earned a degree in textile engineering, which led him to a job at a family-owned textile business in Hong Kong in 1964, thus beginning a career in the clothing industry that would span 30 years.
Chu and his wife, Ivy, immigrated to the United States in 1975. After arriving in Los Angeles, they started an apparel company called California Ivy Inc. Over the next 17 years, the company grew to become one of the city's largest private clothing companies, with over $150 million in sales per year and hundreds of employees worldwide. Chu sold the company in 1992 to Kellwood, a Fortune 500 apparel company, though he and his wife remained as president and vice president of California Ivy for another two years.
After leaving the company he started and departing an industry in which he had worked for three decades, Chu decided to enter a new industry: gaming. He became owner of Hollywood Park Casino and Crystal Park Casino & Hotel in Los Angeles in 1996, as well as a co-owner of Lucky Derby Casino near Sacramento. These endeavors earned him distinction as the first and only Asian-American to own casinos in California. Today, Chu remains a partner in Crystal Park Casino & Hotel and the Bicycle Hotel & Casino in Bell Gardens. He has offered his industry experience to many gaming boards over the years, serving on the California Council on Problem Gambling, the California Gambling Control Commission, the Golden State Gaming Association, and the Southern California Casino Association.
Chu is committed to supporting charitable causes domestically and abroad. He serves as Chairman of the Morning Light Foundation, a nonprofit organization in China that builds elementary schools and provides scholarships. To date, the foundation has built over 40 schools and donated hundreds of scholarships. In Los Angeles, he has supported the Special Olympics and one of its core missions of providing health services to those with intellectual disabilities, who have high demand for health care and are at greater health risk. He has served as a board member since 1996. Chu also sits on the boards of many other Los Angeles institutions including the Board of Councilors at the USC Viterbi School of Engineering and the President's Council of The Huntington Library, and he serves on Chamber of Commerce boards in Inglewood and Compton. Chu maintains a connection to his Chinese heritage by serving as president of the Los Angeles Shanghailander Association and as a member of various Chinese charitable and benevolent associations, and through his recognition as an honorary publisher of the Chinese Daily Newspaper.