Western University of Health Sciences
Birth of a College – Growth of a University
In 1977, a small group of founders embraced the idea of creating a college of osteopathic medicine in the western United States, and asked Philip Pumerantz, PhD, to come to California to start the college and serve as founding president. They had a name (the College of Osteopathic Medicine of the Pacific—COMP), a President (Dr. Pumerantz) and a vision—a new, high-quality college of osteopathic medicine. Their new president faced an enormous task—he was president of a medical college with no students, no faculty, no buildings, no classrooms, no equipment, and little money.
Success is the child of audacity. ~Erasmus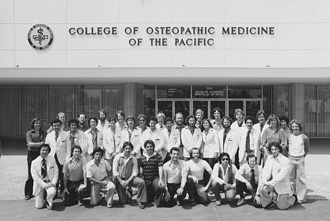 On October 2, 1978—less than 13 months after Dr. Pumerantz and his family arrived from Chicago—classes began for the 36 members of the Charter Class of the College of Osteopathic Medicine of the Pacific. By the time of their graduation in 1982, COMP was fully accredited.
Since that humble inception, Western University of Health Sciences (WesternU) has grown to include nine health sciences colleges: the College of Osteopathic Medicine of the Pacific (COMP); the College of Health Sciences; the College of Pharmacy; the College of Graduate Nursing; the College of Veterinary Medicine; the College of Dental Medicine; the College of Optometry; the College of Podiatric Medicine; and the Graduate College of Biomedical Sciences. We have expanded to two campuses (Pomona, CA and Lebanon, OR) where we enroll more than 3,600 students, and employ more than 1,000 people.
  
To Teach, To Heal, Together
To Teach, To Heal, Together – more than any other statement, those words define the thrust of WesternU.
The University is a teaching/learning community, one in which knowledge is applied to an end—the health and well-being of our fellow citizens. President Pumerantz has assembled an outstanding group of academic leaders and faculty to carry the work of the university forward. He noted: "The value of the University degree 20 years from now is based on the University's reputation in 20 years' time." WesternU alumni, wherever they serve—in private practice, in academic institutions, in the military, in major medical centers, in public health facilities—are known for the high standards to which the University is dedicated. Because of the excellence of our graduates, WesternU will continue to be known and respected as one of this nation's leading universities dedicated to the teaching of the health sciences.