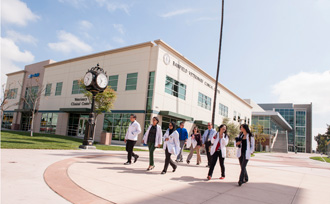 Over the course of several months, we gathered in small and large groups to consider various strategic questions and to discuss ideas for potential strategic directions for the University. We examined our vision, mission, and purpose, and deliberated our WesternU "brand." We explored unique characteristics of our University, as well as our collaborative mindset and commitment to interprofessionalism. We stressed the increasing need to focus on outcomes in health care and health sciences education, ways in which we could be innovative regarding the future of health, how our University structure and processes need to evolve to meet current and future conditions, and other ways that we could work to foster creative, bold, and audacious ideas through health sciences education. Questions around financial considerations were addressed, as well as the inherent tension in simultaneously having both a present and a future orientation.
WesternU is a strong institution focused on academics, patient care, research, and community service. Our community is made up of outstanding people who are engaged in the mission of the University and dedicated to its values of science, caring and humanism. Historically, we have been an institution that is courageous and committed to growth, with the flexibility and capability to be responsive to new opportunities. There is a "WesternU Way" of doing things — bold, audacious, innovative, passionate — that we want to continue to bring to present and future endeavors. We honored our history of creative endeavors and risk-taking, and explored what the "WesternU gene" might look like and how that style of courageous advance can be become even more embodied in our University culture.
Here are some of the things we know to be true about WesternU:
WesternU is uniquely comprehensive as compared to most other academic health sciences institutions, and this characteristic can be leveraged more to our advantage; we are not reaping as many of the benefits of our size and scope as a university vs. an "amalgam of colleges" as we could. At the same time, WesternU is small and nimble compared to other institutions, allowing us to be able to respond and execute more quickly in new directions. We have fewer layers of decision-making.
WesternU is also an innovator with a good reputation, an engaging mission, a diverse community, and a culture where everyone is a valued contributor. We are a financially strong institution with great potential for further growth. We have consistently had visionary leadership, and benefit from a vast pool of varied and qualified professionals and students.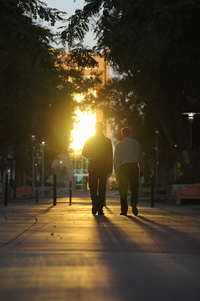 For several years, the University has brought a sharp focus to interprofessional education and is now recognized as one of the leading health sciences institutions in this area. Our interprofessional mindset needs to be more broadly applied across the University, so that we are no longer administering programs or delivering health care in silos. We must foster a way of thinking that is inherently collaborative. We must create one University that fully embraces all of our constituents, and in the process, transform the way health professions education is carried out in the future.
Our goal is to embody greatness in teaching and learning, so WesternU should always seek opportunities to grow its mission, and to nourish and increase our material investments. We must aim high so that WesternU is considered the national treasure it deserves to be, and must confront the challenges ahead and make any necessary changes instead of reacting to changes that are foisted upon us. Our University must be grounded on the models for health sciences education, health care, research, and internal operations that work for the present and the future. The expectations for WesternU are high, and our supporters expect much of us.
At the same time, we must obviously only expand in areas that make sense from a strategic perspective, based on patient or customer "pull." We must simultaneously see ourselves as both an academic institution and a health care delivery system. We must continue to foster, and better communicate, the unique WesternU culture that draws constituents to our campuses.
As a result of these varied discussions, assertions, and ideas for the future of Western University of Health Sciences, we distilled our focus into seven goal areas. These are visualized as end-states and therefore are expressed in the present tense:
Education
WesternU delivers leading-edge academic programs and degrees that meet the health professional and health care needs of the future by: 1) fully integrating interprofessional education and evaluation; 2) translating basic science into clinical and biomedical applications; 3) applying innovative models and technologies; 4) focusing on responsibility-centered, outcomes-based learning; and, 5) offering excellence in post-graduate and continuing education.
Health Care
WesternU includes a model collaborative health care enterprise that is fiscally sustainable and that contributes non-tuition income to operations. This enterprise serves the growing populations of our local and regional communities through providing the best outcomes to attain the greatest value for our patients/clients.
Research
WesternU is an applied research institution that is a recognized leader in interdisciplinary and interprofessional health-related research, with a fiscally sustainable research enterprise that contributes to the overall University mission.
Interprofessional Education
WesternU is lauded as a leader in Interprofessional Education in all areas of its endeavors: academics, health care, research enterprises, and institutional structure.
Financial
WesternU is financially healthy and stable, with: 1) new non-tuition sources of revenue; 2) net positive returns in health care services and research activity without tuition support; 3) net surpluses that are reinvested in University growth and stability; 4) healthy endowments and scholarship funds.
Internal Fitness
WesternU embodies a high level of internal fitness with the ability to respond nimbly, strong financial and human resources, and the capability to produce a positive impact in our communities.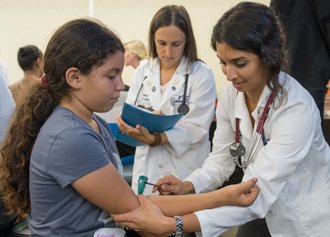 Community Service
WesternU improves the quality of life in our campus communities by addressing health-based barriers to human potential, improving access to health sciences education, and by meeting other community needs.
Through the collaborative process detailed earlier in this document, objectives were created for each of the goal areas listed above. Once a draft document was compiled, the goals and objectives were rank ordered in priority by the Deans Council, the Operations Council, University leadership, the Oversight Committee, and the Strategic Planning Committee of the Board of Trustees, resulting in the priority order shown in the following Goals and Objectives.