To update our understanding of the University's current environment – both internal and external –and to gather ideas from our stakeholders, we conducted an external environmental scan, an internal environmental scan, and an ideas survey of students, faculty and staff, alumni/ae, board of trustees members, and select community stakeholders. A great deal of valuable information was discovered in this process.
Let us not be content to wait and see what will happen, but give us the determination to make the right things happen. ~Peter Marshall
External Environmental Scan
The Environmental Scan working group explored five primary areas in developing a snapshot of the University's external environment: Education, Health Care, Workforce, Technology, and Research.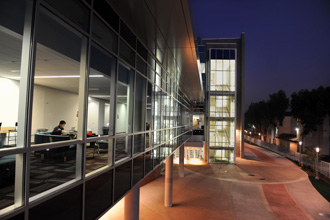 In the area of Education, this group researched environmental factors in global health, campuses in other countries, space considerations for health care education, donations, reform in medical education, the trend of getting credit for informal learning, the scholarship of teaching, technology in education, and faculty development. They noted, for example, that:
Interest in global health education programs and international campuses is on the rise
Changing technology considerations require strategic consideration and investment
Increasing alumni/ae outreach can counteract the decline in donations due to current economic conditions
Contemporary innovations in, and understanding of, how people learn necessitate fundamental changes in medical education requiring new curricula, new pedagogies, and new forms of assessment
Digital technologies are changing the way we learn and work, and one response is to offer "digital learning badges" as credit for informal learning
The definition of scholarship in health sciences education needs to be broadened to include scholarship in teaching and other learning-related activities
Raising the profile of faculty and enhancing their development is a wise investment in the institution's most valuable resource
It is clear that Health Care in the United States is in serious need of reform and is undergoing a sea change. WesternU might consider getting even more involved in matters of health policy and developing more expertise in health informatics. The group especially noted that:
Opportunities exist to reduce health care costs without sacrificing outcomes
Envisioning primary care that "works for all" may require adopting a Patient-Centered Medical Home Model, as well as reorganizing health delivery around groupings of patients with different needs, developing chronic care models, and forming integrated practice units
The Patient Protection and Affordable Care Act could bring an additional 32 million currently uninsured Americans into the primary care system
Health delivery systems must apply a "value" framework wherein improved patient outcomes increasingly rely on delivering care in multi-professional/interprofessional settings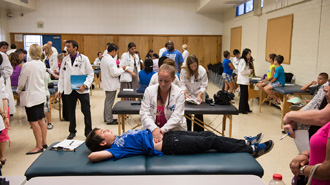 A look at the current and future capacity of the health care Workforce in California and Oregon points to such factors as:
Growing populations that are increasingly culturally diverse, aging, and carry a great chronic disease burden
Market forces that are changing health care delivery methods and practice models
Uneven geographic distribution of health care professionals, resulting in shortages in some areas and surpluses in others
Health professions that do not necessarily reflect state populations' ethnic, racial, and economic diversity
Oversubscription in many of California's health professions education programs
Health care education that is not typically aligned with emerging needs
Traditional curricula that must be transformed to meet the requirements of new and evolving work models and to provide the critical thinking skills necessary to work with the increasingly sophisticated technology of contemporary medical care
Health systems' need for increased involvement of patients and families in the care process, including home and community-based services
The overall value of increased training and residency opportunities in under-represented fields and communities
The need to form statewide and regional partnerships for adequate health workforce planning, especially in primary care
The reality of ongoing reductions in support for public education that will negatively impact access to health care education in public institutions
Career ladder programs that can help advance educational access, career opportunities, and community health
The constantly changing Technology landscape will greatly affect health sciences education.
Clinicians will have to stay current in their knowledge of advanced technologies, some of which may allow remote care or in-house tests, as well as of drug design, imaging, genetic mapping and testing, gene therapy, vaccines, use of artificial blood, xenotransplantation, and minimally invasive surgery
The increased use of such technologies as genetic testing/modification will bring increased concerns for ethical, legal, and social implications
The effect on patients' decision-making regarding care and treatment of growing interest in, and usage of, online access to information for health matters
Technology in higher education will be affected by economic conditions, security concerns, growing information fluency, disaster recovery and business continuity, identity and access management, and the need for adaptability regarding institutional policies, processes, and practices
More awareness is needed regarding disparities between cultural and ethnic groups in usage of and access to technology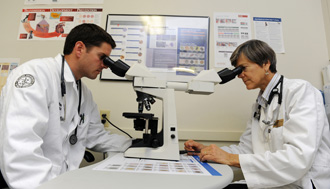 In the area of Research, the group discovered that:
A consumer today can have her entire genome sequenced in a matter of days for less than $10,000, and next-generation sequencing technology will drive costs down to the level of a diagnostic imaging test
Genomics can shorten the diagnostic odyssey and direct therapeutic intervention, but typical genomic analysis generates much more data than is required and may result in ever-increasing demands for more follow-up
Exciting developments in stem cell research hold much promise and many challenges
The need for translational science to address the gap between advances in research and complementary advances in human health, such that the intellectual riches that flow from biomedical discovery can become practical riches from which humans can benefit
The NIH's National Center for Advancing Translational Sciences was launched to reengineer the process of developing drugs, diagnostics, and devices and will require partnerships from academia, industry, patient advocacy groups, regulatory agencies, and philanthropies
Internal Environmental Scan
Compiling the Internal Environmental Scan involved both an Ideas Survey and an Internal Survey of strengths, challenges, opportunities, and threats. First, we asked the broader WesternU community (including students, faculty/staff, alumni/ae, Board members and members of the professional community) to give us their ideas for what the University might do in the next five years. Next, we asked a targeted list of internal leaders (including senior administrators, deans, department heads and directors of operations) to identify WesternU's strengths, challenges, opportunities and threats. Because the number of responses per person for the Ideas Survey was not limited, in many cases we received multiple responses from the same individuals. Combining the number of responses to both surveys, we received 387 total responses.
Our community perceives WesternU as being abundant in Strengths. Respondents noted our outstanding people; strong academics; an interprofessional focus; our history of innovation and strong commitment to growth; an engaging mission; a culture where people are encouraged to excel; our core ideals of humanism and caring; visionary leadership that models our core values; and a vast pool of professionals and students with experience and motivation to volunteer in the community.
As in any institution, WesternU also faces Challenges. These include shrinking residency programs; the risk of our individual colleges being too "siloed," resulting in potential duplication of resources and missions; an infrastructure that has not always experienced growth commensurate with the expansion of colleges and programs; processes that may need streamlining, expansion, or that do not always take advantage of the University's overall clout and strength; communication challenges; less than optimal facilities and space; a need for succession planning in all areas of the University; and a stronger level of awareness of the University, its missions and its impact on its communities.
The University faces many Opportunities, both internal and external, such as: surrounding communities with vast health care needs that are currently underserved; the opportunity to expand our footprint in the Northwest; better utilization of advancing technology in medical care delivery and education; growth resulting in a need for increased student housing and services; CME delivery needs; growing interest in interprofessional education, research and collaborative practice; the increasing need for both specialty and chronic disease care; availability of real estate for expansion; and the opportunity to develop and license WesternU intellectual properties.
Our internal and external environments pose some potential Threats as well, including: changes due to health care reform and how medical reimbursements are handled; the effects of increasing tuition needs and student debt; growing needs for data management; a decline in NIH funding of research; increasing competition and cost of rotations; growing campus violence nationwide and local challenges in urban Pomona; lack of economic growth in surrounding communities; the expansion of competing schools in California; and internal pressure to increase non-tuition revenues so as not to fund programs that do not directly benefit students through tuition revenues.
Ideas Survey
We received many ideas via the Ideas Survey, including:
Academics – expanding our center for Interprofessional Education to incorporate practice and research; increased excellence in health care education; many ideas for new program offerings; seeking academic partnerships to offer innovative programs; exploring more offerings in public health and/or "One Health" models; and a greater emphasis on clinical education opportunities.
Health Care – further implementing collaborative and team-based care in the Patient Care Center; seeking to expand health care offerings in areas of greatest need; establishing a primary and preventive care institute; and developing more satellite community care clinics.
Research and Scholarship – expanding facilities for research; seeking opportunities in health innovations and technology; and publishing an electronic or print journal.
Internal/Infrastructure – adding and improving campus facilities for students, staff and local communities; optimizing the entire organization and expanding infrastructure where needed; growing financial resources; and improving communication, marketing and identity awareness.