History of WesternU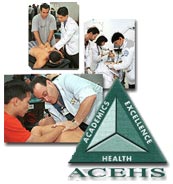 Western University of Health Sciences embarked on a special mission when it opened its doors in 1977 as the College of Osteopathic Medicine of the Pacific (COMP): educating tomorrow's health care professionals with a combination of scientific excellence and a humanistic, compassionate approach to patient care.
From an inaugural class of 36 students in 1978, enrollment in the College grew to more than 400 by 1986. That same year, the addition of the Master of Science in Health Professions Education program paved the way for what would become the College of Health Sciences. Meanwhile, the University continued acquiring former Pomona Mall buildings, remodeling them and converting them to educational use.
The campus kept growing over the next decade, with enrollment jumping dramatically in 1996, when the addition of a College of Pharmacy coincided with the campus' name change to Western University of Health Sciences.
1998 was another landmark year for WesternU, as the College of Graduate Nursing was founded in March, and the College of Veterinary Medicine – the first veterinary college in Southern California, and still one of only two such colleges in the state – was established just five months later.
WesternU's first foundation-up construction project, the Veterinary Clinical Center, opened its doors in August 2008. One year later, the University welcomed inaugural classes in three new colleges — Dental Medicine, Optometry, and Podiatric Medicine. In conjunction with that academic expansion, the University further expanded the physical campus, erecting a 180,000-square-foot Health Education Center, a Patient Care Center, and a 600-car parking garage. A ninth school, the Graduate College of Biomedical Sciences, welcomed its inaugural class in January 2010.
The University ventured north in 2011, opening a campus of the College of Osteopathic Medicine of the Pacific in Lebanon, Oregon. COMP-Northwest has an enrollment of 400 medical students and a staff of 70. It graduated its first class of 100 osteopathic physicians in June 2015.
2016 also was an important milestone in WesternU history, as the University welcomed just the second permanent president in its history. Following the retirement of Founding President Philip Pumerantz, PhD, in September 2015, and a national search, the University's Board of Trustees appointed Daniel R. Wilson, MD, PhD, as president in March 2016. Dr. Wilson, formerly Vice President for Health Affairs at the University of Florida Health Science Center and Dean of the College of Medicine-Jacksonville, officially took office in July 2016 and is to be formally inaugurated in August 2017.
Today, WesternU is home to more than 3,900 students in 21 programs, as well as 1,200 employees, and is one of the most thriving enterprises in the Pomona and Inland valleys of Southern California and the mid-Willamette Valley of Oregon.