George
Loved by Chrissy & Bill Valentine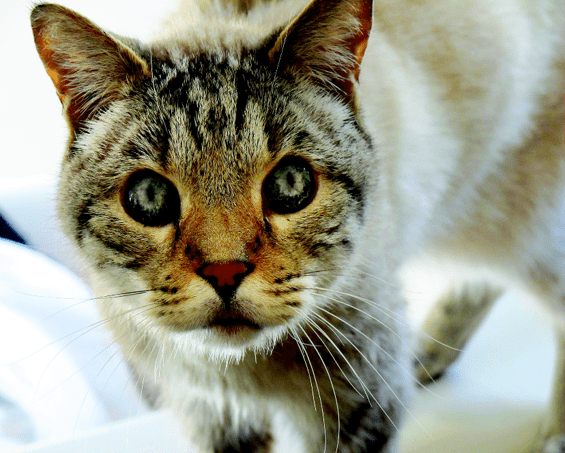 One Saturday in November 2006, we decided to stop by the Pasadena Humane Society, as we often do, and take a look at the animals.
It was Chrissy's birthday and what better way for two animal lovers to celebrate than to adopt a new member of the family?
The cat room was filled with adorable, meowing kittens and full-grown cats rubbing their faces against cages, begging for attention. And then there was George. He was skinny, 10 years old, listed as a stray, facing the back of the cage and wheezing due to an upper respiratory infection he contracted while at the shelter. Without missing a beat, Bill said,
"This is the cat for us."
We took him home and when his infection was gone, introduced him to the rest of the family, another cat named Miles and a dachshund named Ralphie. George and Miles became the best of friends, sleeping in the sun on the same chair together for hours at a time. After Miles passed away, George would split his time between that same chair and the bottom shelf of the linen cabinet in the bathroom.
As the years passed, George developed kidney disease, but continued to eat his favorite canned food (but only if it was heated slightly in the microwave) and demand his morning grooming session with his favorite wire bristle brush.
George was a sweet, dignified member of our family and we miss him very much. We don't know what his life was like before he came to live with us, but we do know that we are so happy that he could spend his final years with us. We hope George will help other animals.
Back to Pet Memorial    |    Donate in George's Name