Sydney (aka Syd or Syd-o)
Loved by James, Lisa & Addi Griffith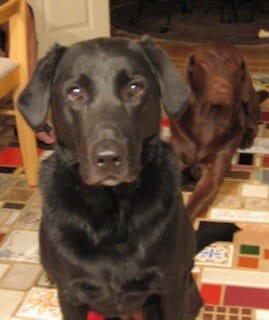 Sydney, our black lab, first came into James Griffith's life when he had taken a break from graduate school in 1998. James adopted Sydney while living a single man's life in Utah.  Within months, Sydney became his best companion. James took her everywhere and she not only became accustomed to being a shotgun passenger, she expected to go on all car rides. By the time Sydney was a year old, James returned to Claremont, California to pursue his Ph.D. and began dating. He eventually introduced another human into the family. These were happy times—for a brief moment—while James, Lisa, Sydney, and Sixx (Lisa's cat) all slept in the same bed. It wasn't until Sydney and Sixx began to take up and demand most of the bed that the nights were spent cozied up together.
In 2009, James and Lisa introduced another little human into this family—Addi Griffith. Her first word at ten months was, "dog." They formed a strong bond and Addi and Syd followed each other everywhere they went. It's funny how innocent both are—a child and her dog. By then, one would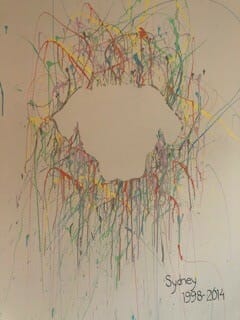 have expected for Sydney to have matured into a more serious dog. The vet kept assuring us, "Don't worry, she'll grow out of her puppy stage by next year." Sydney kept her puppy fun loving stage for most of her life. She and Addi were two young ones who romped around and played all day long. Addi loved the companionship.
By 2014, Sydney's age had caught up to her. She had slowed down and had finally become the mature dog we were waiting for. We then wished we would have never waited for this stage of her life… On her last days with us, we laid her down in the living room floor—the same floor where she had laid many nights next to us while we watched movies. Addi laid next to her for hours as Sydney slept and opened her eyes periodically. Addi gave her hugs and kisses, and eventually said her goodbyes. Grandma picked up Addi and took her for the night. James stayed with Syd throughout the night. He later wondered whether we had let her go like this too long…
A woman came to our home…we had soft music playing in the background as we sat next to Syd and let our tears fall down our face. Quietly, we each whispered in her "little" ear and shared our love for her and our goodbyes. The woman asked if we were ready. We kept petting Sydney and telling her it was going to be okay. She closed her eyes. She was driven away. Sydney impacted our lives. She made us better people. She prepared us for parenthood. She loved us and Addi unconditionally. She still makes us laugh. She's still our Syd-O. She will forever remain James's first girl.
Back to Pet Memorial    |    Donate in Sydney's name