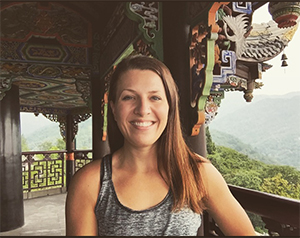 After a long, yet rewarding close to my first year of veterinary school, I've had the privilege to begin my summer alongside Dr. David Kersey, as a participant in Western University's summer research program. These upcoming months would include hours of preparing fecal extracts from samples collected at the Woolong Giant Panda Breeding Facility in China to determine the amount of thyroid hormone present relative to estrous cycles via the use of enzyme immunoassays (EIAs).
Little did I know that a few weeks into my project I would be spending two weeks of my summer running EIA's in China, both at the panda base in Dujiangyan and the well renowned Chengdu Giant Panda Breeding Center. I never would have imagined that I would have the opportunity to travel this summer, let alone gain an incredible wealth of hands on experience, having come from a background with very little familiarity in the field of research. But nearly a month after preparing samples in the lab every day, there I was on a plane to China.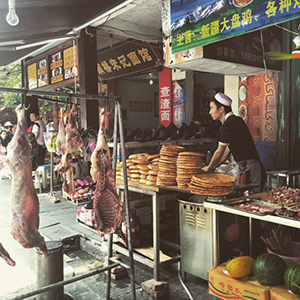 To me China was such a beautifully foreign land with so much to discover–from day one I was instantly enamored and ready to soak in every little bit of the culture that I could. The cities were decorated with giant skyscraper apartment buildings and the roadways were packed with scores of vehicles, particularly motor scooters, all weaving and dodging one another. The street fronts were ornamented by multiple tea shops and an array of smells coming from the locals who were preparing meals for the day in giant woks outside of their restaurants. And in the distance, particularly in the old town of Dujiangyan, were mountains upon mountains adorned with the most intricately built temples that seemed to have survived for years without so much as a mark on them. I stood there mystified by the colors and smells that filled my head. It was breathtaking to stand in a place that held so much history.
Dr. Kersey and I spent our first few days working with the staff in the endocrine lab at the panda base in Dujiangyan, which he helped to create. This base has provided the staff with the means necessary to assess the giant panda's reproductive status and enhance conservation efforts for this species. While here I was fortunate to meet some veterinarians from the States, including Dr. Meg Sutherland-Smith from the San Diego Zoo and Dr. Copper Aitken-Palmer from the Smithsonian Conservation Biology Institute.  Drs. Sutherland- Smith and Aitken-Palmer were part of a team of veterinarians hosting a week-long anesthesia, dentistry and radiology veterinary workshop for Chinese veterinarians and students from zoos giant panda breeding facilities. I was privy to watch a few of their giant pandas undergo anesthesia for physical exams, ultrasound, dental radiographs and extractions, endoscopy and various other procedures. Later on in the day I also had the opportunity to explore the base, which housed many exhibits for the giant pandas, which are bred there.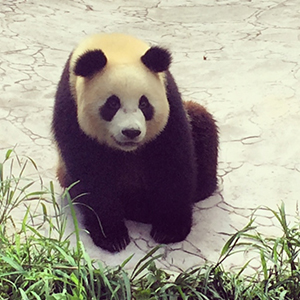 We spent the rest of our trip at the Chengdu Panda Base working with Dr. Luo Li and her colleagues. It was an honor to be working with Dr. Kersey, who has gained somewhat of a celebrity status among the panda base for all of his efforts setting up their laboratory protocols over the past ten years. The giant pandas unique reproductive biology is complicated by a once a year estrus, during which a female is only fertile for 2-3 days. The assays he set up are crucial to time the breedings and/or artificial inseminations (AI) associated with these short periods of estrus and have proven successful in producing cubs.  However, the reagent supplies for these assays are running low bringing a sense of urgency to improve the methodology to allow the base to continue to breed their animals and contribute to the recovery of the species. To this end, Dr. Kersey had spent over a year modifying the original hormone assays for the base to extend the lab's antibody and horseradish peroxidase (HRP) supplies for years to come. His double antibody EIA protocol was created to increase the efficiency of the increasingly finite supply of antibodies. The Chengdu base had previously used a single antibody assay, which although effective, was highly inefficient and consequently leads to the loss of a large amount of their primary antibody supply. By using this newly improved competitive antigen assay, the plates are coated with an inexpensive commercial polyclonal secondary antibody, such as goat anti rabbit IgG, which binds the primary antibody ~100%, so you end up losing only 1-2% of the primary antibody within the reaction. Due to his contributions, Dr. Kersey has helped the base not only produce a greater antibody supply, he has increased the efficiency of the assays by adding one additional step, therefore saving the panda base thousands of dollars which allows for more assays to be run, but more importantly, enabling them to continue properly timing breedings and AI.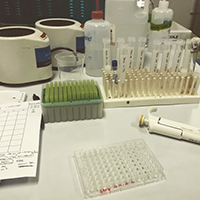 My days in the lab consisted of coating goat anti rabbit IgG plates, preparing buffers for our plates, calculating antibody, HRP and standards (particularly for my testosterone plates) as well as preparing concentrations for the cortisol, testosterone, estrogen and progesterone EIAs. These standards were alloquoted on our last day in the lab for the staff to have on hand for years to come. Overall the procedures were a success and Dr. Kersey managed to extend the lifespan of the estrogen antibody by 15 times its original quantity, the progesterone assay 16 times, the cortisol assay 55 times and lastly the testosterone assays by a whopping 66-fold.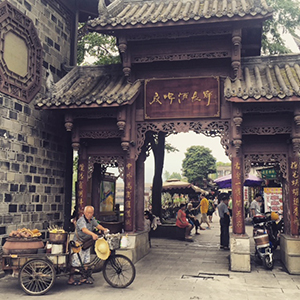 These weeks of spontaneous travel have not only given me some very valuable tools to take back with me to the lab but it has also made me incredibly grateful for all of the opportunities that I have been afforded since starting the DVM program at Western University. Our program certainly encourages its students to broaden their horizons through the different rotation sites available to us and the opportunity to make amazing contacts along the way. I was able to flex my freedom this summer and it finally sunk in that I can go wherever I want to and that there are so many unique opportunities in this field. I think that's really the beauty of this profession and of the program itself and I look forward to what lies ahead.