We're in the news thanks to KABC Channel 7. Click here to watch the video!
ABOUT THE CENTER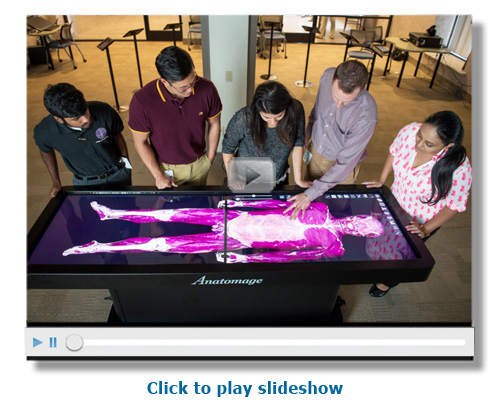 The J and K Virtual Reality Learning Center at Western University of Health Sciences merges an innovative curriculum model with cutting-edge technology to deliver a deeply engaging learning experience that will broaden understanding of human anatomy, improve retention and test scores, and ultimately lead to enhanced patient care.
The Virtual Reality Learning Center (VRLC) will help students from all of WesternU's health sciences colleges – osteopathic medicine, health sciences, pharmacy, nursing, veterinary medicine, optometry, podiatry, dental medicine, and biomedical science – learn anatomical functions and systems in a virtual environment.
ANATOMAGE
The VRLC's centerpiece is the Anatomage Virtual Dissection Table, developed at Stanford University, which – as its name suggests – brings anatomical images to life, allowing students to dissect the body and move through layers of tissue to see the structures inside. With the touch of a finger, students can expand the size of a body section to study its details, and turn that body part – or even the whole body – 360 degrees, to study it from all angles.
For centuries, human cadavers have been used to train doctors, who benefit from seeing and touching actual human tissues and organs. The Anatomage table does not replace the cadaver experience, but rather broadens and deepens the information it yields through the use of more than 300 life-sized anatomical visualizations taken from scans of real patients and cadavers. Anatomage also makes deeper study of anatomy possible for health sciences students in colleges that typically do not have access to cadavers.
zSpace
Another major high-tech tool within the VRLC is a quartet of zSpace 3D projection monitors, which use manipulative technology to allow the visualization of data in three dimensions. Using medical education software from fusion.tech, the monitors' stereoscopic displays, 3D glasses and electronic styluses, the zSpace stations in the VRLC will be used by students to examine, "dissect," and manipulate virtual anatomy as if using real body parts, creating a lifelike interaction.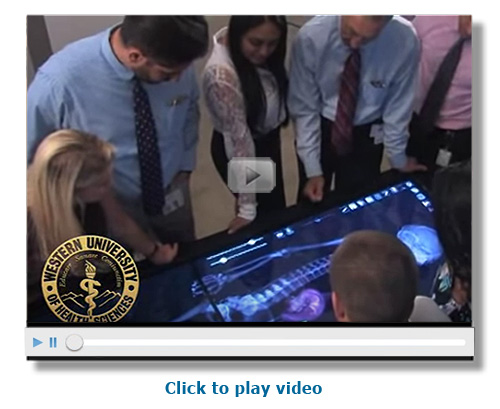 In the VRLC, the hardware/software combination means students can "pull out" holographic organs from the zSpace monitors to make them bigger, walk around them to get a better look, or even take them apart using the stylus.
fusion.tech
Aside from providing additional customized anatomy content for the zSpace displays, fusion.tech also provides access to the Stanford Anatomy 3D models through innovative, immersive tours on the Oculus Rift, and through customized scenes in their iPad apps. fusion.tech specializes in highly customizable content that is designed to match the curriculum, providing faculty the means to deliver highly focused content to their students based on the topics or objectives for that session.
OCULUS RIFT
Using virtual reality immersion technology designed for gaming and virtual socializing, the Oculus Rift system in the VRLC "shrinks" the viewer down to a microscopic size, then virtually flies them through the human body as if on an amusement park ride, complete with a tour guide providing narration. The Rift allows creation of a tour for any part of the body, creating an immersive anatomical experience and an unusual perspective on the body.
iPads
The iPad is an ideal target for deployment of anatomy study, because of its portability and interactivity. The study of function and motion are enhanced through the use of the VRLC's multiple iPads, which employ fusion.tech software and specially designed models to enhance anatomical study.
CURRICULUM DELIVERY
One of the most exciting things happening at Western University of Health Sciences is the way integrated technologies – including those now available at the Virtual Reality Learning Center – are transforming how curriculum is delivered. Students in one anatomy course, for example, use algorithms in an adaptive learning platform created by RealizeIT to track and predict their mastery of course content. Based on individual outcomes, small groups of students are given learning activities in the VRLC to apply classroom concepts, along with their own critical thinking skills. As each group works out its challenge, students become more responsible for their own learning. This self-guided learning concept – commonly referred to as a "flipped classroom" – is fast becoming a cornerstone of students' WesternU education, and is an educational model that sets the University apart from its peers while helping future health providers improve their information retention and their test scores.