OurTeam
The doctors and staff at We Care Dental have many years of experience in dentistry.  Each team member brings their unique knowledge and skills to work so that together they can offer you the best and latest techniques to ensure your oral health.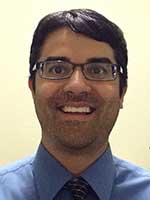 Dr. Anil Kumar, DMD, MPH
Clinical  Assistant Professor
Dr. Kumar grew up in St. Louis, MO, and completed his undergraduate studies at The University of North Carolina–Chapel Hill in 2004. He graduated from the Harvard School of Dental Medicine in 2010 and afterward completed a General Practice Residency in 2011 and an Oral Medicine Residency in 2013, both from the Carolinas Medical Center (Charlotte, NC). He also completed a Master of Public Health degree from the Harvard T.H. Chan School of Public Health in May 2017. Following his residency training, he spent the next year serving as the Assistant General Practice Residency Program Director at Carolinas Medical Center. In May 2014, he ventured across the country to work in a community health setting in the rural town of Crescent City, CA, performing full scope general dentistry on patients of all ages. In addition to working in the community clinic, he also worked in a mobile dental unit that provided care to children at elementary schools. He joined WesternU We Care Dental in June 2017 and hopes to follow Dr. Shakir in providing compassionate and excellent dental care to the community.
---
Dr. E. Michael Cowan, DDS
AEGD NYU Langone Resident
Dr. E. Michael Cowan graduated from Loma Linda University in Loma Linda, California, in May 2018. He enjoys all areas of dentistry especially resin based restorations and crowns. He also enjoys interacting with patients and strives to meet their needs. Ultimately, his goal is to pursue private practice after his one-year residency with WesternU We Care Dental.
---
Dr. Travis Vo, DDS
AEGD NYU Langone Resident
Dr. Travis Vo graduated from the University of California, San Francisco, in June of 2018. Dr. Vo enjoys all aspects of general dentistry and wishes to apply his skills
to help patients of all ages. After finishing his residency at WesternU We Care Dental, he is interested in being involved with community dentistry as well as private practice.
---
Support Staff
Our team of administrative professionals and dental assistants help We Care Dental to be a unique and comforting setting for your dentistry needs. The office has three registered dental assistants, two dental assistants, a receptionist, and a site director to help accommodate our patients' needs beyond the chair.