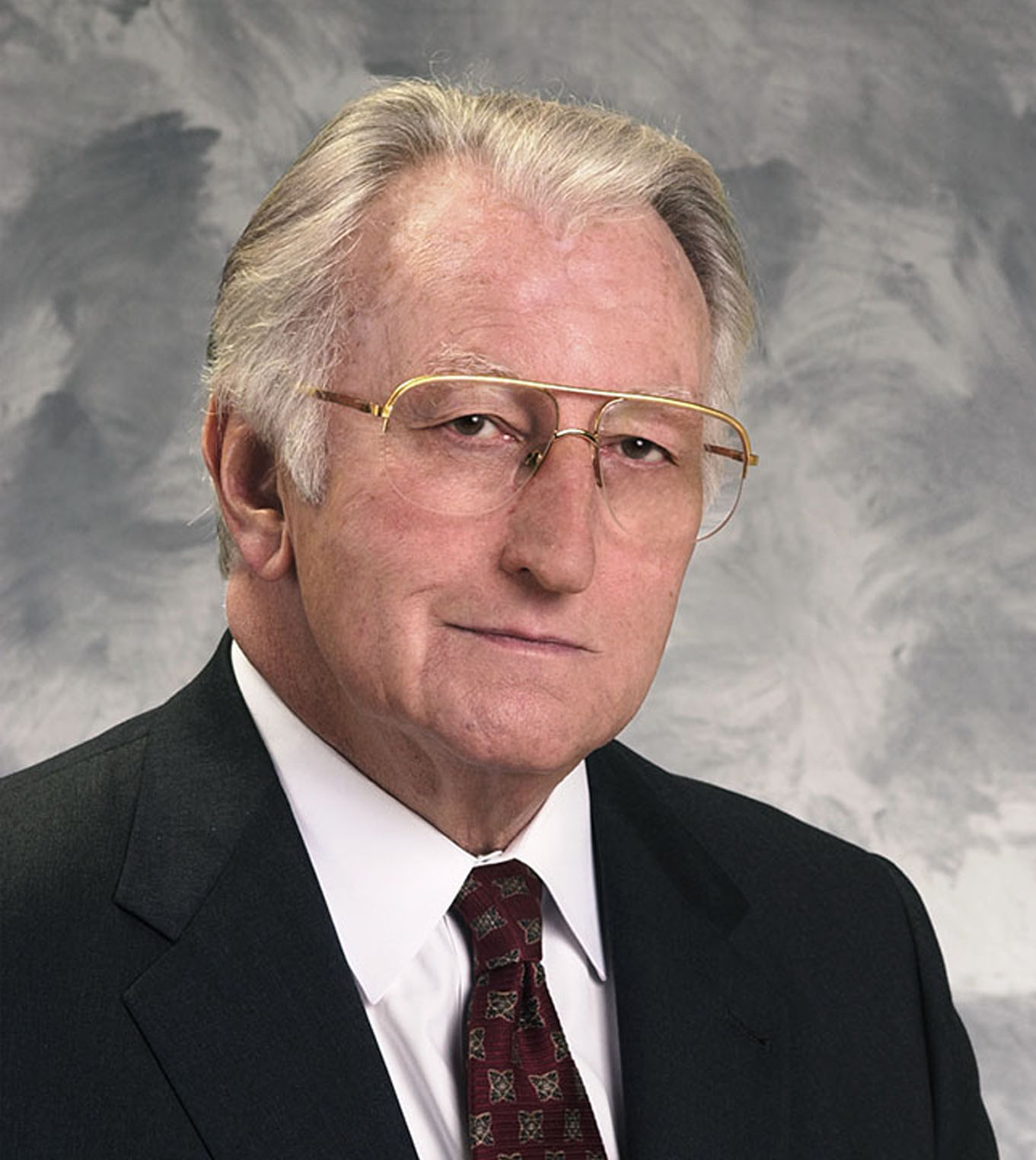 Founding President Dr. Philip Pumerantz, 1932-2017
Philip Pumerantz, PhD, founding president and president emeritus of the College of Osteopathic Medicine of the Pacific (COMP) and Western University of Health Sciences (WesternU), passed away at his home in Upland, California, in the early morning hours of Tuesday, December 26, 2017.
Dr. Pumerantz, who at the time of his retirement in September 2015 was the second-longest-serving sitting president of a college or university in the United States, was 85.
"This is a tremendous loss. Phil was a singular soul – most congenial yet indomitable and intrepid. His passing will be keenly felt across the university community, throughout health professions education and the many communities WesternU serves," said Daniel R. Wilson, MD, PhD, president of Western University of Health Sciences, who succeeded Pumerantz as the university's top officer.
"WesternU owes its very existence to the vision, ambition, tenacity and philosophy of Philip Pumerantz. He helped resurrect osteopathic medicine in California, and then — with only ideas and effort — built what is now a university with the broadest array of graduate health professions colleges in America, and respected worldwide. His is a success story unlike any other in higher education in the past century."
Philip Pumerantz was born on November 3, 1932, in New London, Connecticut, the son of Harry and Pauline Weiss Pumerantz. After finishing high school and following the death of his father, Pumerantz became family patriarch and head of the household. To support his mother and two younger brothers, Pumerantz worked in a series of jobs in his hometown. He then served in the US Army in West Germany for two years during the Korean War. Upon returning to the States, and with his mother's urging, Pumerantz became the first in his family to go to college. With the help of the GI Bill, he completed a bachelor's degree in history at the University of Connecticut (UConn) in 1959, and started his first job as an educator: teaching history to students at Waterford High School in Waterford, Connecticut. With an eye on a career in education administration, in 1963, Pumerantz became a house principal at Tomlinson Junior High School in Fairfield, Connecticut. Over the next four years, as he worked after hours on his master's and doctoral programs in education administration, his passion turned to higher educational pursuits.
By 1967, he earned a PhD in education administration from UConn and joined the faculty at the University of Bridgeport (UB) School of Education in Bridgeport, Connecticut. At UB, he co-founded the College of Continuing Education and served as an educational consultant for a group of educators in Puerto Rico to establish a junior college that ultimately became the Caribbean University. In the early 1970s, Pumerantz began consulting for the American Osteopathic Association (AOA) in Chicago, and by 1976, became their director of education. He was instrumental in revising college accreditation standards and overseeing the founding of several new osteopathic medical schools.
Because of his unique knowledge, experience, and leadership abilities, at the age of 45, he was recruited by a small cadre of osteopathic physicians in California, who were looking to rebuild the profession following its 1974 rebirth, by establishing the first osteopathic medical school in the state since the merger of 1962. In 1977, at an abandoned outdoor shopping mall in downtown Pomona, COMP was born.
Since then, COMP was joined by eight sister colleges encompassing allied health professions; pharmacy; graduate nursing; veterinary medicine; dental medicine; podiatric medicine; optometry; and graduate biomedical sciences, and was ultimately restructured into what it is today: Western University of Health Sciences (WesternU). In only its 40th year, WesternU has become a state-of-the-art establishment of higher education in the health care professions spreading out across a 25-acre campus – much of it composed of remodeled former Pomona Mall stores – that anchors downtown Pomona.
Today at WesternU, more than 3,900 students are enrolled in 21 programs in Pomona as well as a campus in Lebanon, Oregon. There are now over 15,000 WesternU alumni in practice around the world who carry Pumerantz' philosophy of delivering humanistic, compassionate care.
Dr. Pumerantz received numerous accolades, including UConn's 1995 Distinguished Alumni Award; the 1995 Dale Dodson Award for national leadership from the American Association of Colleges of Osteopathic Medicine; the 2010 Distinguished Educator Award from the Boy Scouts of America; the prestigious Ellis Island Medal of Honor in 2011; and the 2013 Northwest Osteopathic Medical Foundation's Founders Award for Exceptional Accomplishment.
He is the co-author of four college textbooks in education and an author of numerous published papers.
He is survived by his wife of 57 years, Harriet Krinsky Pumerantz; their three children: Andrew (and wife, Dana), Beth, and Richard (and wife, Brigitta); five grandchildren: Zachary, Alexander, Clarice, Shayna, and Zoë; as well as a brother, Howard Pumerantz.