People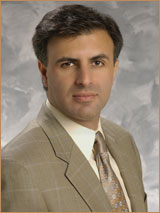 Dr. Babak Faramarzi:
Dr. Faramarzi is an equine practitioner, researcher, and a veterinary acupuncturist. He started his practice in 1995 and received his PhD. from the Ontario Veterinary College, University of Guelph, Canada. Currently, he is a tenured Associate Professor at the College of Veterinary Medicine, Western University of Health Sciences (Pomona, CA).
His research is focused on equine podiatry, musculoskeletal injuries, biomechanics, and exercise physiology. He is the principal investigator on several research projects and more studies are currently underway.
He has published his work in reputable veterinary journals and has presented at many prestigious conferences including American Association of Equine Practitioners (AAEP), American Association of Veterinary Surgeon (ACVS), Veterinary Orthopedic Society (VOS), International Conference on Veterinary Sport Medicine and Rehabilitation (ISVR), and Pacific Veterinary Conference (Pac-Vet). He is a member of professional associations including American Veterinary Medical Association (AVMA), California Veterinary Medical Association (CVMA), AAEP, VOS, International Society of Equine Locomotor Pathology (ISELP), Northeast Association of Equine Practitioners (NEAEP), and American Association of Veterinary Anatomists (AAVA).
Current and Recent Students:
Post-Doctoral Fellow:
Dr. Dongbin Lee (DVM, PhD)
Graduate Students:
Fion Hung (MS, 2018)
Sara Carman (MS, 2016)
Linnea Lantz (MS, 2015)
Morgan Nowlin (MS, 2015)
Marisa Bartley (MS, 2015)
Jory Johnson (MS, 2015)
Robert Stowe (MS, 2014)
Jolan Chou (MS, 2014)
Melissa Stevens (MS Candidate; College of Agriculture, Cal-Poly)
Christina Mirzaian (MS, 2013; CSU-Fullerton)
DVM research Students:
Athena Kepler (DVM, 2019)
Allison Salinger (DVM, 2018)
Madison McKay (DVM, 2018)
Naomi Chow (DVM, 2017)
Whitney Greene (DVM, 2016)
Hatley McMicking (DVM, 2016)
Danielle Demel (DVM, 2016)
Mailie Fanning (DVM, 2015)
Alexander Davis (DVM, 2015)
Ann-Marie Aumann (DVM, 2014)
Michelle Crupi (DVM, 2014)
Courtney Steele (DVM, 2014)
Lenna Chitgar (BS, 2014)
AN Nguyen (BS, 2013; College of Engineering, Cal-Poly)