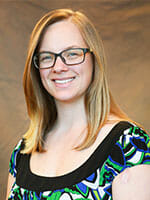 Amelia Servin, MS
NMM/OMM Pre-Doctoral Teaching Fellow
College of Osteopathic Medicine of the Pacific - Northwest
E-Mail: aservin@westernu.edu
Phone:
Join year: 2010
Education
Western University of Health Sciences, 2011 M.S. Medical Sciences
Oregon State University, 2008 B.S. Animal Sciences
Narrative
I have always loved medicine and biological processes but it wasn't until my job in the ICU at the hospital in Corvallis, OR that I realized I wanted to practice human medicine. The deep human connections and integrative care is what lured me away from veterinary medicine. Since then the path has been hard yet rewarding, anything can be accomplished with passion and elbow grease.
I have enjoyed teaching for a long time and have had the opportunity to teach many things. I started out giving horse riding lessons to a teacher's daughter and have actively looked for opportunities to teach since then. Reading with the S.M.A.R.T. Program, coaching youth football, soccer, and tennis, and being a lead instructor at a kids day camp at Oregon State University are some other teaching experiences I had before medical school.
I was intrigued by the NMM/OMM teaching fellowship as soon as I learned about it. I love how much I learn when I teach others. Additionally, I have found OMM to be a great tool in helping patients, family, and friends with their health. The opportunity to teach fellow future physicians and hone my own OMM skills at the same time is a perfect fit for my education here at COMP-Northwest.
Personal/Hobbies: I am a small town, outdoorsy gal who loves adventure! I grew up in Estacada, Oregon and hope to return to a smaller town to start my career and raise my family. I am married to the most wonderful and supportive man, together we created a sweet little boy who was born April 2013. I enjoy backpacking, snowboarding, hiking, camping, fishing, looking at stars, running, and pretty much anything I can do outside with my family.