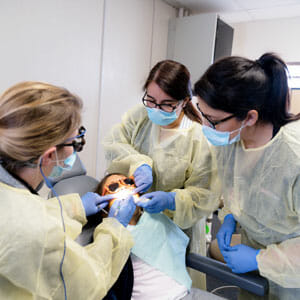 Featured Story
WesternU College of Dental Medicine introduces teledentistry
The College of Dental Medicine (CDM) at Western University of Health Sciences is training its students and Registered Dental Assistants in Expanded Functions (RDAEFs) in teledentistry, which provides greater dental care access to underserved and rural areas.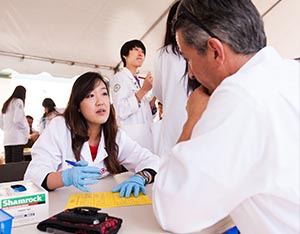 Collaboration and teamwork among health professionals are important aspects to the delivery of high-quality patient care. A landmark report by the Institute of Medicine suggests health care workforce preparation should include interprofessional education (IPE).
Click to read more…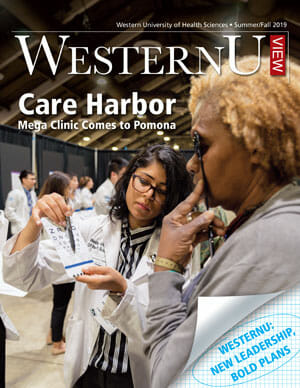 The Summer 2019 edition of the WesternU View magazine has arrived. The cover story highlights WesternU playing a pivotal role in bringing the Care Harbor mega-clinic to Pomona. The magazine also features exciting news on WesternU's powerhouse alliance with Claremont Graduate University, a look at the College of Dental Medicine teaching teledentistry, and profiles of new University leaders.
Click to read more…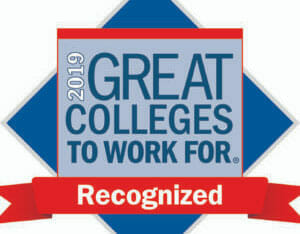 Western University of Health Sciences is one of the best universities in the nation to work for, according to a new survey by the "Great Colleges to Work For" program.
WesternU, which has campuses in Pomona, California and Lebanon, Oregon, has received this honor eight years in a row from The Chronicle of Higher Education, a top trade publication for colleges and universities. WesternU was recognized in the category "Compensation and Benefits."
"To yet again be recognized as a 'Great College to Work For' highlights the WesternU mission: educating health professionals to become highly skilled, humanistic healers," said WesternU President Daniel R. Wilson, MD, PhD. "This foundational commitment to humanism and compassion encompasses all who learn and work at our University."