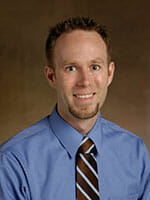 Education
Western Washington University, Bellingham, Washington
BS, Exercise Science & Pre-Physical Therapy - 2003
Education Experience
Human Anatomy & Kinesiology TA, Western Washington University
Tae Kwon Do Instructor
Certification
Human Anatomy & Kinesiology TA, Western Washington University
Tae Kwon Do Instructor
Professional Experience
Lifestyle & Weight Management Consultant, Washington State University
Fitness Center Assistant Manager, PRO Sports Club, Bellevue Washington
Senior Personal Trainer, 20/20 Lifestyles, Bellevue, Washington
LEAD Metabolic Testing Technician, PRO Sports Club
Academic Interests
Primary disease prevention through lifestyle modification.
My primary academic interests lie in Physical Medicine & Rehabilitation and OMT.
Narrative
Narrative (thoughts on the fellowship)
A passion for understanding human motion in the context of health and fitness has led me to pursue a career in Osteopathic Medicine. Experience through the NMM/OMM Department has allowed me to develop a skillset in manual medicine that is proving to be a highly valuable asset. I hope to be a strong advocate for Osteopathic Medicine as I progress through my career path.
Narrative (personal Hobbies/Interest)
Prior to medical school I was actively involved in: Adventure Racing, Kite Surfing, and Personal Training. My current hobbies include painting, playing guitar, and hanging out with my wife and two dogs.
Personal Quote:
"Faith is taking the first step even when you don't see the whole staircase." ~ MLK