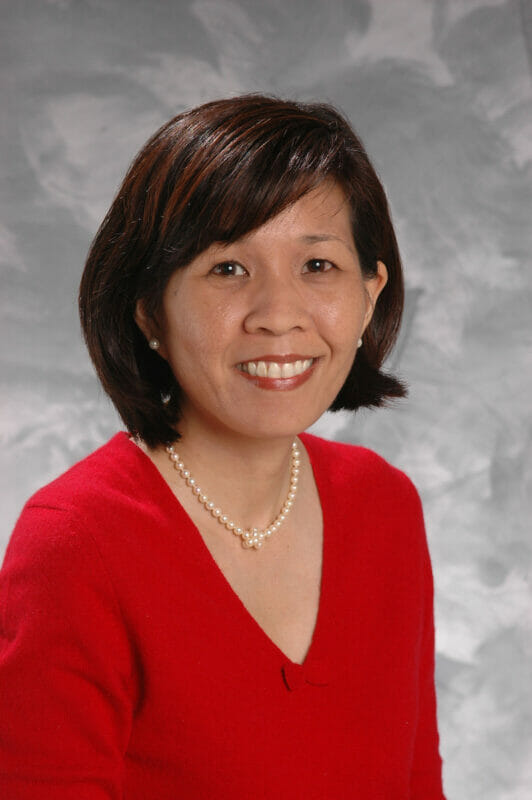 Doreen Pon, PharmD, BCOP, BCPS
Associate Professor of Pharmacy Practice and Administration
College of Pharmacy
E-Mail: dpon@westernu.edu
Phone: 909-469-5457
Education
BA Biochemistry 1986
University of California, Berkeley

PharmD 1990
University of California, San Francisco

Residency
Oncology Pharmacy Residency
National Institutes of Health Clinical Center, Bethesda, Maryland

Education Experience
Residency
Oncology
1992 National Institutes of Health Clinical Center, Bethesda, Maryland

Certification
Board Certified Oncology Pharmacist (BCOP), Board of Pharmaceutical Specialties

Board Certified Pharmacotherapy Specialist (BCPS), Board of Pharmaceutical Specialties

Work Site
City of Hope National Medical Center
1500 East Duarte Road
Duarte, California 91010
During this challenging rotation, students will practice critical thinking and clinical decision-making skills on the adult hematology and hematopoietic cell transplant (HCT) units, which provide a wide range of acute care services to medically complex patients with blood disorders, such as lymphoma and acute leukemia, or who are undergoing HCT. Students will be exposed to the medical treatment of cancer and the common complications of cancer, cancer chemotherapy and HCT. A multidisciplinary approach towards patient care will provide the student with the opportunity to interact with patients, physicians, nurses, pharmacists, and other health care personnel.
Research Grant
Principal Investigator, "Making Rx Drug Abuse Extinct", American Medical Association Foundation Healthy Living Grant, 2015
Prinicipal Investigator, "Be Smart – Be Safe in the Sun", California Dialogue on Cancer/Public Health Initiative, 2012
Publications
Pon D, Awuah K, Curi D, Okyere E, Stern CS. "Combating an Epidemic of Prescription Opioid Abuse." California Pharmacist 2016;63:23-31.
Pon D, Hwang J, Lo T, Van Zyl C. "Decreased Responsiveness to Oxycodone: A Case of a Pharmacokinetic Drug Interaction?" J Opioid Manag 2015;11(4):357-361. DOI: 10.5055/jom.2015.0284.
Cho E, Chan H, Nguyen H, Shayani S, Nakamura R, Pon D. "Management of Drug Interaction between Posaconazole and Sirolimus in Patients Who Undergo Hemaatopoietic Stem Cell Transplant." Pharmacotherapy 2015;35:578-85.
Pon D, Abe A, Gupta E. "A Review of Statin Use and Prostate Cancer." Curr Atheroscler Rep 2015;17:474.
"A Multi-Disciplinary Approach in the Development of a Palliative Care Medication Administration Protocol in a Tertiary Care Hospital" (poster presentation) American Society of Health-System Pharmacists Midyear Clinical Meeting, December 2003, New Orleans, Louisiana
"Improved Economic and Patient Satisfaction Outcomes after Implementation of Antiemetic Dosing Guidelines" (poster presentation) American Society of Clinical Oncology Annual Meeting, May 2003, Orlando, Florida
"Pyrogenic Reactions Associated with Single Daily Dosing of Intravenous Gentamicin"
Buchholz U, Richards C, Murthy R, Arduino M, Pon D, Schwartz W, Fontanilla E, Pegues C, Boghossian N, Peterson C, Kool J, Mascola L, Jarvis WR. Infection Control and Hospital Epidemiology 2000;21:771-774
"Endotoxin-Like Reactions Associated with Intravenous Gentamicin - California 1998"
Morbidity and Mortality Weekly Report 1998;47:877-880