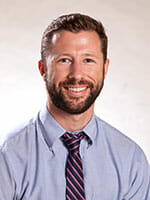 Gavin Kolodge,
NMM/OMM Pre-Doctoral Teaching Fellow
College of Osteopathic Medicine of the Pacific
E-Mail: gkolodge@westernu.edu
Phone: 909-469-5284
Education
Cal Poly San Luis Obispo - B.S. in Wine and Viticulture
Narrative
Before coming to med school I studied Landscape Architecture, Wine and Viticulture and worked for many years in the food and beverage industry. This diverse background gave me a unique education and insight into finding a career that was right for me. After graduating from Cal Poly San Luis Obispo I began volunteering at a Cardiac Rehabilitation Center. This experience began to evolve my interests in the field of medicine and showed me what a challenging, scientific, humanitarian career could look like. The philosophical approach of the osteopathic community aligns strongly with my own personal beliefs. This hands on, whole person, humanistic approach is also what I see so well represented within the OMM/NMM department. Being a teaching fellow and connecting more closely with the heart of the osteopathic community brings me one step closer to becoming the well-rounded osteopathic physician I want to be.