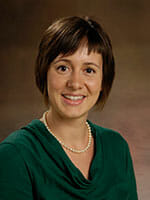 Gretchen Metzenberg,
OMM PreDoctoral Teaching Fellow
College of Osteopathic Medicine of the Pacific - Northwest
E-Mail: gmetzenberg@westernu.edu
Phone: 541-259-0240
Education
B.A. in Biology, Reed College
Education Experience
Summer Genetics Scholar, American College of Medical Genetics, 2011
Summer Institute of Tropical Medicine, Johns Hopkins School of Public Health, 2010
Robert Reynold's Chef Studio, Portland OR, 2009
Narrative
I remember my first day in the OMM lab feeling a bit lost an overwhelmed. I would look to the Fellows and be in total awe of their knowledge and confidence in OMM techniques. Later, I felt so grateful for their patience and encouragement as I gained my own footing. I hope to contribute to the new generations of students in a similar way, sharing my passion for OMM and supporting them through their growth. I am excited to further immerse myself in Osteopathic Medicine and learning to integrate it in my future practice.
Hobbies: Social Dancing in Swing, Blues, and Argentine Tango styles; Regional French and Italian cuisine; Travelling; Reading; Hiking, running, yoga, and pilates.