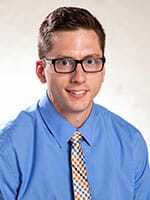 Education
B.S. from Millikin University in Decatur, IL. 2006. Major - Biology/PreMed with life science/evolution focus.
Professional Experience
WesternU COMP Council of Leaders - Awards Coordinator
SGA COMP – Library/Tech Representative
SOMA First Year Representative
COMP OrthoClub Secretary (SAOAO)
COCA Student Accreditation Committee COMP
COMP Curriculum Committee Student Representative 2013-2014
Teaching Experience
LEAD Tutor for OMM
WesternU NMM/OMM PDTF
Philosophy
I try to teach things in a very mechanical way by explaining the mechanics and physiology that are underlying a dysfunction. I have always found it useful to form 3-D images in my head while thinking about somatic dysfunction. I use these images to better visualize and understand the functional anatomy involved in the dysfunction. In a small group setting, I try to get my students to form these images on their own so that they can have a deeper understanding of what they are treating.
Research Interest
I am currently working on research related to Zink's Common Compensatory Patterns. I am also actively writing article reviews for the somatic connection in the JAOA. My main research interest involves findings ways to improve the educational experience for osteopathic medical students.
Publications
Brohard J, Robertson M, Rammelsberg A. Efficacy of Hoodia gordonii Extract as a Weight Loss Supplement: A Comparative Study Between an Invertebrate, Tenebrio molitor (Coleoptera: Tenebrionidae), and a Vertebrate, Rattus norvegicus (Rodentia: Muridae).Transactions of the Illinois State Academy of Science. 2012. Volume 105, #1&2: 41-49.
Seffinger M D.O., J Brohard. OMT improves acute hemodynamic control in pregnancy via improved venous return. JAOA The Somatic Connection. 2014.
Seffinger M D.O., J Brohard. OMT Improves Clinical Response and Lowers Relapse Rates among Patients with Chronic LBP . JAOA The Somatic Connection. 2014.
Narrative
Hello! I am originally from Decatur, IL (the land of corn and soybean fields) but I currently live in Southern California while attending medical school. I plan to do a residency in Orthopedic surgery and then try to integrate OMT into my orthopedic practice in some way in the future. I am currently interested in sports medicine. This will ultimately lead to me setting up a practice that focuses on sports related pathology/injury as well as health maintenance and injury prevention. Ideally this will involve working with college level athletes as well as starting community programs to get more people involved with athletics and teach them how to safely and effectively improve their lifestyle through diet and exercise. I also want to continue teaching osteopathic medicine in the future so that I can help foster the young minds of our future physicians. Outside of medicine I enjoy music, movies, food, good coffee, good beer, and all outdoor activities and sports...primarily hiking, camping, and cycling.