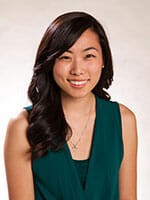 Judith Oh,
NMM/OMM Pre Doctoral Teaching Fellow
College of Osteopathic Medicine of the Pacific
E-Mail: jhoh@westernu.edu
Phone:
Join year: 2011
Education
DO Candidate, Western University of Health Sciences, COMP 2016
Biochemistry, B.S. UC Los Angeles 2009
Teaching Experience
Pediatric Clinical Skills Educator Assistant, Osteopathic Principles and Practice teaching assistant and tutor, Pipeline to Health Careers- 3rd year coordinator, Basic science undergraduate teaching assistant and tutor
Philosophy
"Unless someone like you cares a whole awful lot, Nothing is going to get better. It's not." -Dr. Seuss, The Lorax
To me, education is a gift that I can give to whomever and whenever.
Our knowledge and healing hands are tools we carry around everywhere at all times.
Organizations
Pomona Health Career Ladder
Pomona Community Health Action Team
Student American Academy of Osteopathy
Sigma Sigma Phi
Narrative
Before I was in medical school, my sister went through a season of severe eczema of her entire upper neck, trunk and extremities when we were younger. She could not sleep soundly through many nights due to the burning and itching sensation along with the stiffening of her body from all the pain. She would ask me to touch her with the coolness of my hands and help relax all her tight muscles. I had great satisfaction from giving her some relief to her suffering even when she would wake me up in the middle of the night. I began to realize the value of directly contacting people with the sense of touch to help diagnose, treat and provide emotional support. I am so fortunate to be part of NMM/OMM fellowship and hope to develop my sense of touch and spread my passion for healing. I am excited to work with all the students and look forward to all the great experiences we will have together!
Hobbies: running, dancing, hiking, aerobic classes, cooking, pinterest pinning, hairstyling, blogging, DIY crafts, watching broadway shows and international movies, spending quality time with friends and families