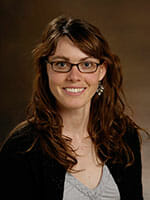 Molly McCormick,
OMM Pre-Doctoral Teaching Fellow
College of Osteopathic Medicine of the Pacific - Northwest
E-Mail: mmmccormick@westernu.edu
Phone: 541-259-0240
Education
B.S. Biology from University of Idaho
Narrative
I was born and raised in the wonderful state of Idaho and am a middle-ish child in a family of seven kids. My parents instilled in each of us a deep respect and compassion for human life, so when I began applying to medical schools in college I was quickly drawn to the principles of osteopathic medicine. I love the idea that the body is ultimately fully equipped to heal itself. Therefore, it is our job as physicians not to heal, but to encourage the body's innate desire to heal. We do this through manipulative techniques as well as addressing the body as a whole rather than a specific symptom or disease. I applied to the fellowship program because I saw it as an opportunity to further my abilities in recognizing disease and dysfunction using my hands while encouraging other students to explore and understand what it means to be an osteopathic physician.
I first became interested in medicine when I was very young and ever since high school, my passion has been to work with children as either a pediatrician or family medicine physician. I attended the University of Idaho where I met and married a red headed Irish-man! Over the past five years, we have had many adventures, from working as medical missionaries in Africa to backpacking and fly-fishing across Idaho. In 2012, I had the pleasure of starting medical school with my big brother and it has been an incredible blessing to learn to practice medicine along side him. Even though medical school has somewhat hindered our explorations, I do not doubt that the fellowship at the Lebanon campus will prove to be a very exciting adventure.