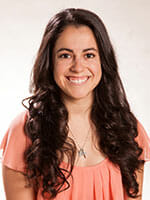 Natalie Hollick,
NMM/OMM Pre-Doctoral Teaching Fellow
College of Osteopathic Medicine of the Pacific
E-Mail: nhollick@westernu.edu
Phone: 909-469-5283
Education
Biology, B.S. University of San Francisco 2011
Teaching Experience
Undergraduate science tutor, OMM TA, Faculty Advisor NYLF LA
Narrative
For me, fellowship was an opportunity to pursue another passion of mine – teaching. I only recently came to the conclusion that I want to be a pediatrician, but before that I knew I wanted teaching to be a part of my future. Here I can develop the skills I need to be a better teacher and resource for students, patients and colleagues. This fellowship also gives me the chance to better train my hands in OMT and enhance my understanding of the human body. The more I learn and practice, the better I can treat and educate my future patients.
On a personal note, I have a lot of hobbies that I do to keep myself sane. I try and play soccer at least once a week (outdoor, indoor, pick up game, whatever). I love to sing and, when I can, incorporate music into my lectures to spice things up a bit. Also, I have recently discovered that I love line dancing! When I'm not studying, teaching, or doing one of these activities, I spend as much time with family and friends as I can.