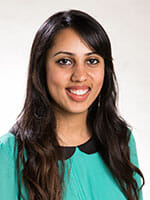 Nirvi Shah,
NMM/OMM Pre-Doctoral Teaching Fellow
College of Osteopathic Medicine of the Pacific
E-Mail: nvshah@westernu.edu
Phone:
Join year: 2011
Education
University of California, Irvine. B.S. Biological Sciences
University of Sussex 2008
Professional Experience
During my undergraduate experience, I had the opportunity to work in the Trauma Research Associates Program at UCI Medical Center. After developing research skills in both the laboratory and clinical setting, I started another research program with my mentor at Cedars Sinai Medical Center. I participated in DVT research on the SICU floor for 2 years. It was a great opportunity to learn more about evidence-based medicine.
Teaching Experience
I've been teaching and tutoring a variety of subjects for the past 7 years. They range from Math, English and Dance.
Organizations
Sigma Sigma Phi Honor Society
Publications
Authored: Towfigh, Shirin, MD, Udofia, Aniebiet, Shah, Nirvi, B.S., Mirocha, James, M.S. Honors in Surgery: Smarty Student or Just Great Timing?. Cedars Sinai Medical Center. Keck School of Medicine at USC. Journal of American College of Surgeons. Presented at Western Surgical Conference.
Authored: Bhakta, Akash, B.S. Bloom, Matthew, MD. Warren, Heather MD. Shah, Nirvi, B.S. The Impact of Implementing a 24/7 Open Trauma Bed Protocol in the Surgical Intensive Care Unit on Throughput and Outcomes. Cedars Sinai Medical Center. Journal of Trauma. Presented at the Eastern Associated for Surgery of Trauma.
Narrative
The fellowship is an exciting opportunity for me to continue my passion for teaching. I'm excited to see what the three years will teach me not only about osteopathy, but also about myself. I look forward to teaching all of you!! I encourage everyone to keep an open mind and to keep OMT as a valuable tool in our toolbox as future physicians. As for my hobbies, I enjoy anything that involves dancing—put on some music and I'll be there! The best advice I can give is that the journey through medical school is amazing, full of ups and downs, but we are all so blessed to be a part of it! Keep your head up through the difficult times and soon enough you'll accomplish your dreams!