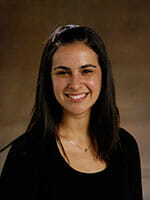 Rachel Davidge,
NMM/OMM Pre-Doctoral Teaching Fellow
College of Osteopathic Medicine of the Pacific
E-Mail: rgelfond@westernu.edu
Phone:
Education
MS in Pharmacology, Tulane University, 2010
BS in Health Sciences, University of California, Santa Cruz, 2007
Professional Experience
Emergency Medical Technician, Ambulance Dispatcher, Athletic Training Intern, Swimming Instructor/Coach, Lifeguard
Academic Interests
Physical Medicine & Rehabilitation, Sports Medicine, Obstetrics and Gynecology, Pediatrics
Narrative
Narrative (thoughts on the fellowship):
I have always had a strong interest in sports medicine and rehabilitation, which led me to be naturally drawn to the principles of Osteopathic Manipulative Medicine. Upon beginning my training in OMM here at WesternU, I was amazed by the endless types of pathologies that can be diagnosed and treated using manipulative medicine. I feel exceedingly lucky to have had such incredible teachers in my first few years of medical school, who have taught me the extreme value of using my hands as part of diagnosing and treating patients. In my time as a fellow, I hope to pass on my enthusiasm and passion for OMM to other students. Meanwhile, I hope to enhance and improve upon my own skills both in manipulation and teaching to ultimately become a better physician.
Narrative (personal Hobbies/Interest)
In my free time, I love swimming, hiking, running, cooking and baking, knitting, planning craft projects on Pinterest (and wishing for more time to actually complete them), and eating delicious food.
Personal Quote:
"Life moves pretty fast. If you don't stop and look around once in a while, you could miss it." – Ferris Bueller