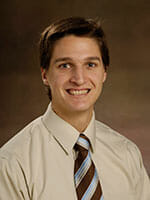 Simon Akl,
NMM/OMM Pre Doctoral Teaching Fellow
College of Osteopathic Medicine of the Pacific
E-Mail: sakl@westernu.edu
Phone: 909-469-5286
Education
California State University Fullerton
Education Experience
Education Experience: Grew up going to a bilingual French-American school Lycee international de Los Angeles (LILA) for 14 years. I received my bachelors in Health Science as well as a minor in Kinesiology and another in French at CSUF. Having decided I was crazy enough to continue for more schooling I came to WesternU and I look forward to a lifelong learning process.
Academic Interests
I am a firm believer in holistic and preventative care. I believe that our bodies can tell us a lot if we just listen to them. I feel that these days much of the focus is on the technological advancements which cause us to forget about some of our most important tools which are our very hands. I feel that this fellowship allows me to continue to develop and master personal OMM skills while also introducing me to the academic realm where I can help pass on some of my own experiences and knowledge while continually learning new things daily myself.
Narrative
Anything that involves being active! I love to play many sports but primarily basketball and volleyball. Anything outdoors is always a positive especially hiking! I do not know if I can live anywhere without a beach so that I can spend any free time running around in the sun! When I am indoors it is probably to watch a Lakers game!
Personal Quote:
"Analyze don't memorize" Heard this everyday in my organic chemistry classes.
"The student is to collect and evaluate facts. The facts are locked up in the patient"
"To cure sometimes, to relieve often, to comfort always."