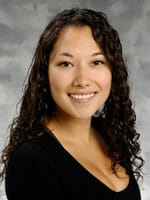 Education
Colorado State University, 2008 B.S. Biological Sciences
Colorado State University, 2009 M.S. Biomedical Sciences
Professional Experience
While pursuing my undergraduate and graduate degree I was a research assistant in Douglas Ishii's research laboratory. Our research was based on the diabetic central nervous system atrophy with relation to dementia. During my time there I served as the head neurosurgeon and accountant. I also worked at a fitness center where I was a youth fitness instructor and as an accountant.
Academic Interests
Most of those who know me know I love anatomy and neurosciences. I feel anatomy is the first building block of medicine, if you know your anatomy the rest comes easier. The brain and nervous system, to me, is the most fascinating organ system in the body. The capacity of the brain to adapt to changes is still such a wonder and the amazing stories out there continually captivate me.
Teaching Experience
I have had the pleasure of teaching Microbiology and Human Gross anatomy to undergraduate student while attending Colorado State University. Since I started here at Western, I have been an Intensive Summer Anatomy Course facilitator, taught Gross anatomy to the Master's in Medical Sciences students, tutored the Head and Neck course and was a teaching assistant in the OMM department. As a teaching fellow I have helped teach the Expanding Osteopathic Cranial Course as well as done editing to the Cranial manual. It was a true join to have taught the first and second year students OMT in the spring and I am looking forward to teaching in the fall. Additionally I taught a healthy cooking course to children ages 3-7 yo at my fitness center.
Awards
Linda Fox Memorial Award Recipient 2012
Distinguished Service Award| Pomona Health Career Ladder Outreach
Outstanding Community Service Award| Sigma Simga Phi Honor Society
Publications
Authored: Ishii DN, Serbedzija P, Madl JE and Nelson SE (2011)Insulin-like factors prevent brain atrophy and cognitive disturbances in diabetic rats independently of hyperglycemia. J Diabetes & Metabolism 2 (issue 8): 75 abstract.
Authored: Predrag Šerbedzija, B.S., Shana E. Nelson, M.S. and Douglas N. Ishii, Ph.D. Effects of IGF and its Combination with Insulin on Brain Atrophy, Glial Fibrillary Acidic Protein, Neurofilament Proteins, and Tau Phosphorylation in Diabetic Rats (under review)
Acknowledgements: Serbedzija P, Madl JE, Ishii DN. Insulin and IGF-I prevent brain atrophy and DNA loss in diabetes. Brain Res. 2009 Dec 15;1303:179-94. Epub 2009 Sep 23