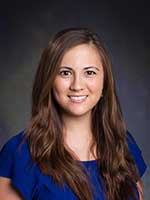 Christina Bohr ,
NMM/OMM Pre-Doctoral Teaching Fellow
College of Osteopathic Medicine of the Pacific
E-Mail: cbohr@westernu.edu
Phone:
Join year: 2013
Education
University of Maryland, College Park, 2010 B.S. General Biology
Danish Institute for Study Abroad, Copenhagen, Denmark, January 2009
Teaching Experience
OMM I/II Teaching Assistant and Tutor – WesternU COMP
Research Grant
Howard Hughes Medical Institute (HHMI) Undergraduate Research Fellowship (Spring 2008-2010)
Awards
William G. Stahl Memorial Award
TOUCH Community Service Award
Organizations
Student American Academy of Osteopathy, Co-President 2014-2015
Asian American Health Professions Student Association, Vice President 2014-2015
Sigma Sigma Phi National Osteopathic Honor & Service Society, Member
Gold Humanism Honor Society, Member
Publications
1. Wu, R.T., Wu, M., Rocourt, C.R., Carrillo, J.A., Song, J., Bohr, C.T., Tzeng, T.J. Targeting Werner syndrome protein sensitizes U-2 OS osteosarcoma cells to selenium-induced DNA damage response and necrotic death. Biochemical and Biophysical Research Communications. Mar 2012.
2. Clemmensen, S.N., Bohr, C.T., Rørvig, S., Glenthøj, A., Mora-Jensen, H., Cramer, E.P., Jacobsen, L.C., Larsen, M.T., Cowland, J.B., Tanassi, J.T., Heegaard, N.H., Wren, J.D., Silahtaroglu, A.N., Borregaard, N. Olfactomedin 4 defines a subset of human neutrophils. Journal of Leukocyte Biology. Dec 2011.
3. Wang, Z., Rhee, D.B., Lu, J., Bohr, C.T., Zhou, F., Vallabhaneni, H., de Souza-Pinto, N.C., and Y. Liu. Characterization of oxidative Guanine damage and repair in mammalian telomeres. PLoS Genetics. 2010;6(5):e1000951.
Narrative
Through my experiences with medicine in the United States and abroad, it has become clearly evident that the human body is not only complex but incredibly resilient. This foundational understanding is what drove me to pursue a career in osteopathic medicine. I have grown to be passionate about the philosophy as well as the usage of OMT. Time and time again, I have been amazed by the power of OMT and its endless applications. I am constantly trying to hone my skills for the benefit of my future patients.
The origin of the word "doctor" is "teacher." This title not only applies to teaching our patients about their disease and treatment, but to future physicians as well. It is a responsibility that we take on as doctors, and I use every opportunity to fulfill it. I look forward to helping to teach the next generation of D.O.s and hopefully inspire excitement in the unique education they are embarking on.