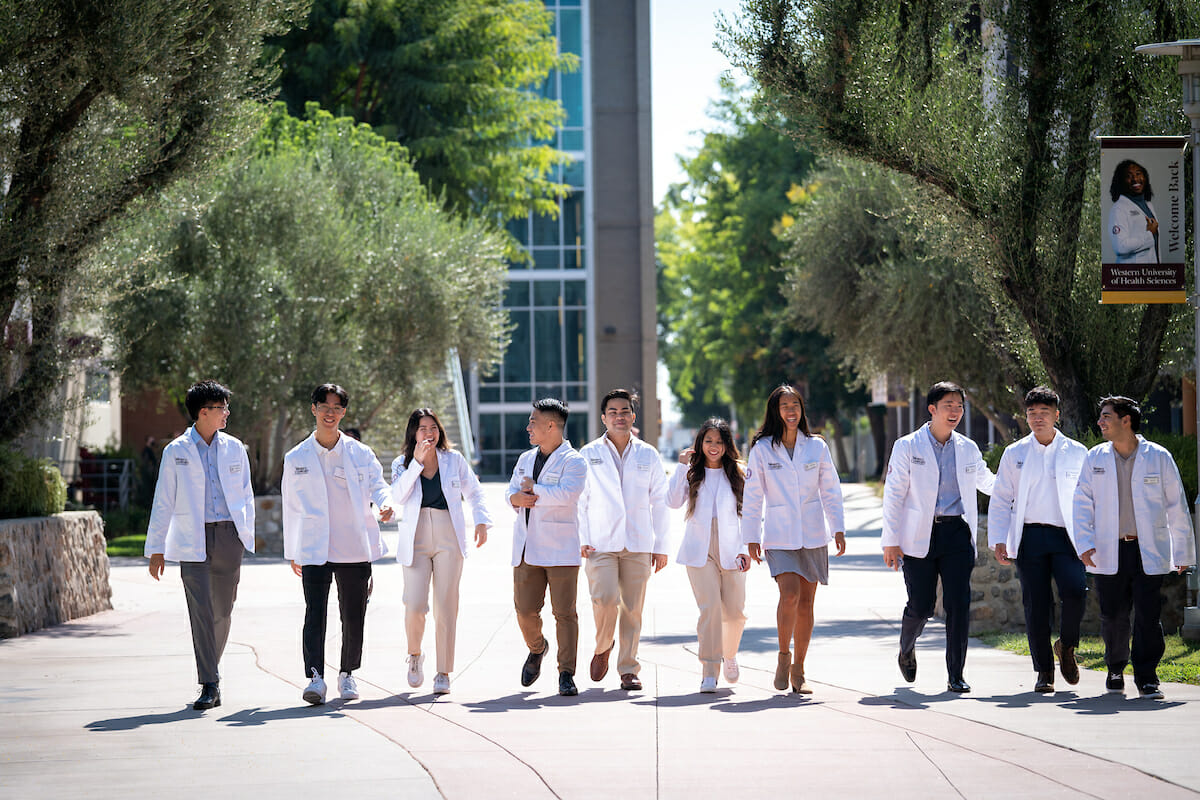 College of Dental Medicine
WesternU's College of Dental Medicine combines innovation with patient-centered care.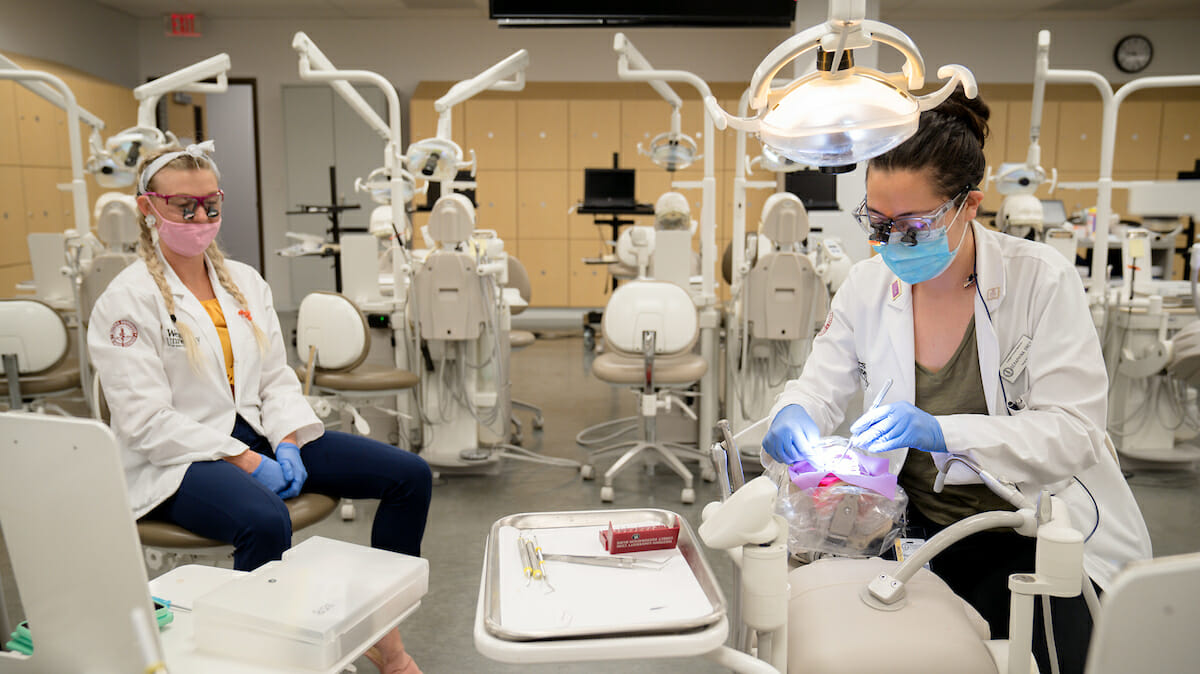 Open video modal
Overview
Overview ACADEMIC PROGRAMS
WesternU's College of Dental Medicine is an excellent choice if you want to practice the dentistry of today and the future. The curriculum and state-of-the-art facilities are designed to incorporate innovative ideas, the latest equipment, while treating every patient as the unique person they are.
We educate and train Dental Medicine students using advanced technology with an integrative and innovative approach.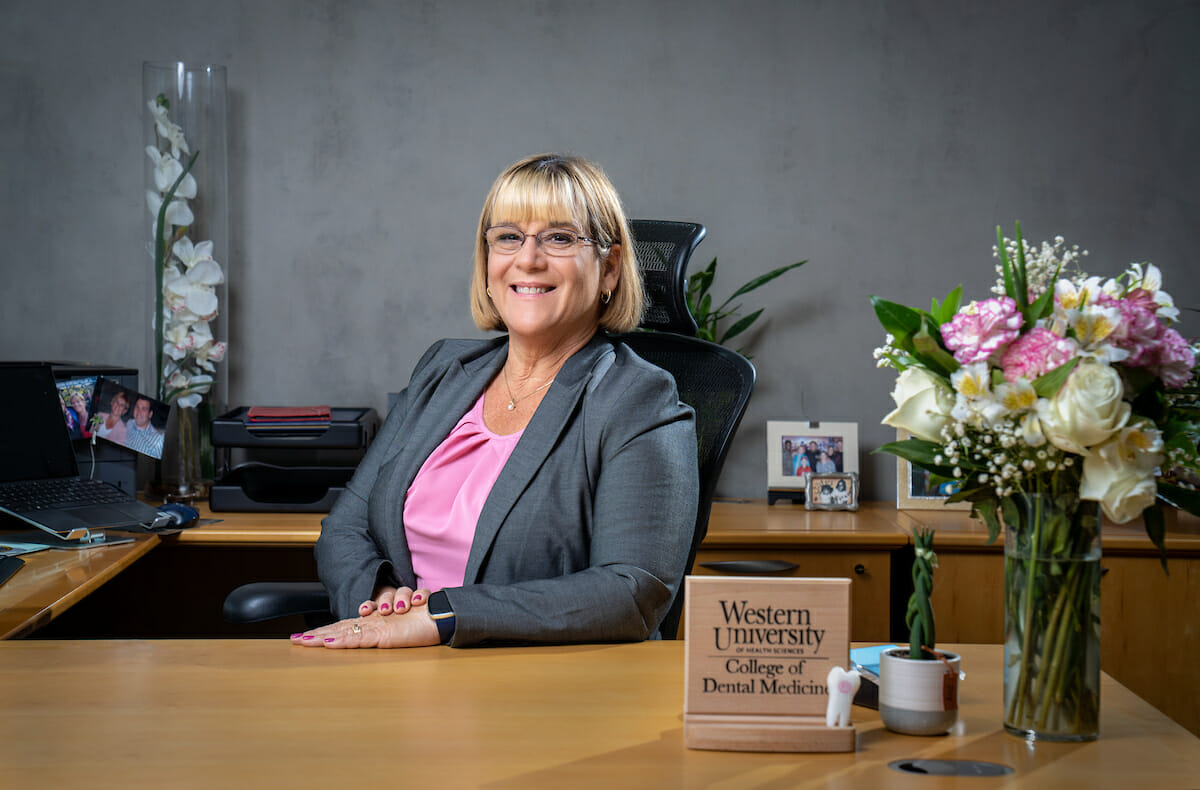 Message from
the Dean
Welcome to the College of Dental Medicine at Western University of Health Sciences – one of the most innovative dental education programs in the nation. As a vibrant College, every day represents growth, change and a unique culture, obvious the moment you arrive on campus.

The College vision and mission are embraced by our exceptional faculty and staff, training students to conduct themselves with competence and integrity, personally committing to the patients' best interests. Our modern educational facilities and clinics outfitted with state-of-the-art technology, focus on contemporary dental practice delivery by compassionate, well-prepared professionals, who communicate effectively with patients and the entire healthcare team.
Our curriculum promotes learning while utilizing evidenced-based approaches and sound teaching principles with seamless transitions from the classroom (both virtual and real) to simulation, to patient care in The Dental Center at WesternU and finally to practice in the community.
Our mission and vision demonstrate aspirations, which combined with a solid strategic plan, are helping us realize our goal of becoming a premier dental education program. We have made significant strides as a full-scope dental academic institution, providing a solid education, developing lines of research, and providing patient care in a unique, caring and progressive environment.
Elizabeth Andrews, DDS, MS
Dean
Vision
WesternU College of Dental Medicine will be a premier center for integrative educational innovation; basic and translational research; and high quality, patient-centered, interprofessional health care, all conducted in a setting that utilizes advanced technology and promotes individual dignity and potential for personal and professional growth.
Mission
The WesternU College of Dental Medicine will realize this vision by educating and training highly competent, diverse groups of clinical practitioners who have the ability to provide complex, integrative, high-quality, evidence-based care for patients, families and communities. WesternU College of Dental Medicine will produce graduates who will be ethical, caring life-long learners; who will collectively engage in clinical oral health care, public health practice, biomedical and health services research, education and administration; and who will fulfill their professional obligation to improve the oral health of all members of society, especially those most in need. They will embrace scientific and technological advances and understand the connections between oral health and general health. They will be partners in the interprofessional health care delivery systems of the future, as well as leaders of their own oral health care teams, as they enhance and extend the quality of life in their communities.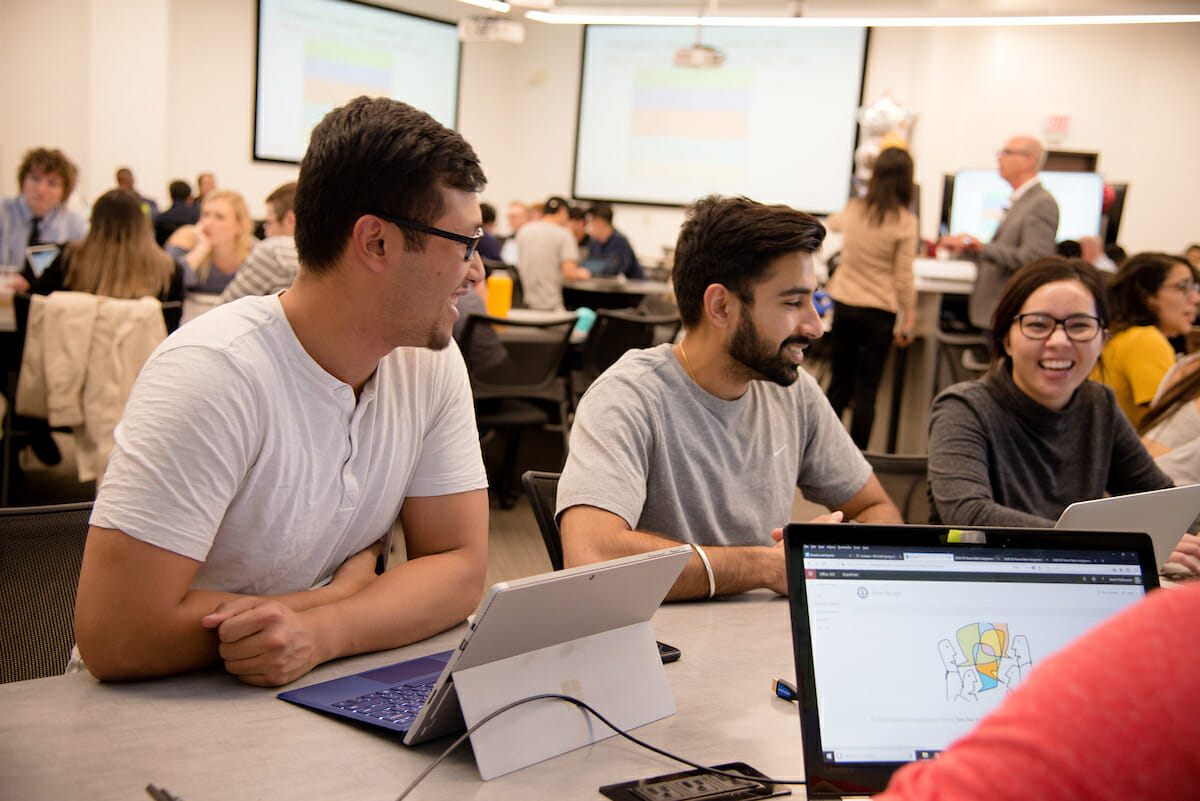 Interprofessional
Education
Many health care organizations embrace the concept of Interprofessional Education (IPE). IPE equips our students with the skills necessary to improve competency and confidence and decrease errors. Students gain valuable hands-on experience working side-by-side with other students and faculty members to address the changing needs of patients.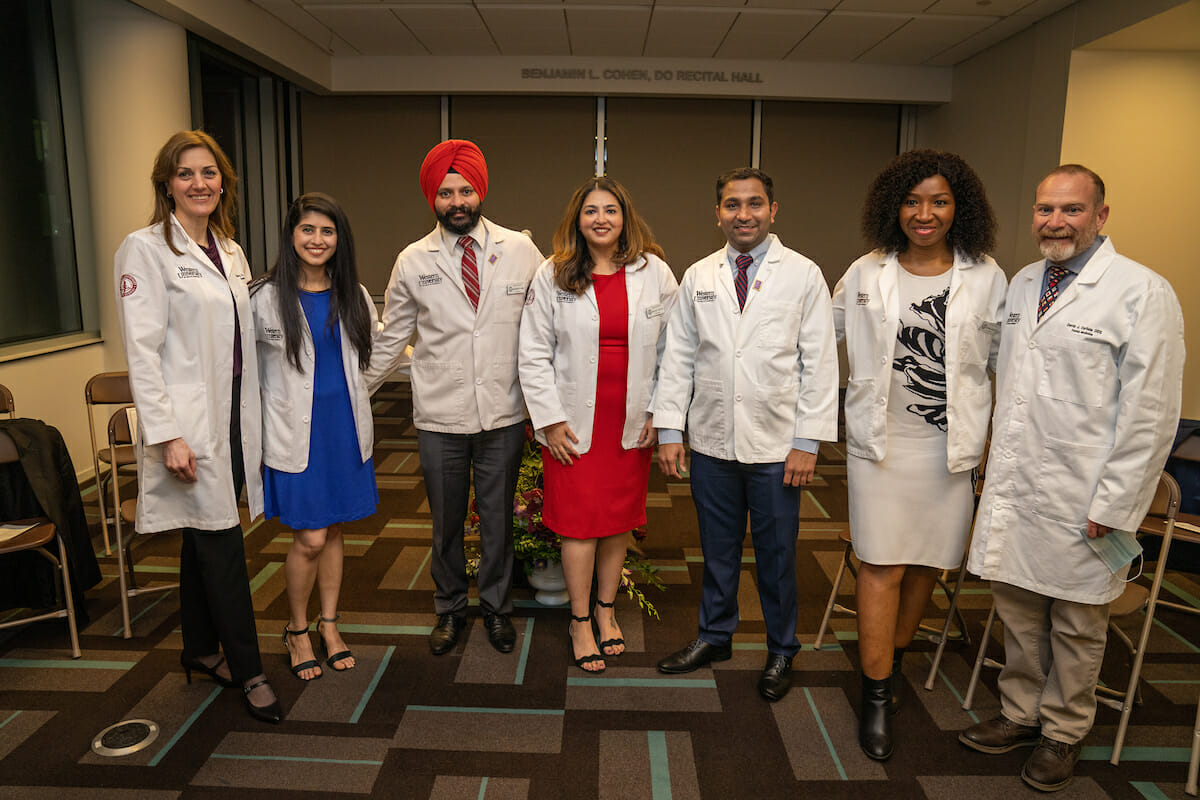 Commitment
to Diversity
The WesternU College of Dental Medicine is committed to creating an academic environment that celebrates diversity and multicultural perspectives. We value the uniqueness that each of our students, faculty members, staff, and patients bring to the College. Learn about our commitment to Humanism, Equity, and Anti-Racism (HEAR) and what we are doing to serve under-represented patients in our community.
TAKE THE NEXT STEP
Your journey to an exciting career in health care is just getting started. Please review the program admissions requirement or request more information and we'll reach out to you. You may also consider scheduling a virtual advising appointment. We look forward to meeting you and discussing your goals!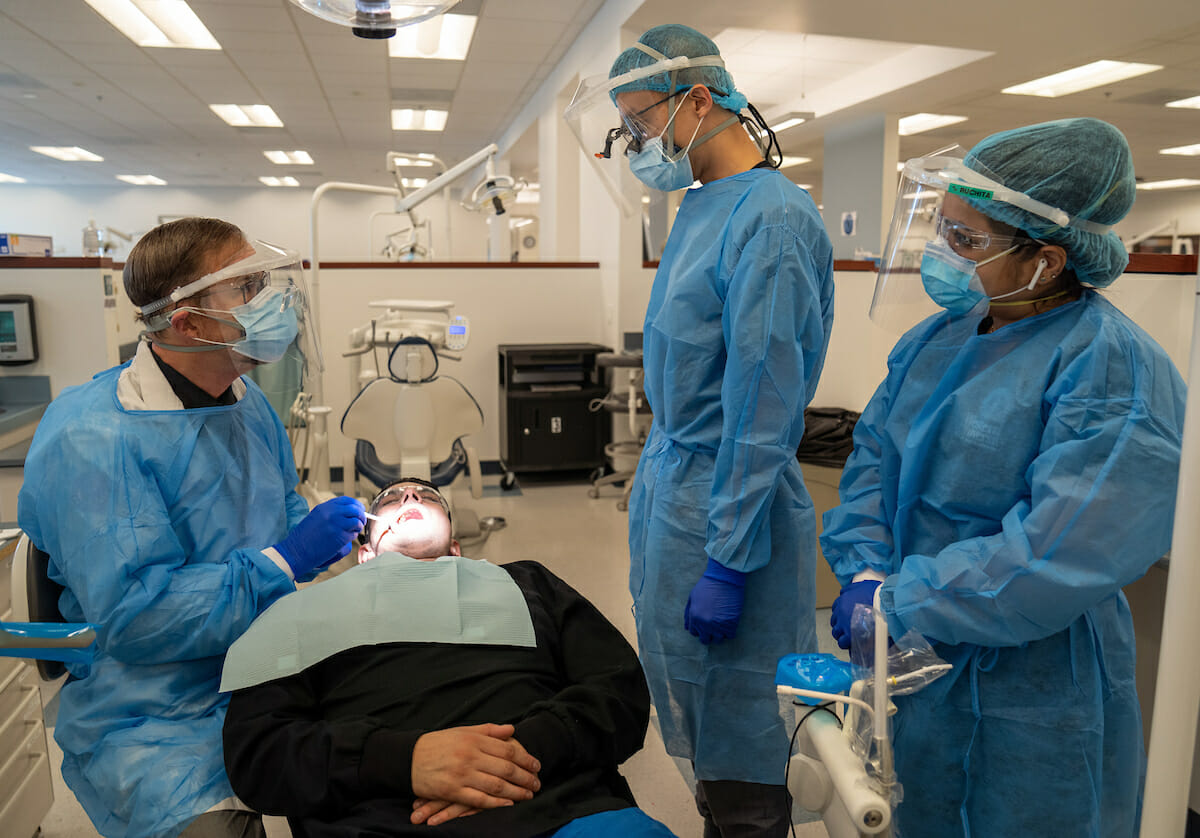 Commitment to the
COMMUNITY
Community outreach is a vital component of our students' education and provides access to quality health care to members of our community – many of whom otherwise would go untreated. Students gain experience in the WesternU Health Dental Care Center, rotating among our premier externship and specialty rotation sites, and offering valuable services to the community – including the opportunity to participate in special research initiatives.