The College of Pharmacy is proud to offer an outstanding cutting edge curriculum, state of the art high tech classrooms, inter-professional education experiences, and a talented group of faculty and staff committed to the success of students.
COP News
College Comes to the Aid of 2019 Graduates

"Our 2019 graduates were unfortunately among the 1,400 pharmacy graduates who had their California Board exam (CPJE) invalidated when the Board of Pharmacy discovered that the exam had been compromised," according to Dean Robinson.  In response, WesternU College of Pharmacy welcomed 83 graduates from the Class of 2019 for two full-day review sessions on November 2nd and 3rd here on campus.  The College contracted with RxPrep to provide the review sessions at no cost to the graduates. 
Dean Robinson welcomed the students, sharing the sentiments of the President, Provost and University Deans in offering whatever support we can to our graduates, whose lives have been impacted both financially and professionally by this delay in licensure and the stress associated with retaking their qualifying exam.
Residency Showcase
WesternU is proud to announce that the college is hosting the first annual Los Angeles region Residency Showcase on Friday, September 27, 2-5 p.m. in the HPC building. Multiple residencies throughout California are participating and APPE students from the schools of pharmacy in California are expected to attend. The event is supported by the all the schools of pharmacy in the Los Angeles region.
NAPLEX Results
On March 1, 2019, the National Association of Boards of Pharmacy released their NAPLEX results for all schools of pharmacy 2016-2018. We are very pleased to report that our 2018 graduates had a first-time passing rate of 97.62%. This places our 2018 graduates at #3 in California (less than 1% point from the top spot) and #15 in the nation (out of 134 schools).
Congratulations to each and every member of the College of Pharmacy! Click here for the full NABP report. #WesternUProud  
Featured Story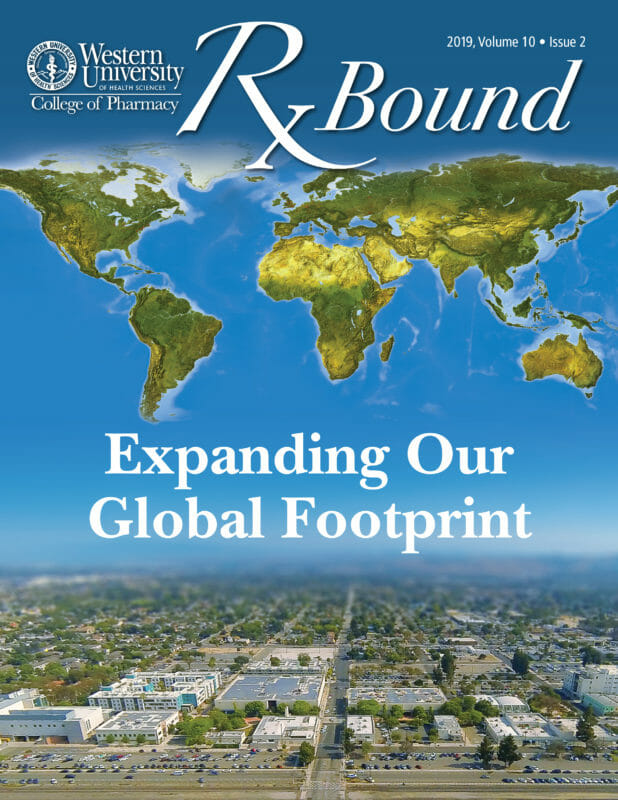 Discover more about the events that have transpired over the year, and the many accomplishments of our college, students and alumni. Read our latest issue of RxBound to learn more about Western University of Health Sciences, College of Pharmacy.
Essential Medical Spanish for Pharmacists Program/Consultation
The purpose of this course is to provide essential Spanish for pharmacy consultation. The course will include online modules, didactic, and interactive learning. The course will provide modules in cultural sensitivity and Spanish medical terminology. Students enrolled in this elective will facilitate workshops in Spanish consultation for beginner, intermediate, and advanced learners.
Giving

For information about how to support the College of Pharmacy, please contact:
Olabisi Carr, Director of Development
at (909) 469-8339.
WesternU News Updates
January 7, 2020
December 16, 2019
November 12, 2019
November 11, 2019
November 5, 2019