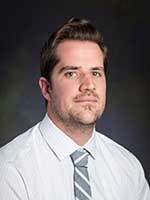 Clayton Chiapuzio,
NMM/OMM Pre-Doctoral Teaching Fellow
College of Osteopathic Medicine of the Pacific
E-Mail: cchiapuzio@westernu.edu
Phone: 805-469-6376
Join year: 2013
Education
DO Candidate- Western University of Health Sciences COMP, 2018
San Diego State University- Bachelor of Science: Kinesiology with emphasis in Kinesiotherapy- Summa Cum Laude, 2010
Academic Interests
Pediatrics & Orthopedic/General Surgery
Teaching Experience
OPP I/II Teaching Assistant- WesternU COMP
Student Kinesiotherapist- The SDSU Fitness Clinic for Individuals with Disabilities
Philosophy
"Tell me and I forget. Teach me and I remember. Involve me and I learn." Benjamin Franklin
Research Interest
The use of OMT in Rheumatologic Conditions
Narrative
My interest in Osteopathic Medicine began in college; I just did not know at the time what Osteopathic medicine was. There was one patient that ultimately led me to Osteopathic Medicine. "Jockey" was a middle-aged woman that developed lead poisoning from many years of making stain glass windows using lead based products. The excess lead had been absorbed into the long bones of her body, making her joints extremely stiff. She had traveled to doctors around California and their treatment was physical therapy, muscle relaxers, and painkillers. She came to the FCID out of desperation because her insurance would no longer cover her physical and she was tired of medications. We developed a treatment plan involving active isolated stretching, myofascial release, and proprioceptive neuromuscular facilitation. That semester we set a goal for "Jockey" to get back on her horse and being able to ride with her daughter. While we were not able to get her upon a living horse we did make improvement so she could ride the therapeutic horse in the clinic. This experience showed me how an osteopathic approach could succeed where conventional medical treatments failed. Osteopathic medicine is an approach to medicine in which the practitioner views a sick body as an imbalanced body. Being a teaching fellow will provide me with the tools necessary to allow patients to reestablish an internal balance.