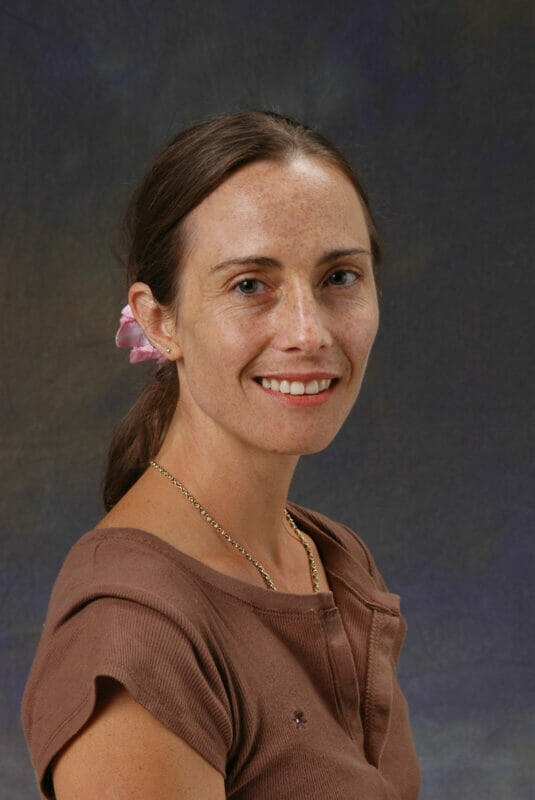 Christine Tindal Green, BVSc, MRCVS
Associate Professor, Small Animal Medicine & Surgery
College of Veterinary Medicine
Join year: August, 2006
Education
Certificate of Veterinary Opthamology, Royal College of Veterinary Surgeons, UK 2000
BVSc, University of Sydney, Sydney, Australia 1992
Christine graduated from The University of Sydney with 1st Class honors in 1992. Following this she entered into small animal practice, with a particular interest in small animal internal medicine. This translated into a desire to learn more about the field of veterinary ophthalmology, which she pursued first in Australia and then in the UK. On receiving her certificate in Veterinary Ophthalmology, Christine returned predominantly to the field of internal medicine and an increasing interest in imaging, particularly in ultrasonography. Christine is now co-director and one of the chief instructors in the 3rd year on-campus internal medicine course, run in the veterinary hospital on campus.
Certification
Certificate of Veterinary Ophthalmology, RCVS, UK, 2000
Teaching Experience
Christine Tindal, BVSc, Cert.V.Ophthal, joined the CVM faculty in August 2006 as Associate Professor of Small Animal Medicine and Surgery. She is a PBL facilitator, content expert for Veterinary Ophthalmology and member of the Admissions and Scholastic Standing Committee. She is also currently receiving further training as a teacher's assistant in the field of Veterinary Ultrasonography.
Christine accepted a position at the University of Sydney in 2003, teaching veterinary ophthalmology to the fourth year students. In 2005, again in the interests of furthering her love of internal medicine, Christine initiated her training in Veterinary ultrasonography, a skill she is now developing further at Western University. On joining Western University of Health Sciences in 2006, Christine left the world of clinical practice in the hope that some of her enthusiasm and love of veterinary science could be passed on to future graduating students.
Courses
3rd year on-campus internal medicine course (Small Animal Practice II)
Philosophy
"If I respect myself others may do the same. If I persevere I can succeed. If I give up I will fail. I can begin to solve problems if I share my ideas and feelings with those who wish to help. My future can be good if I work with others to make it that way. I cannot be perfect. I can only do my best. If I do my best good things can happen."
-- Steve Hummel, teacher, 2006
Research Interest
Searching for possible markers which might allow students that struggle in 3rd year internal medicine to be identified in their first and second years, and thus assisted.
Awards
In 2000 she was awarded the Certificate in Veterinary Ophthalmology by the Royal College of Veterinary Surgeons, UK.
Narrative
Christine has a real passion for veterinary science and in particular, for clinical practice. Her personal motto is "you can never learn too much about veterinary medicine". In her spare time, Christine likes spending time with her family camping, kayaking, hiking and the occasional scuba diving.