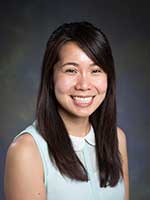 Christine Koh, B.A.
College of Osteopathic Medicine of the Pacific
E-Mail: ckoh@westernu.edu
Phone:
Join year: 2013
Education
D.O. Candidate, Western University of Health Sciences COMP, 2018
B.A. (H) Psychology, Entrepreneurship, and Modern Dance, Washington University of St. Louis, 2010
Certification
Pre-Medical and General Sciences Certificate, University of California Los Angeles, 2012
Teaching Experience
OMM Course/LEAD Teaching Assistant
Anatomy Course Teaching Assistant
K-12 Tutor
Philosophy
"The art of teaching is the art of assisting discovery." –Mark Van Doren
Research Interest
Female Athlete Triad
Dance Medicine
Research Grant
Harris-Hayes M, Steger-May K, Koh C, Royer N, Graci V, Salsich G: "Classification of Lower Extremity Movement Patterns Based on Visual Assessment: Reliability and Correlation to Two Dimensional Video Analysis." Journal of Athletic Training 49(3):304-10. May 2014.
Koh C, Decker M, Chang E. "Rehabilitation of Atypical Polyneuropathies in Neurological Syndrome: A Case Report." Poster presented at Association of Academic Physiatrists 2015, San Antonio, TX.
Awards
Robert E. Corey Scholarship Recipient
East West Scholarship Recipient
TOUCH Award
Dean's List
Organizations
Sigma Sigma Phi Honor Society
AOCPMR
AAPMR
Narrative
I first put on a pair of ballet shoes when I was two and half years old. Since then, my life has been nothing short of a dance through vastly different journeys that have converged into a single path - osteopathic medicine. My interest in the significance of movement and its functionality makes the OMM fellowship an exceptionally unique experience that I am privileged to have the opportunity to partake in. I am excited to have found a profession where my passion for human rights and the believe that the musculoskeletal system shares a story with the internal workings of the human being have joined serendipitiously as one.
As an OMM fellow, I look forward to the opportunity to learn from my mentors and peers and to grow as an osteopathic medical student, educator, and eventually, physician. I hope to one day incorporate all of the skills and knowledge I have acquired into a practice that will benefit my patients and community. And till then, I will be dancing to the tune of ..."Don't worry, be happy!"
"Oh the places you will go. Today is your day! Your mountain is waiting...so get on your way!" -Dr. Seuss