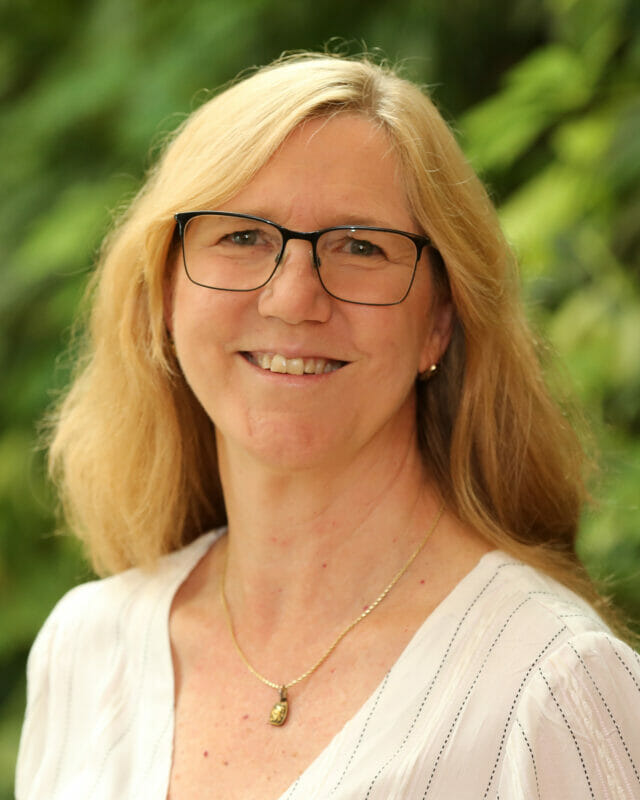 Colleen Talbot, PhD
Assistant Dean, Academic Affairs, Professor of Physiology
College of Osteopathic Medicine of the Pacific - Northwest
Join year: July 2010
Education
Ph.D., Animal Physiology, University of Chicago, IL, 1993
M.S., Biology/Physiology, California State Polytechnic University, Pomona, CA, 1988
B.S., Biology, cum laude, California State Polytechnic University, Pomona, CA, 1985
Teaching Experience
Professor of Physiology, Department of Basic Medical Sciences, Western University of Health Sciences, 2010–Present
Professor, Department of Biology, California State University, San Bernardino, CA, 2009 – 2010
Associate Professor, Department of Biology, California State University, San Bernardino, CA, 2002 – 2009
Assistant Professor, Department of Biology, California State University, San Bernardino, CA, 1997 – 2002
Courses
Research Interest
My main interest is in epithelial ion transport. I have studied a variety of epithelial systems, including the classic frog skin model, mammalian airway and gastrointestinal systems. I am interested in characterizing the various types of ion transporters and channels using electrophysiological, immunocytochemistry and RNA expression (in situ hybridization) techniques. I am interested in the hormonal and cellular regulation of the various transporters and channels.
Awards
Outstanding Faculty in Instructionally Related Activities ("Outstanding Teacher"), CSUSB, College of Natural Science, 2009
Golden Key, Lifetime Honorary member, 2002
Outstanding Faculty in Professional Development, CSUSB, College of Natural Science, 2002
Publications
Publications (selected)
Talbot C R and Lytle C. Segregation of Na/H exchanger-3 and Cl/HCO3 exchanger SLC26A3 (DRA) in rodent cecum and colon.AM J Physiol Gastrointest Liver Physiol. 2010. 299:G358-G367.
Contreras† H and Talbot CR. Water exploitation in dehydrated tree frogs is driven by natural history in Pacific (Pseudacris regilla) and California (P. cadaverina) tree frogs. J. Comparative Physiology B. Submitted.
Talbot C R. The effects of perfusion of the cutaneous vasculature on sodium uptake in isolated frog skin. J Comp Physiol B. 2002 Apr;172(3):209-16.
Stiffler DF and Talbot CR. 2000. Exchanges of oxygen, carbon dioxide, nitrogen and water in the caecelian Dermophis mexicanus. J Comp Physiol B. 2000 Nov;170(7):505-9.
Rochelle LG, Li DC, Ye H, Lee E, Talbot CR and Boucher RC. 2000. Distribution of ion transport mRNAs throughout murine nose and lung. Am J Physiol Lung Cell Mol Physiol. 2000 Jul;279(1):L14-24.
Abstracts and Presentations (selected)
Lytle C, Evans A*, Payne J, Talbot CR. 2010. Segmental expression of H,K-ATPase-2, KCC3, KCC4, and DRA in mouse distal colon is upregulated by dietary Na+ restriction. Experimental Biology 2010. Anaheim, CA (FASEB J. 24:1014.5)
Talbot CR, Ballesteros J*, Kindervater R* and Lytle C. 2008. Expression of Cl/HCO3 Exchanger AE2 and Na-K-2Cl Cotransporter NKCC1 in Amphibian Stomach.
Experimental Biology 2008. San Diego, CA. (FASEB J. 22:1239.20)
Lytle C and Talbot CR. 2008. Segmental segregation of Na/H exchanger-3 (NHE3) and Cl/HCO3 exchanger SLC26A3 (DRA) in rodent proximal colon. Experimental Biology 2008. San Diego, CA. (FASEB J. 22:1202.13)
Wells E *, and Talbot CR. 2005. Acclimation in an unstirred environment: effects on sodium uptake across the skin of Rana pipiens. Experimental Biology 2005. San Diego, CA. (FASEB Journal vol 19)