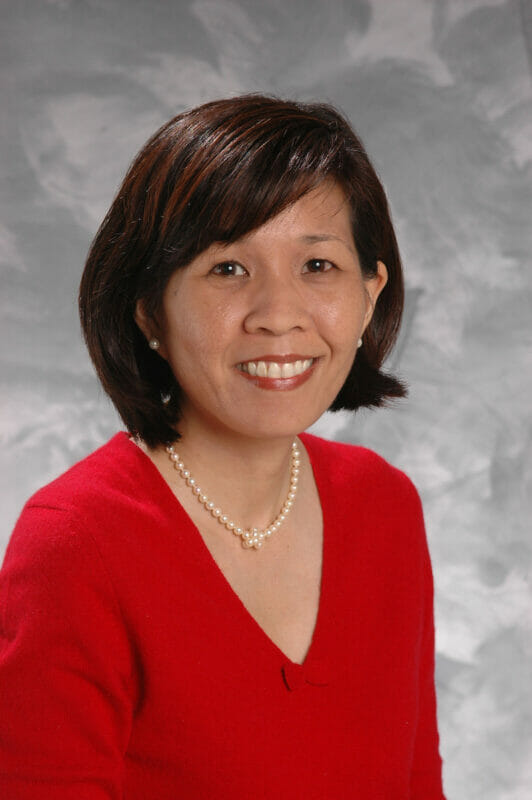 Doreen Pon, PharmD, BCOP, BCPS
Associate Professor of Pharmacy Practice and Administration
College of Pharmacy
Education
BA Biochemistry 1986
University of California, Berkeley
PharmD 1990
University of California, San Francisco
Education Experience
Residency
Oncology 1992 National Institutes of Health Clinical Center, Bethesda, Maryland
Certification
Board Certified Oncology Pharmacist (BCOP), Board of Pharmaceutical Specialties
Board Certified Pharmacotherapy Specialist (BCPS), Board of Pharmaceutical Specialties
Work Site
City of Hope National Medical Center
1500 East Duarte Road
Duarte, California 91010
Clinical Experience Rotation: Students will work with the supportive care medicine consult service and assist with the management of patients with cancer and/or cancer therapy-related symptoms. A multidisciplinary approach towards patient care will provide the student with the opportunity to interact with patients, physicians, nurses, pharmacists, and other health care personnel.
Research Experience Rotation: Students will gain clinical research experience by designing retrospective research study protocols, collecting and analyzing data, preparing original research or literature review manuscripts for publication, and peer-reviewing abstracts and publications.
Research Grant
Principal Investigator, "Making Rx Drug Abuse Extinct", American Medical Association Foundation Healthy Living Grant, 2015
Prinicipal Investigator, "Be Smart – Be Safe in the Sun", California Dialogue on Cancer/Public Health Initiative, 2012
Publications
Chan A, Hertz DL, Morales M, Adams EJ, Gordon S, Tan CJ, Staff NP, Kamath J, Oh J, Shinde S, Pon D, Dixit N, D'Olimpio J, Dumitrescu C, Gobbo M, Kober K, Mayo S, Pang L, Subbiah I, Beutler AS, Peters KB, Loprinzi C, Lustberg MB. Biological Predictors of Chemotherapy-induced Peripheral Neuropathy (CIPN): MASCC Neurological Complications Working Group Overview. Support Care Cancer. 2019 Oct;27(10):3729-3737. doi: 10.1007/s00520-019-04987-8
Kieu V, Jhangiani K, Dadwal S, Nakamura R, Pon D. "Effect of Isavuconazole on Tacrolimus and Sirolimus Serum Concentrations in Allogeneic Hematopoietic Stem Cell Transplant Patients: A Drug-Drug Interaction Study. Transpl Infect Dis2018 Oct 8:e13007. doi: 10.1111/tid.13007.
Davies M, Pon D, Garavalia LS. "Improving Pharmacy Calculations Using an Instructional Design Model." Am J Pharm Educ 2018;82:144-51.
Pon D, Awuah K, Curi D, Okyere E, Stern CS. "Combating an Epidemic of Prescription Opioid Abuse." California Pharmacist 2016;63:23-31.
Pon D, Hwang J, Lo T, Van Zyl C. "Decreased Responsiveness to Oxycodone: A Case of a Pharmacokinetic Drug Interaction?" J Opioid Manag 2015;11(4):357-361. DOI: 10.5055/jom.2015.0284.
Cho E, Chan H, Nguyen H, Shayani S, Nakamura R, Pon D. "Management of Drug Interaction between Posaconazole and Sirolimus in Patients Who Undergo Hemaatopoietic Stem Cell Transplant." Pharmacotherapy 2015;35:578-85.
Pon D, Abe A, Gupta E. "A Review of Statin Use and Prostate Cancer." Curr Atheroscler Rep 2015;17:474.