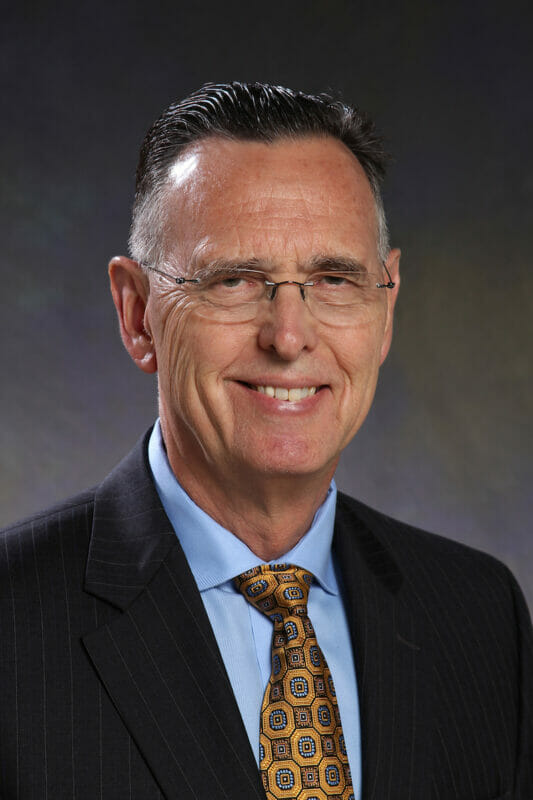 Daniel C. Robinson, PharmD, FASHP
Professor
College of Pharmacy
Education
Pharm.D.
1976
University of California,
San Francisco
B.A. (Biological Sciences)
1971
California State University, Fullerton
Education Experience
Residency, Hospital and Clinical Pharmacy
1976-1977
University of California, San Francisco
Professional Experience
Dr. Robinson has 35 years of experience as a licensed pharmacist and health care educator and24 years of experience in academic and health care administration. Dr. Robinson s previous full-time faculty appointments have included University of Nebraska, Department of Clinical Pharmacy; University of Southern California (USC) as Chair of the Department of Pharmacy;Northeastern University as Dean, School of Pharmacy; and Associate Dean, Bouve College of Health Sciences. He establishedthirteen international academic exchange agreements innine countries and he co-founded the California Center for Pharmaceutical Care.
Research Interest
Dr. Robinson's research and practice interests include drug policy, international pharmacy education, interprofessional education and practice, and political advocacy that support that delivery of pharmaceutical care in all practice settings.
Organizations
Active memberships include: International Pharmaceutical Federation, American Pharmaceutical Association, American College of Clinical Pharmacy, American Association of Colleges of Pharmacy, Federation of International Pharmacists, American Association of Pharmaceutical Scientists, and the American Society of Health-System Pharmacists.
Committees
He has served the American Association of Colleges of Pharmacy on the Professional Affairs Committee, National Patient Safety Task Force, Council of Deans (secretary), Interprofessional Practice Core Competencies Expert Panel, Task Force on Health Care Reform's Impact on Pharmacy Education, MedEdPORTAL-IPEC Advisory Committee, Institutional Research and Assessment Committee, the Academic Leadership Fellows Program as Dean Facilitator and Dean Mentor. He also served on the Board of Directors for the Center for Community Health Education Research and Service, the Board of Directors for the California Pharmacists Association Foundation and the Dean's Advisory Council for the National Community Pharmacists Association. He is past national president of the Rho Chi Pharmacy Honor Society.