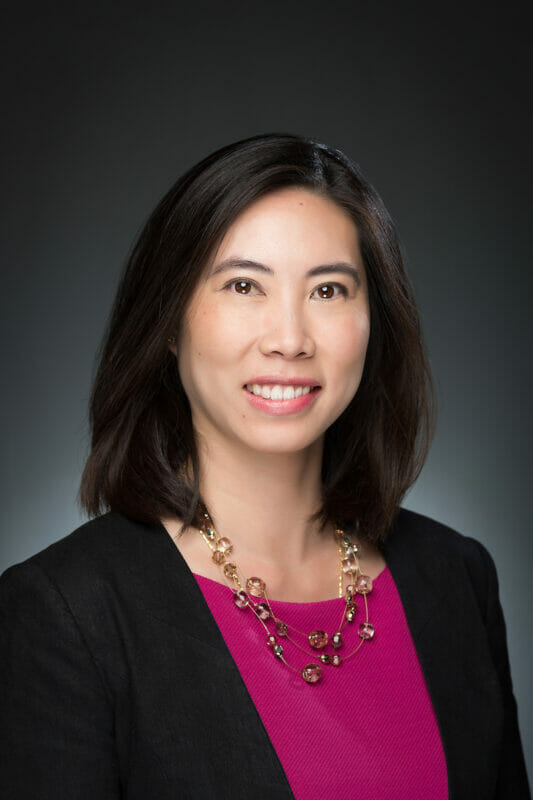 Jacqueline B. Truong, DPM, MPH, FACFAS
Associate Professor / Assistant Dean, Pre-Clinical Curriculum and Faculty Affairs
College of Podiatric Medicine
Website: www.westernu.edu
Join year: 2009
Education
Graduate School for DPM: Dr. William M. Scholl College of Podiatric Medicine at Rosalind Franklin University

Graduate School for MPH: Columbia University Mailman School of Public Health

Residency: Cambridge Health Alliance
Certification
American Board of Foot and Ankle Surgery | Status: Certified, Diplomate – Foot

American Board of Podiatric Medicine | Status: Certified, Diplomate

Arthroscopic Foot and Ankle Surgery – American College of Foot and Ankle Surgeons| Status: Certified
Professional Experience
Assistant Dean Pre-Clinical Education and Faculty Affairs, College of Podiatric Medicine (since 2019); Chairman, Department of Podiatric Medicine Surgery & Biomechanics, College of Podiatric Medicine (2013-2019)

Voting Member on American College of Foot & Ankle Surgeons committees (Education & Scientific Affairs 2020-2021; Post Graduate Affairs 2018-2020)

Council for Podiatric Medical Education Residency Program On-site Evaluator since 2019 (diplomate for American Board of Foot & Ankle Surgeons, and American Board of Podiatric Medicine)

Member of AACPM Council of Faculty 2016-2019

Alternate on WesternU Internal Review Board since 2021

Member on WesternU Humanism Strategic Performance Committee since 2020

Member on WesternU Student Health Insurance Committee since 2014
Research Interest
Clinical Outcomes

Health Equity

Medical Education

Medical Practice Re-entry
Organizations
Regional and National Level
Voting Member: Post Graduate Affairs Committee | American College of Foot and Ankle Surgeons, 2018-current
Evaluator in Training: Collaborative Residency Evaluator Committee | American Board of Foot and Ankle Surgeons, 2018-current
Evaluator in Training: Collaborative Residency Evaluator Committee | American Board of Podiatric Medicine, 2018-current
Voting Member: Med. Care Section/ Comunity Health Planning & Policy Development Section | American Public Health Association, 2017-current
Voting Member: Council of Faculty | American Association of Colleges of Podiatric Medicine, 2016-current
Voting Member: Public Health Committee | California Podiatric Medical Association, 2015-2017
Exam Reviewer & Writer | American Podiatric Medical Licensing Examination/NBPME, 2014-current
Peer Reviewer: Foot and Ankle Specialist, 2011-current
Peer Reviewer: Journal of Foot and Ankle Surgery, 2011-current
Committees
Western Univeristy of Health Sciences
Voting Member: Inclusion & Humanism Task Force, Invited by Office of Institutional Research | Chair: Juan Ramirez, PhD,2019
Voting Member: Library Redesign Committee, Invited by WesternU Vice Provost | Chair: Jeffrey Keating, MA, 2018
Voting Member: Flexible Classroom Design Task Force, Invited by WesternU Vice Provost | Chair: Sheree Aston, OD, MA, PhD, 2018
Voting Member: CPM Dean's Search Committee, Appointed by WesternU Provost/CCO | Chair: MAry Lopez, PhD, RN, 2018-2019
Voting Member: Academic Senate WesternU | Chair: Joshua Cameron, OD, 2017-current
Voting Member: Academic Support Service and Planning Committee | University Faculty Senate | Chair: Steven Standley, PhD, 2017-current
Voting Member: Student Health Insurance Committee | University Student Affairs | Chair: Beverly A. Sanks Guidry, EdD, 2014-current
Voting Member: Academic Administrative Team | WesternU College of Podiatric Medicine, 2013-current
Voting Member: Promotion and Tenure Committee | WesternU College of Podiatric Medicine, 2013-current
Publications
Fleischer, A., Yorganson, A., Trang, J., Shih, JD., Bennett, J., Brewer, T., Logan, L., Tower, D., and Truong, J. 2020. Community Health learning objectives, pp. 222-226 in Curricular Guide for Podiatric Medical Education. American Association of Colleges of Podiatric Medicine, Rockville, MD. 320 pp. [Note: authorship order is by discipline lead first, then alphabetical by college name]

Truong, J., Myer, A., and Kim, P. 2020. Research learning objectives, and resource curating for learning track in ACFAS Basic Learning Pathway. [Learning Resource] https://www.acfas.org/Residency-Director-Center/ACFAS-Learning-Pathways/BASIC-LEARNING-PATHWAY--Research/. American College of Foot and Ankle Surgeons, Chicago, IL. [NOTE: ACFAS learning pathways are a tool to be used by residency directors, fellowship directors and school faculty to aid with didactic learning during the COVID-19 crisis. They are not intended to replace a curriculum, but to supplement student and resident education during this time of need.]

Truong, JB and Levy, L. 2019. Public Health – Biostatistics, Epidemiology and Relevant Topics. In American College of Foot and Ankle Orthopedics and Medicine's (3rd Ed.), Review Text in Podiatric Orthopedics and Primary Podiatric Medicine (pending page numbers). Bethesda, MD.

Synder, SG., Wedel, M., Truong, J. (2020, June). Description and Comparison of Bilateral Variations of the Soleus Accessorius Muscle in a Cadaver. Poster presented at the meeting of American Association of Clinical Anatomists Annual Meeting, New York, NY.
Narrative
Dr. Truong is a native Minnesotan and speaks both Vietnamese and French. She enjoys spending time with her family and staying active with swimming, hiking, and yoga. She is a former acappella singer and continues to expand her creative side with floral arrangements.