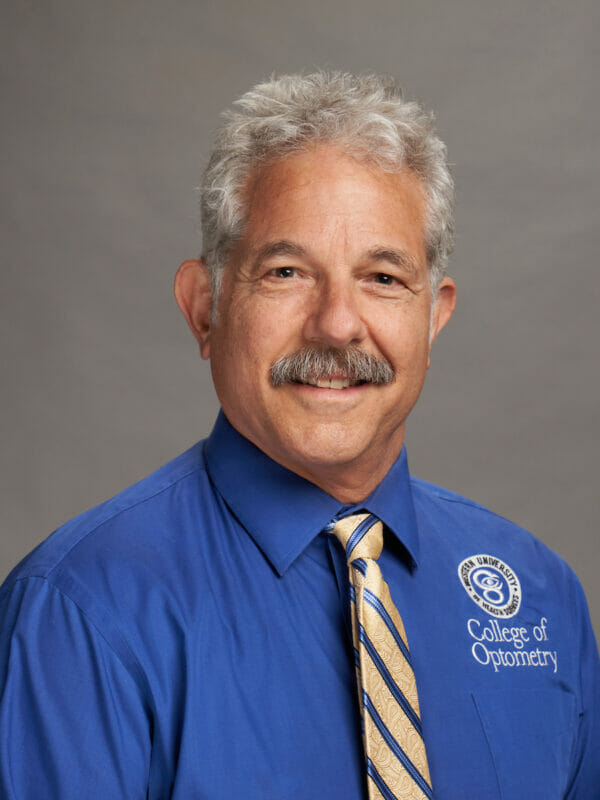 John 'JT' Tassinari, OD, BS, FAAO, FCOVD
Chief of Pediatric Optometric Service, Associate Professor
College of Optometry
Phone: 909.469.8738 | Fax: 909.469.5228
Website: www.westernu.edu
Join year: 2015
Education
Residency, Pediatrics & Vision Therapy, 1987-88, State University of New York College of Optometry
Doctor of Optometry, 1987, Southern California College of Optometry
Certification
Diplomate Binocular Vision Perception & Pediatric Optometry, 2006, American Academy of Optometry
Fellow, 1993, College of Optometrists in Vision Development
License
Work Site
Eye Care Institute, Pomona, CA
Wendy Shem Yeh O.D., Pasadena, CA, Staff Optometrist
Academic Interests
Vision and Learning
Pediatrics
Teaching Experience
Clinical Teaching since 1987
Philosophy
Experience is the best teacher. I do my best to make the experience meaningful and good care for the patient.
Research Interest
Vision Therapy
Binocular Vision
Pediatrics
Clinical Data Analysis
Awards
2011, Hillsides Special Recognition Award
2008, Best Article J Optom Vis Develop
2007, Best Article J Optom Vis Develop
1998, Honorable Mention, Best Technical Article, Awarded by Optometric Editors Association
1985, Summa Cum Laude Bachelor of Science Degree
Organizations
American Academy of Optometry (AAO)
American Optometric Association (AOA)
California Optometric Association (COA)
College of Optometrists in Vision Development (COVD)
Optometric Extension Progrm (OEP)
Committees
Community Organizations
Immaculate Conception Festival of the Foothills Planning Committee
Immaculate Conception Youth Group Advisory
Knights of Columbus Council 1242
Publications
Tassinari J, Reliability and validity of a computerized tachistoscope test. Vision Development & Rehabilitation 2016 2 (4): 242-48
Comer G, Tassinari J, Sherlock L, (1988) A Clinical Comparison of the Threshold Related and Single Intensity Strategies of the Humphrey Field Analyzer. J AOA vol.59 no.8
Tassinari J, Binasal Occlusion in Esotropia. Presented at the 1988 Skeffington Symposium on Vision, Jan. 1988
Tassinari J, Methyldopa Related Convergence Insufficiency. J of the Amer Optom Assoc. 1989; 60 (4): 311-314
Tassinari J, Binasal Occlusion. Journal of Behavioral Optometry 1990; 1 (1): 16-21
Tassinari J, Excessively Close Working Distance. Journal of Behavioral Optometry 1995; 6 (4): 87-89
Tassinari J, Computerized Instruments: Their use in vision therapy. Optometry Today April 1995
Tassinari J, Nearpoint Visual Stress. Lecture presented as part of the Walter O. StudtFoundation Vision Therapy Practica. September 1996
Tassinari J, Eastland R., Vision Therapy for Deficient Visual-Motor Integration. J Optom Vision Development 1997; 28: 214-26
Tassinari J, Monocular Estimate Method Retinoscopy: Central Tendency Measures and Relationship to Refractive Status and Heterophoria. Optom Vis Sci 2002; 79(11): 708-14
Tassinari J, Deland P, Developmental Eye Movement Test; Reliability and Symptomatology. Optom, J Amer Optom Assoc 2005; 76(7): 387-99
Tassinari J, Change in accommodative response and posture induced by nearpoint plus lenses per monocular estimate method retinoscopy. J Beh Optom 2005; 16(4): 87-93
Tassinari J, Untreated Oculomotor Dysfunction. Optom Vis Dev 2007: 38(3): 121-24
Tassinari J, Assessing the assessment: Learning Related Vision Problems Test Scores Revisited. Optom Vis Dev 2008 39 (3): 128 – 139
Tassinari J, Vision therapy for sensory fusion disruption syndrome: 2 case reports. Optom Vis Dev 2010 41 (4): 215-21
Tassinari J, Rating the Test Scores from a Visual Information Processing Battery. This document is a chapter in; Pacific University College of Optometry Visual Perceptual Test Manual. 2010
Narrative
Dr. Tassinari is a California native whose career path in optometry included owning and running a private optometry practice in Pasadena CA for 26 years. Concurrently, he taught part time for the Southern California College of Optometry at the Optometric Center of Los Angeles. He joined WesternU College of Optometry in November 2015 and retired as a private practice owner. He loves providing vision care to children and has learned much about vision and life from them. Vision Therapy is a passion and he is dedicated to helping Western University of Health Sciences College of Optometry be the premier institution for teaching Vision Therapy and providing it to the Pomona community.