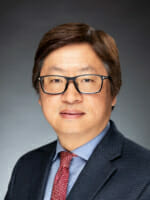 Jeffrey Wang, BS, PhD
Associate Dean, Research and Global Advancement, Professor, Pharmaceutical Sciences
College of Pharmacy
Education
Ph.D. (Pharmaceutical Sciences)
1995 University of Southern California
B.S.
1986 School of Pharmacy, Shanghai Medical University, China
Research Interest
Reversible lipidization of proteins and peptides. Oral delivery of protein and peptide drugs. Bioconjugation chemistry. Fusion protein design and expression. Prodrug design and synthesis. Analytical assay development and validation. Pre-clinical pharmacokinetics and drug metabolism. Nanoparticle and liposome formulation development.
Research Grant
A randomized, single-dose, cross-over, bioavailability study to evaluate SDS-089 solution as nasal spray in comparison to Levitra oral tablet 10 mg in healthy volunteers, Strategic Drug Solutions, Co-Investigator (Stephanie White, Principal Investigator), 2018-2019.
Topical delivery of non-β-blocking R-carvedilol for prevention of UV-induced skin cancer, National Institutes of Health R15 research grant, Co-Investigator (Ying Huang, PI), 2018-2021.
Bioanalysis of leveticetam and phenytoin in human cerebrospinal fluid samples, Arrowhead Reginal Medical Center, Principal Investigator, 2018.
Vancomycin product development, Nevakar, LLC, Co-Principal Investigator, 2016-2017.
Preclinical development of an orally effective factor IX-based agent for the prophylaxis and treatment of bleeding episodes in hemophilia B patients, Novo Nordisk, Inc., Principal Investigator, 2015-2017.
Silkworm as a drug discovery and delivery model, Eureka BioVenture, Principal Investigator, 2015-2016.
Combinatorial nanotechnology-based regimens for pancreatic cancer chemoprevention, National Institutes of Health R15 research grant, Co-Investigator (Sunil Prabhu, PI), 2014-2017.
Awards
Patents
Wang J, Xie C, Wang Z, Su Y. Factor IX-Transferrin fusion proteins. PCT International Application No. PCT/US2018/040366, US Provisional Patent Application No. 62/527,347.
Chow MSS, Huang Y, Wang J, Ravula R, Wang ZJ. Tripterygium wilfordii extracts to overcome chemotherapy resistance. US Patent No. 10,149,876 B2.
Pumerantz A, Betageri G, Wang J. Novel formulation of pegylated-liposome encapsulated glycopeptide antibiotics. US Patent No. 9,566,238 B2.
Shen WC, Wang J. Methods and compositions for the lipidization of hydrophilic molecules. US Patent No. 6,093,692.
Publications
Desai P, Ann D, Wang J, Prabhu S. Loratadine self microemulsifying drug delivery systems (SMEDDS) in combination with sulforaphane for the synergistic chemoprevention of pancreatic cancer. Drug Delivery Trans Res, 9, 641-51, 2019.
Desai P, Ann D, Wang J, Prabhu S. Pancreatic cancer: recent advances in nano-formulation based therapies. Crit Rev Ther Drug Carr Sys, 36, 59-91, 2019.
Chan P, Wang Z, Xie C, Huang Y, Wang J. Antioxidant nutraceuticals and prostate cancer. In: Antioxidant Nutraceuticals: Preventive and Healthcare Applications. Cao C, Pathak S and Patil K (Eds). RCS Press, pp. 37-80, 2018.
Thakkar A, Desai P, Ann D, Wang J, Prabhu S. Novel Nano-drug Combination Therapeutic Regimen Demonstrates Significant Efficacy in the Transgenic Mouse Model of Pancreatic Ductal Adenocarcinoma. Am J Cancer Res, 8, 2005-19, 2018.
Wang Z, Xie C, Yeung S, Wang J, Chow MSS. Development of a simple and rapid HPLC-MS/MS method for quantification streptomycin in mice and its application to plasma pharmacokinetic studies. Biomed Chromatogr, 33, e4408 (1-8), 2018.
Chan P, King S, Garavalia L, Wang J. Implementing a strategy for promoting long-term meaningful learning in a pharmacokinetics course. Currents Pharm Teaching Learning, 8, 1048-54, 2018.
Wang Z, Olenyuk BZ, Shih JC, Wang J. Quantification of tumor-targeting agent MHI148-clorgyline amide in mouse plasma using liquid chromatography-electrospray ionization tandem mass spectrometry. J Pharm Anal, 8, 153-9, 2018.
Ding B, Wahid MA, Wang Z, Xie C, Thakkar A, Prabhu S, and Wang J. Triptolide and celastrol loaded silk fibroin nanoparticles show synergistic effect against human pancreatic cancer cells. Nanoscale, 9, 11739-53, 2017.
Wang Z, Ravula R, Yeung S, Liu M, Lau B, Hao J, Wang J, Lam WK, Chow MSS, Huang Y. Overcoming chemoresistance in prostate cancer with Chinese medicine Tripterygium wilfordii via multiple mechanisms. Oncotarget, 7, 61246-61, 2016.
Ding B, Zhang W, Wu X, Wang J, Xie C, Huang X, Zhan S, Zheng Y, Huang Y, Xu N, Ding X, Gao S. Superiority of DR5 mAb-mediated DTIC-loaded immuno-nanoparticles in the therapy of malignant melanoma-bearing nude mice: Enhanced drug target and tumoricidal efficacy with reduced systemic toxicity. Oncotarget, 7, 57160-70, 2016.
Thakkar A, Chenreddy S, Khamas W, Wang J, and Prabhu S. Preclinical systemic toxicity evaluation of chitosan-solid lipid nanoparticles encapsulated aspirin, curcumin and free sulforaphane (ACS) combinations in BALB/c mice. Int J Nanomed, 11, 3265-76, 2016.