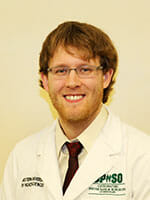 Jessie Castro,
NMM/OMM Pre-Doctoral Teaching Fellow
College of Osteopathic Medicine of the Pacific - Northwest
E-Mail: jwcastro@westernu.edu
Phone: n/a
Education
B.S. from Oregon State University 2013
Major - Microbiology; Minor - Chemistry
Teaching Experience
Undergraduate TA for Microbiology 2012-2014 OSU
Peer Leader for incoming students at OSU 2012-13
TA for NMM/OMM 2014-2015
WesternU NMM/OMM PDTF
Philosophy
As Osteopathic practitioners, we let the patient's tissues do the talking and our fingertips do the listening. As a fellow, I firmly believe in developing palpatory skills in their hands and providing the mental framework to interpret their findings. The ultimate goals are to provide them with a new perspective on how we can impact people's lives, a pair of educated hands, and the confidence to use those hands for their patients.
Research Interest
At Oregon State I was a research assistant in a Toxicology lab. We focused on endotoxins (primarily ergots alkaloids) produced by soil microbes and preventing toxicity. The lab was divided into a research side and a service side (testing and awarding certificates to local farmers); I worked in both sides. I was also a research assistant at the Oregon Department of Fisheries and Wildlife. We tested various water sources and toxins from around Oregon on zebrafish (never turned out well for them). Lastly, I briefly worked at a zoology lab that examined fruit flies used in various projects around campus.
Research Grant
Blythe, L.L., Giarrizzo, J., Rosen, K., Castro, J., Duringer, J.M., Craig, A.M.Degradation of the Tall Fescue (Festuca arundinaceae) Endotoxin Ergovaline by Soil Microbes. 2011 International Society for Anaerobic Microbiology (ISAM), Slovak Academy of Sciences, Kosice, Slovakia.(June 15-18, 2011)
Narrative
I was inspired to join the Fellowship during my first semester at WesternU during an early OMM class. All it took was a particular Fellow who walked up to me and told me that I have a talent for this, and I should consider pursuing it. From then on it was like OMM was my second language.
Being out with real patients in the clinic has only solidified my passion for the Osteopathic approach to medicine and to OMM. I have thoroughly enjoyed my Peds and FM rotations, and it feels like the place for me: a plethora of complaints, people of all ages, and the chance to have a true impact on everyone and anyone. Patients love us in the clinics, and they will love you too!
Other than being a med student 24/7 I enjoy playing sports (volleyball, football, basketball, baseball, etc.), doing and teaching Judo, and being with my loved ones. I'm sort of a couch potato a lot of the time (thanks a lot Netflix), so the other COMP NW fellows can run circles around me. I am also thoroughly convinced that if I didn't love people and the human body as much as I do (and I actually liked math), I would've been an astrophysicist. So if you ever feel like discussing the fabric of the universe and the bounds of physics, you know who to call.